Do you want to be able to send targeted emails to Mailchimp segments? Being able to send your email campaigns to subscribers based on their behavior makes your email marketing efforts more effective.
In this article, we'll show you how to create a segment Mailchimp mailing lists so you can send the right information to the right subscribers every time.
Mailchimp Groups versus Segments
Mailchimp is one of the most popular email marketing services. But when it comes to Mailchimp groups and segments, there's a lot of confusion.
That's why we're going to clear that up for you, before showing you how to segment your Mailchimp lists. This is a great way to better understand your subscribers and their behavior so you can improve your email marketing campaigns.
Mailchimp Groups
A group in Mailchimp is an easy way of assigning subscribers to a simple category within one single Mailchimp list. For instance, in our tutorial showing you how to give subscribers a way to select a Mailchimp group, we divided users into two groups: Interest 1 and Interest 2.
Other examples of groups include age groups, gender, or nearby cities.
All it takes a subscriber to be assigned to a group in your Mailchimp mailing list is the satisfaction of one condition, which in our example was being a part of Interest 1 or Interest 2.
Mailchimp Segments
Mailchimp segments are a way to divide your subscribers into very specific categories based on multiple conditions, many of them related to how your users behave.
For instance, you might want to target those who have subscribed after a certain date or number of days, subscribers who live in a certain location, or subscribers that have spent more than $100 in your eCommerce store.

You can take it even further and filter your segments using some of the five conditions available. For example, you may want to create a segment that is meant only for subscribers that are female, are ages 25-35, and have spent more than $100 in your online shop.
The only way for a subscriber to be assigned to a segment in your Mailchimp mailing list is to satisfy all of the conditions you define.
In the end, it is easiest to think of groups as a way to find out who your audience is, and segments are a way to find out how your audience behaves so you can personalize your email campaigns.
Now, let's take a look at how to segment your existing Mailchimp lists for sending out targeted email campaigns to specific subscribers.
Step 1: Create a Mailchimp Signup Form
The first thing you'll need to do is install and activate the WPForms plugin. For more details, check out how to install a WordPress plugin.
From there, you'll need to integrate your form with Mailchimp using the Mailchimp addon, as well as create a newsletter signup form.
For a step by step tutorial, you can read how to create a Mailchimp signup form in WordPress.
Lastly, you'll need to make sure you have at least one list created in your Mailchimp account. For instructions, read up on how to create a Mailchimp list.
Step 2: Add Segments in Mailchimp
The next step is to create a segment in your Mailchimp account. To do this, navigate to the list you want to segment, and under the Manage contacts dropdown, click on Segments.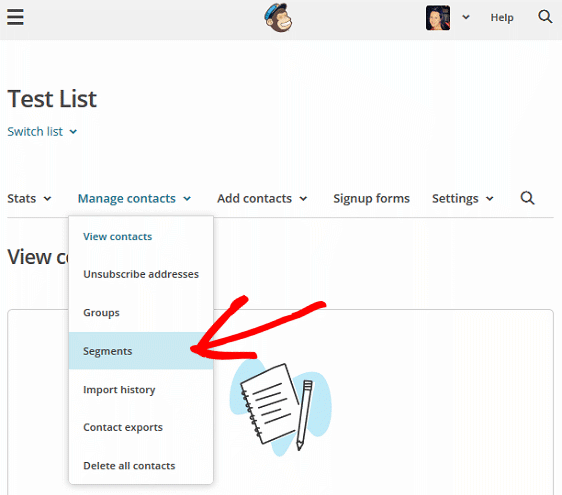 Next, click on Create Segment

You will now see the section where you can define your conditions. Remember, you can define up to five conditions. Every condition you define must be met by a subscriber in order for them to be added to your segment.
There are several pre-built segments you can choose from that are broken down into subscriber engagement, customer behavior, and demographics.
For example, you can choose some of the following:
New subscribers – those that have joined your email list in the last X days
Active subscribers – those that have opened at least one of your last X campaigns
Inactive subscribers – those that have not opened any of your X last campaigns
You can also choose conditions such as location, signup source, and language.
If you have any API 3.0 eCommerce data in your account, you can segment subscribers based on purchasing behavior. For example, you can define conditions based on whether they have purchased from you in the past, if they are a repeat customer, or have made a purchase from you in the past X days.
Step 3: See Demographic Segments in Mailchimp Pro
Lastly, if you use Mailchimp Pro, you can access demographic segments such as gender and age.
In this example, we'll create a simple segment. The condition will be that the subscriber must have been added to our Mailchimp mailing list after a certain date.
Set the dropdown menus to Date Added I is after I a specific date. Then determine a date in the interactive calendar.
If you want to add another condition, click on + Add.

To see which of your existing subscribers meet the conditions you have defined, click on Preview Segment.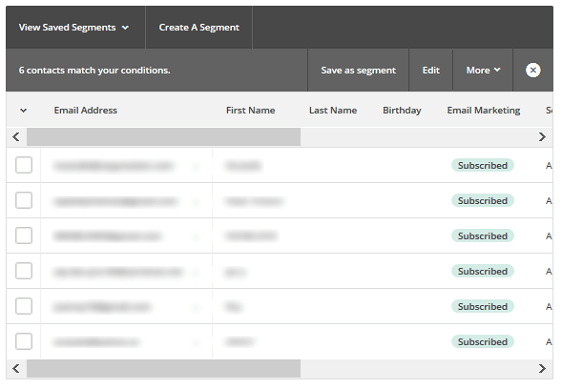 When you are happy, click on Save as Segment.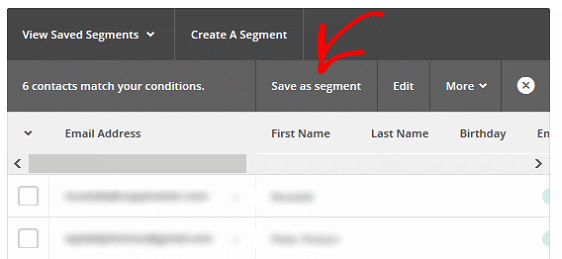 In the modal popup, give your segment a name. If you want this segment to automatically update any time a new subscriber meets the conditions, click the Auto-update checkbox.
Next, click Save.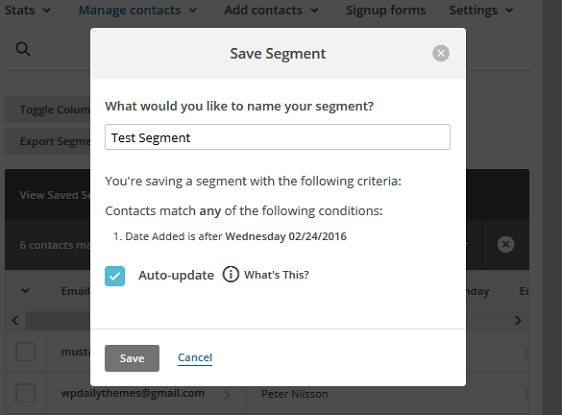 In Conclusion
And there you have it!
You have now learned how to segment Mailchimp mailing lists with WPForms. Every time someone subscribes to your newsletter form after the defined date, they will automatically be added to your mailing list segment.
Thinking about using a different email marketing service? You may also want to check out our guide to setting up ActiveCampaign on WordPress forms.
Plus. you might also like some other Mailchimp related posts: