Do you want to create Mailchimp subscribe forms in WordPress with personalized, custom form fields for your target audience? By adding custom fields to your Mailchimp forms, you can gather special information like a site visitor's birthday, for use in your email marketing.
In this article, we'll show you how to create Mailchimp custom fields in WordPress for creating more personalized email campaigns.
Why Use Mailchimp Custom Fields?
Personalization is a powerful marketing tool to boost your revenue.
But, it can be tough to get started if you're not very technically-inclined.
Luckily, Mailchimp gives you an easy way to personalize your email campaigns by using custom fields.
What is a Mailchimp custom field? A custom form field goes beyond the basics (name and email address) and asks subscribers for more information. You can ask your subscribers for their company name, website, birthday, and more.
This gives you an easy way to segment your email list to get better results.
One common way to use custom fields for eCommerce personalization is to ask for their birthday so you can send them an exclusive discount code on their big day.
That's exactly what we'll show you how to do in this tutorial – but you can use custom fields to ask for any kind of information you want.
Easy Way to Customize Your Mailchimp Forms
If you use Mailchimp as your email service provider, you probably know you can create basic subscribe forms right from your Mailchimp account.
But what if you're looking to create more advanced forms?
With WPForms, you can:
Best of all, you can quickly and easily create your forms using a drag and drop builder. That's why WPForms is one of the best Mailchimp integrations on the market.
In this tutorial, we're going to stick to the basics and show you how to use WPForms to create your own form with Mailchimp custom fields.
Step 1: Add Your Custom Field in Mailchimp
First, we'll make sure to set up your Mailchimp custom field, so you can start collecting that data in your list.
To start creating your custom fields, sign in to your Mailchimp account. Next, navigate to the Audience tab in the top menu to open the dropdown.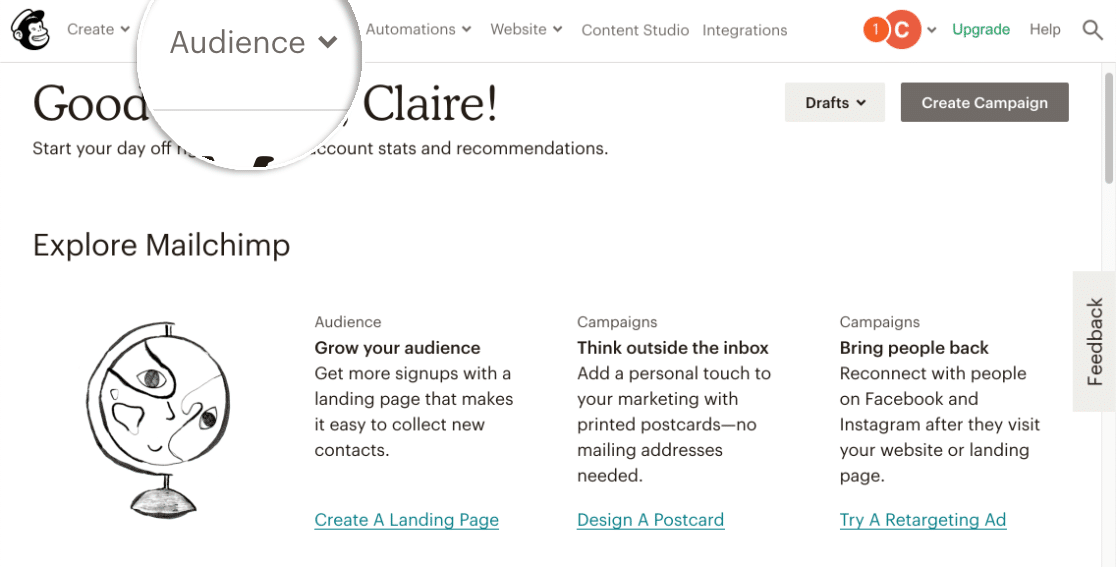 Now click on Audience Dashboard.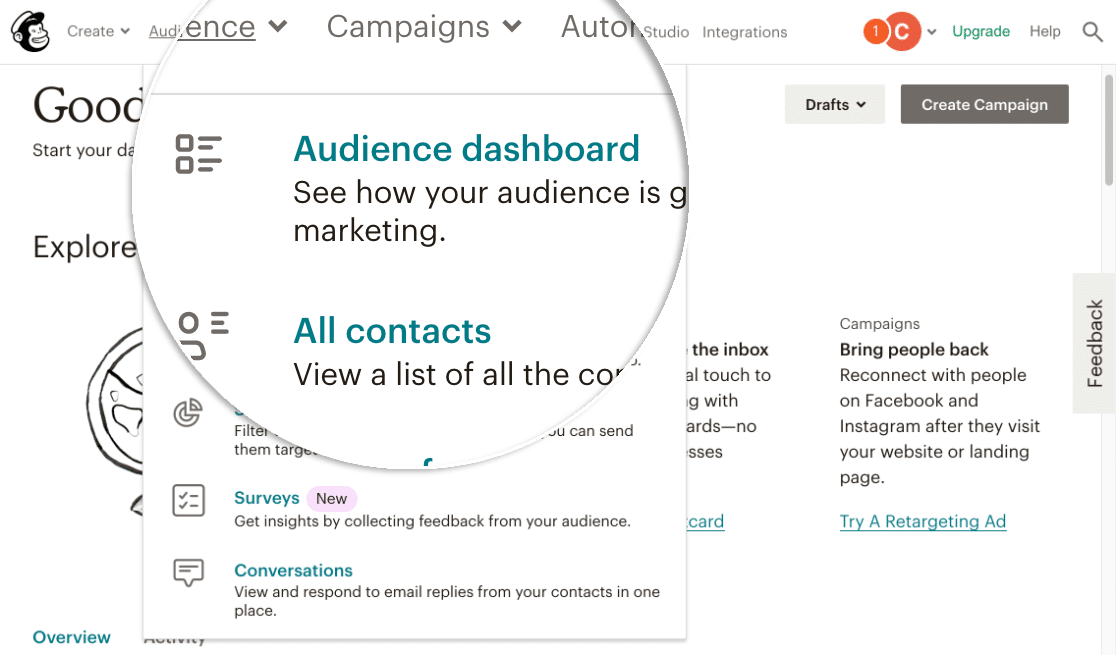 In the Audience Dashboard, click the Manage Audience dropdown, and then click Settings.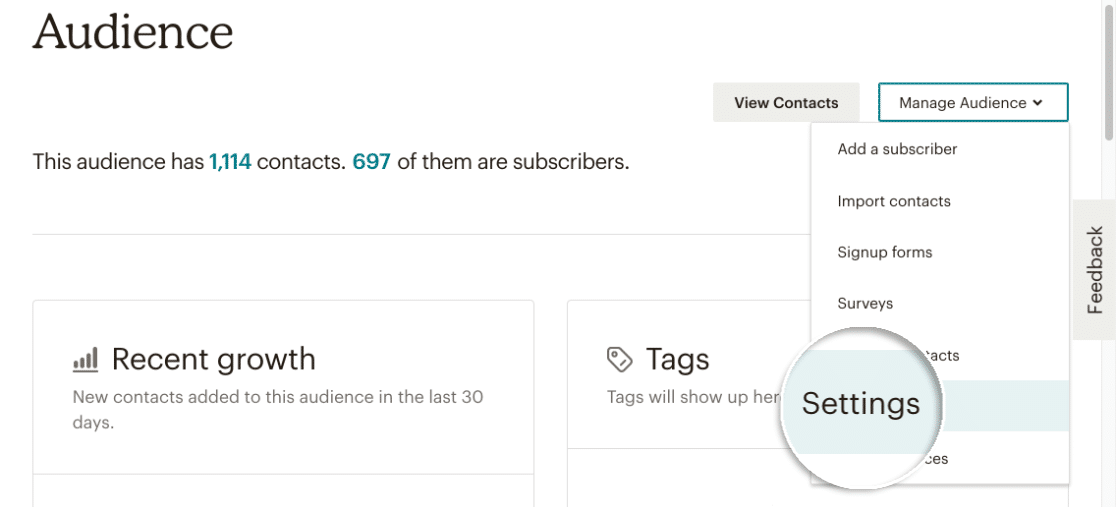 Scroll down to the section labeled Audience fields and *IMERGEI* tags and click on it. This is where you can add Mailchimp list custom fields to your WordPress form.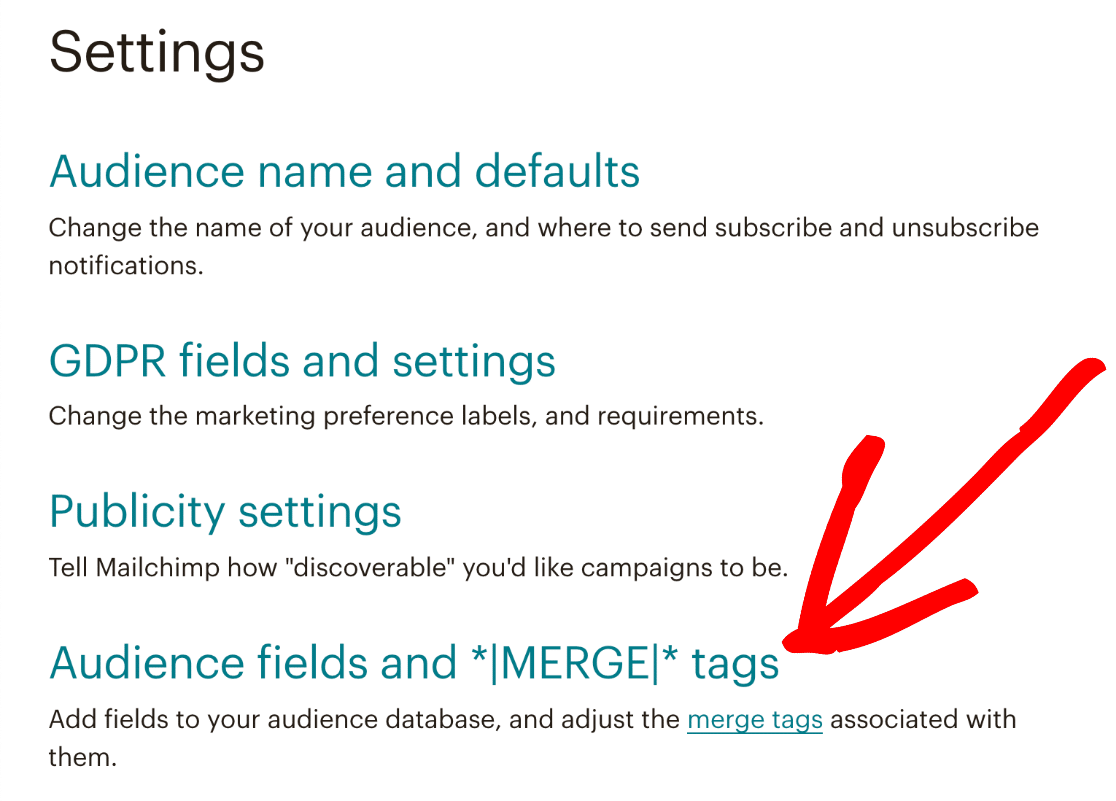 The screen that appears will now have all of the form fields that exist on your WordPress subscribe form. Remember, we had First Name, Last Name, and Email. To add a Mailchimp custom field, click on Add A Field.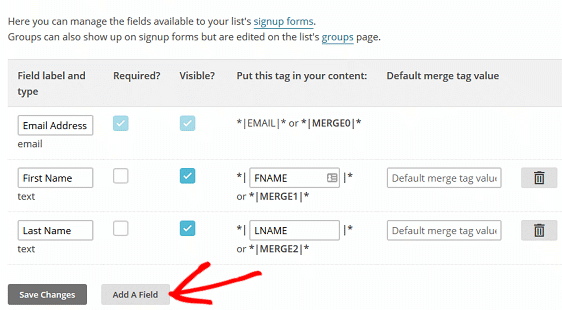 Here, you will see all of the available custom fields you can add to your WordPress form.

Simply click on the custom field you would like to add to your WordPress form.
For this tutorial, we will click on Birthday so we can ask subscribers to add their birthday to their form submission.
Once you click on the custom field, it will automatically add to the above list of form fields. Here, you can name the field. We will name ours Birthday.
You can also choose the date format.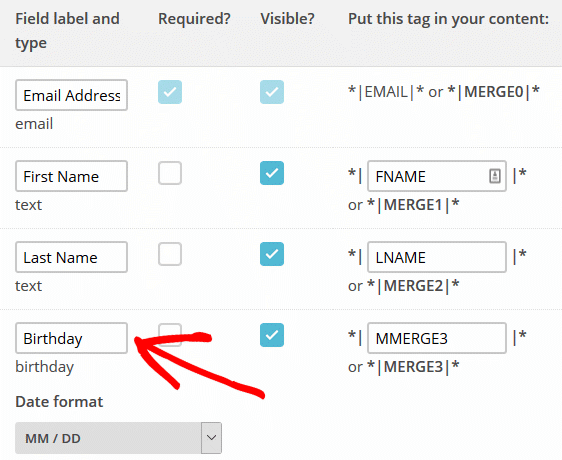 Once you have added all of the custom fields you want to your form, click on Save Changes.
Step 2: Create a New Form
Now we'll create your custom signup form on your WordPress site.
The first thing you will need to do is install and activate the WPForms plugin. For more details, follow this step by step guide on how to install a plugin in WordPress.
Once you have installed WPForms, go to WPForms » Addons and find the Mailchimp addon.
Install and activate the Mailchimp Addon.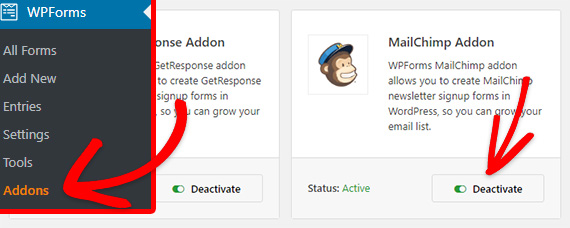 Once your WPForms Mailchimp addon is active, you need go to WPForms » Add New to create a new form. Then, on the setup screen, you need to name your form and select the Newsletter Signup Form template.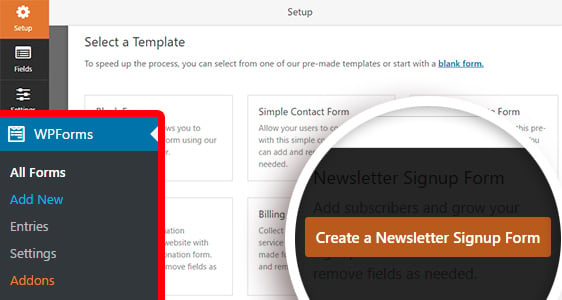 WPForms will create a simple newsletter signup form.
You can add additional fields by dragging them from the left column to the form. You can select the fields on the preview side of the screen to customize them or to rearrange their order.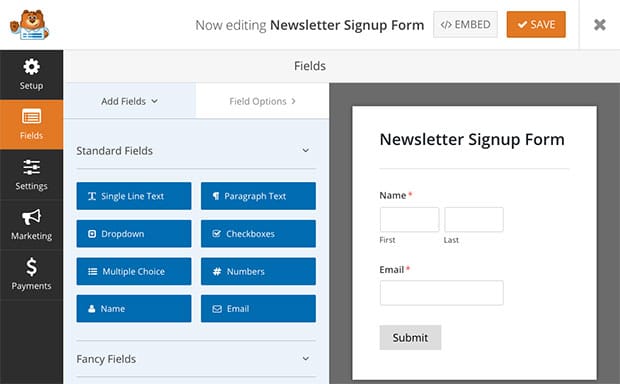 In this tutorial, we'll be asking for the user's birthday. So, let's add a Date / Time field by dragging and dropping it from the menu.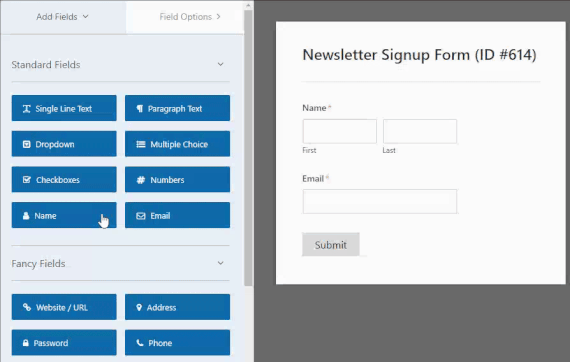 Then you can click on the field to customize it.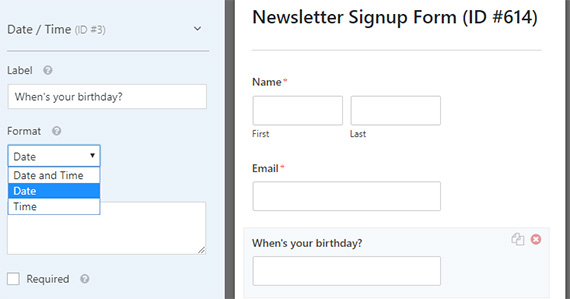 Be sure to save your form.
Next we'll make sure that data goes to your Mailchimp list.
Step 3: Connect Your Form to Mailchimp
The next step is to set up your Mailchimp list in WPForms. To do that, click on the Marketing tab.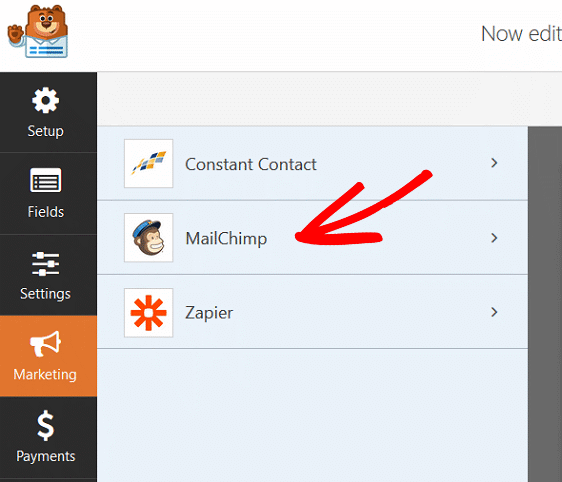 Click on MailChimp and then on Add New Connection.

A popup will appear asking you to name the connection. Name your connection anything you want and click on OK.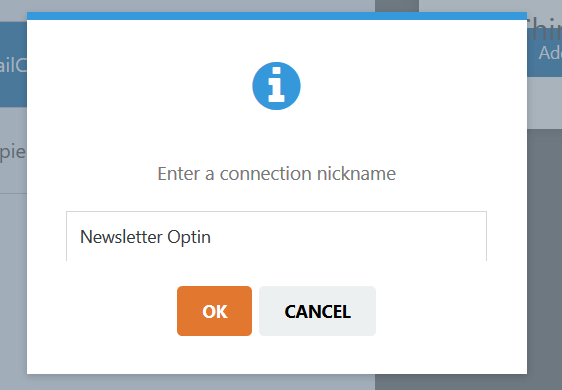 You will then be asked to verify your Mailchimp account by providing the API Key.
You can do this by logging into your Mailchimp account, and navigating to Your Profile » Account » Extras » API Keys.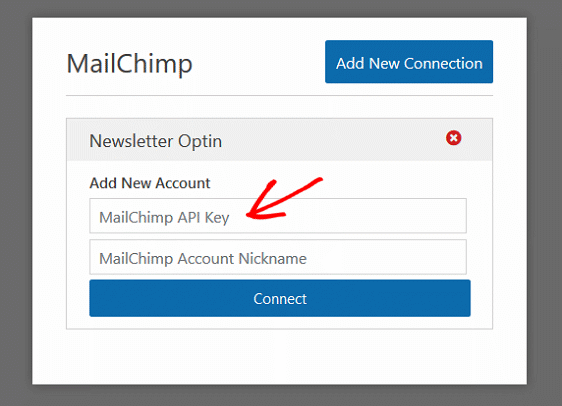 Enter your API Key and click on Connect.
After you have verified your API Key with WPForms, a new screen will appear showing you the fields that are in your WordPress form. These will match with whatever form fields are in your Mailchimp newsletter list fields, which are found in your Mailchimp account.
Make sure to select the fields to match up to your Mailchimp fields.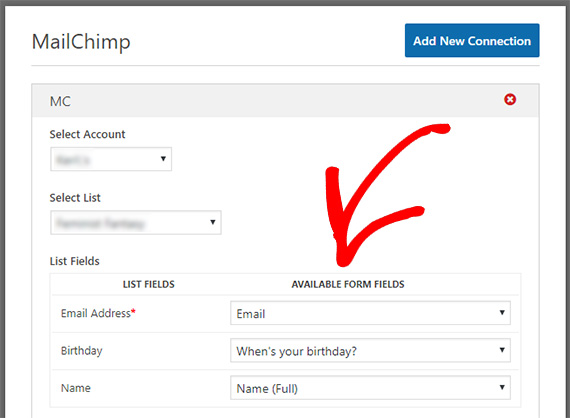 You can also take time to customize your confirmation message and email notifications.
Be sure to click Save when you're done.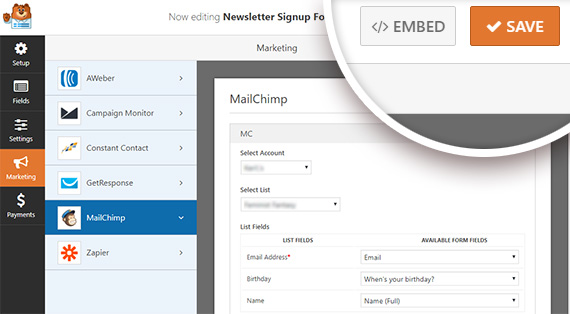 Step 4: Add Your Form to Your Site
Now that your form is created, we need to make it visible for your website visitors.
WPForms allows you to add your forms in several locations including your blog posts, pages, and even as a sidebar widget.
Let's use the easy Embed option.
Start by clicking the Embed icon at the top of the form builder.

Next, you need to click Create New Page: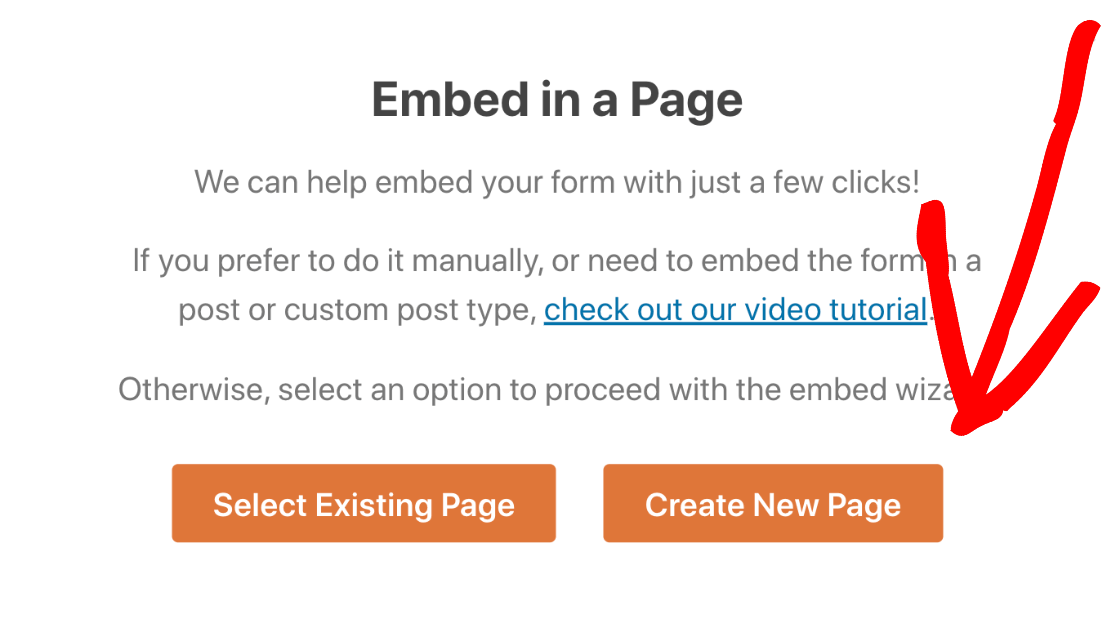 And then give your page a name and click Let's Go.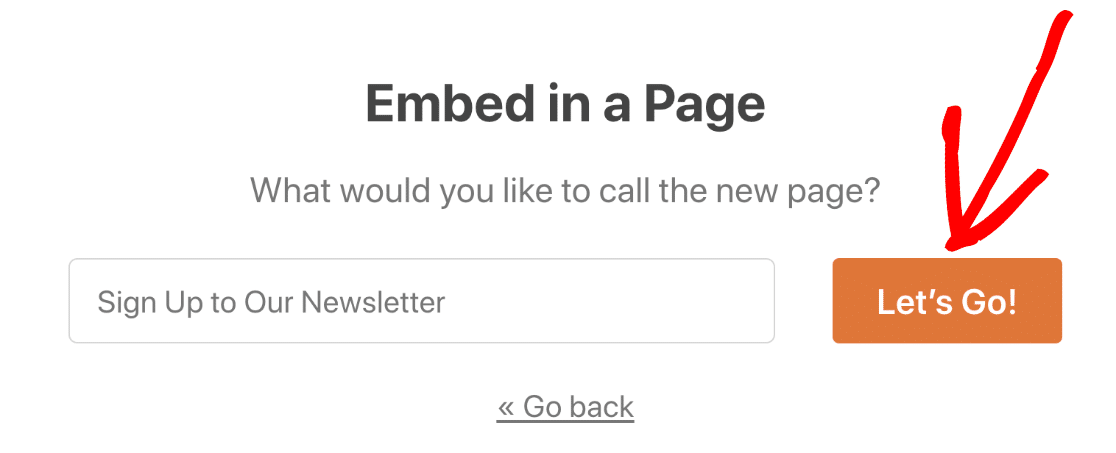 WPForms will create the page and embed your Mailchimp form into it. Just click Publish here to go live.

Now your form is live and ready for people to sign up.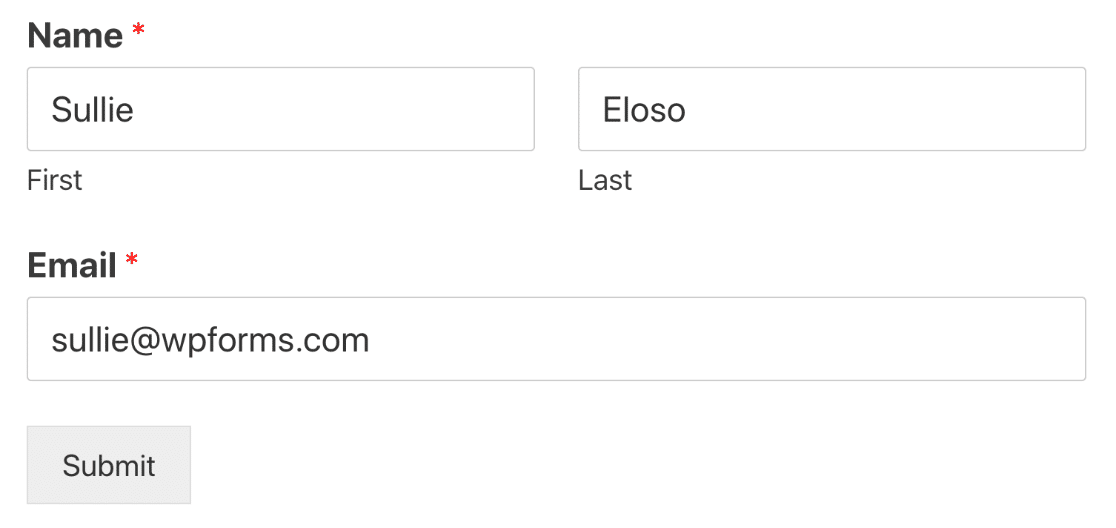 In Conclusion
And that's it! You have successfully added a Mailchimp custom field in WordPress that you can use to personalize your email campaigns and provide more valuable content to those that are interested in what you have to offer.
Want to customize your forms even more? Check out how to redirect site visitors after they submit a subscribe form. This way you can guide users to a thank you page or a custom landing page and keep them engaged in your content.
Plus. you might also like some other Mailchimp related posts:
And, if you liked this article, don't forget to follow us on Facebook and Twitter for more free WordPress tutorials.