When we first started in 2016, we had one goal: to raise the bar in user satisfaction and give you the best form builder you can use.
Today, we're consistently recognized as a leading online form builder software and are a recipient of various prestigious awards.
We never aimed to win trophies. That said, we're immensely proud of winning some of G2's most highly regarded award categories.
G2 is not like other review websites. Their awards are based on verified, real user reviews.
Winning a G2 award means winning the highest approval of millions of real, satisfied users. There's absolute human authenticity at the heart of it.
And that's why this award means so much to us!
Our G2 Award-Winning Journey (Spring Quarter 2023)
With over 887 G2 reviews from verified users and a rating of 4.7/5.0, WPForms has proudly won the following 9 awards for the spring quarter 2023.

Top 100 Best Software Products 2023
Top 100 Highest Satisfaction Products 2023
Easiest Setup (Mid-Market)
Easiest to Use (Mid-Market)
Easiest Admin (Mid-Market)
Leader
Leader (Small Business)
Leader (Europe)
Momentum Leader (Small Business)
Where Does WPForms Stand in G2 Ratings?
WPForms is one of the only few dedicated online form builders that's recognized as a leader in the industry by G2.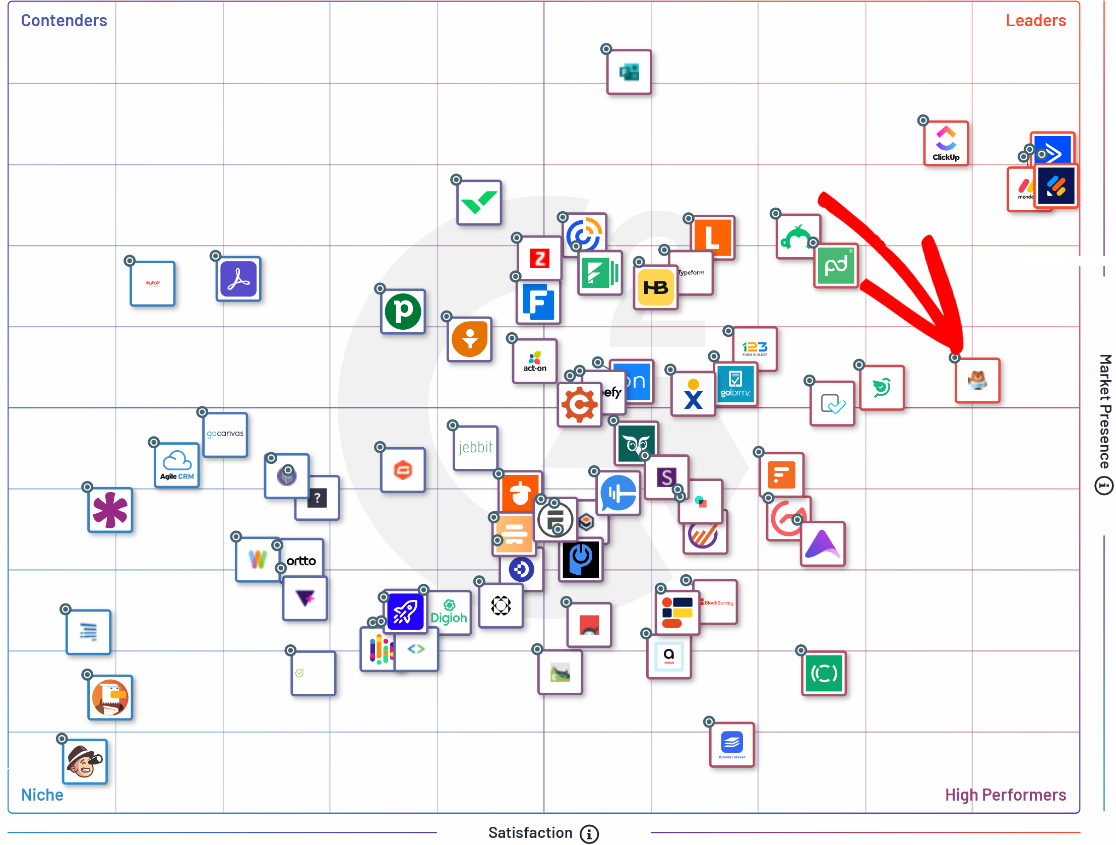 Leaders in the G2 grid have the distinction of scoring exceedingly high on both satisfaction and market presence factors.
G2 also ranks products based on overall user satisfaction. We're honored to be one of the highest-rated online form builders in terms of user satisfaction.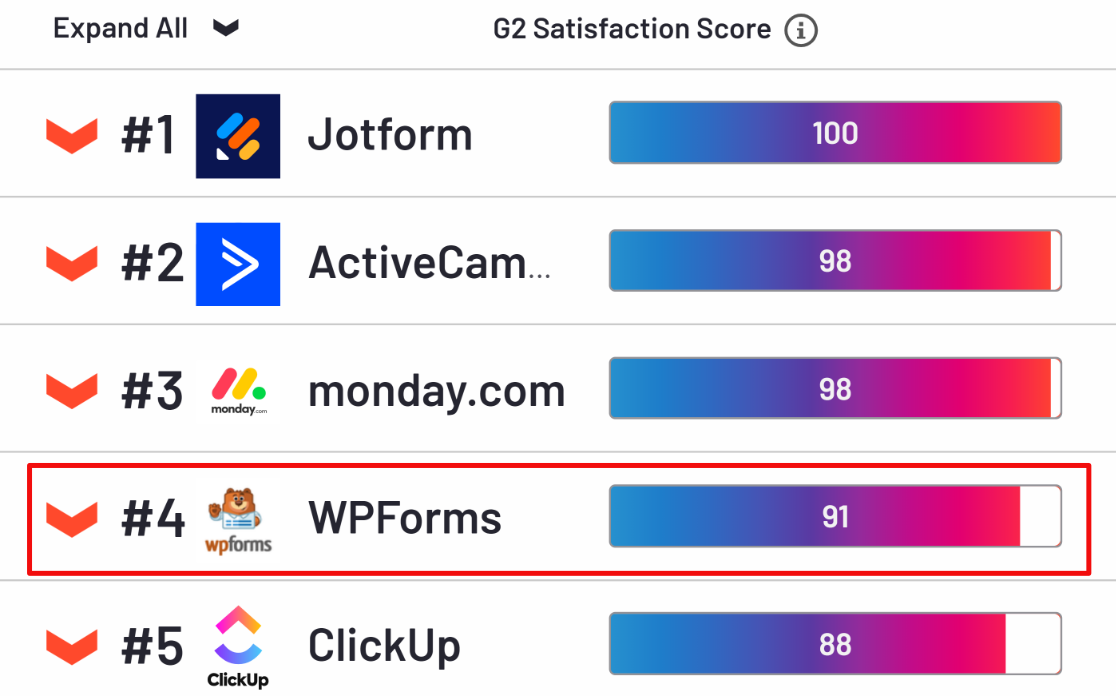 The high satisfaction score reflects our strong commitment to putting people first. This principle remains the core component of our design philosophy.
Elevating Usability to New Heights
Usability has always been the #1 priority for us. To that end, we've released various upgrades and quality-of-life enhancements over the years.
Looking at the G2 ratings for the easiest to use products, it's safe to say that our efforts have paid off.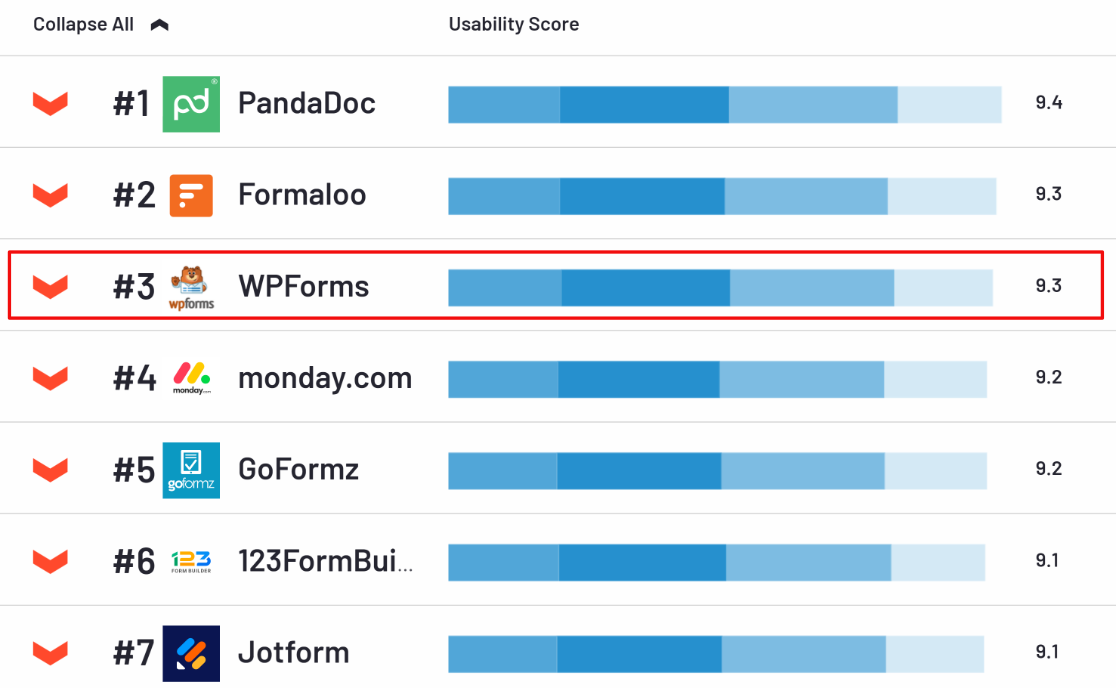 Here's a quick recap of some of our latest usability improvements.
No-Code Form Styles
When it comes to customizing form styles, using CSS code is often the only way this is possible in many WordPress form building solutions.
We recognized that this was one of the major pain points for customers and included Form Styles as a core plugin update.
With Form Styles, you can customize the fields, labels, progress bars, and submit button in your form using only point and click options.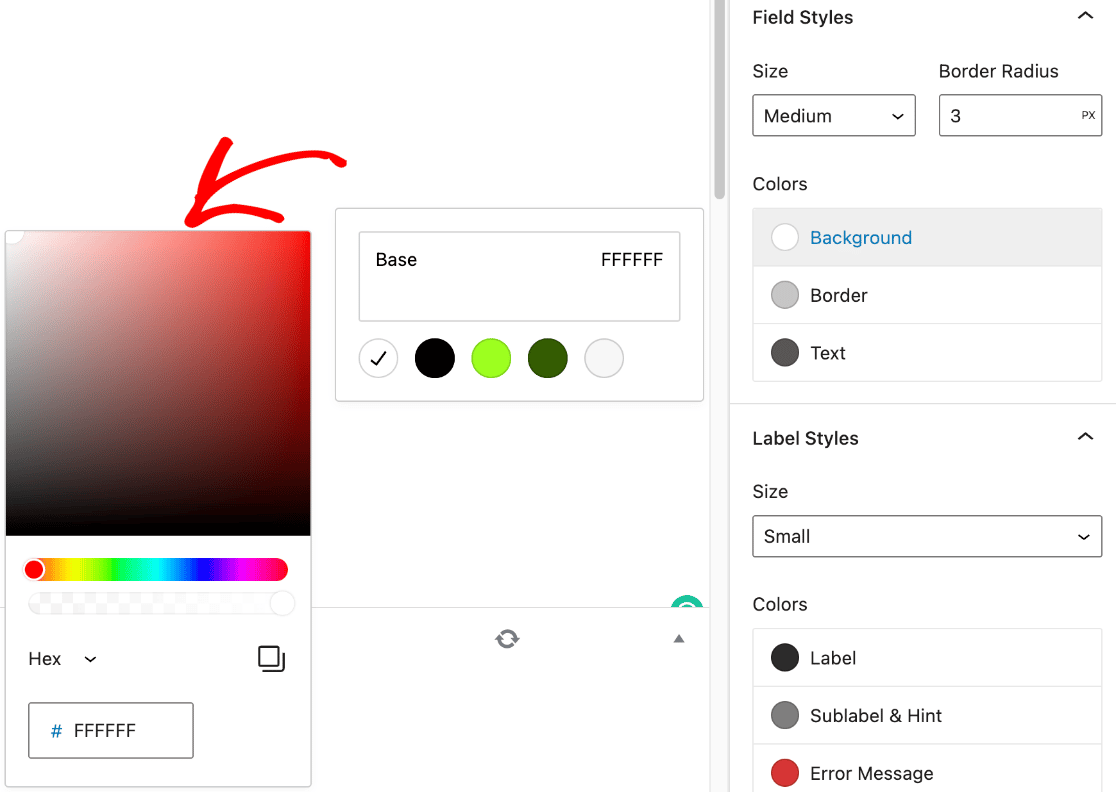 At the same time, technical users can use CSS to perform even more advanced customizations.
The Form Styles update was a massive improvement to ease of use in terms of editing form designs.
Content Field
Ever wished that you had an easy way to insert formatted text and images into your forms without using custom HTML?
Most WordPress form plugins only support an HTML field for adding content within your forms.
We noticed that this was a major limitation, as adding a simple image to your form can be a massive inconvenience if HTML is the only way.
To address this limitation, we released the Content field.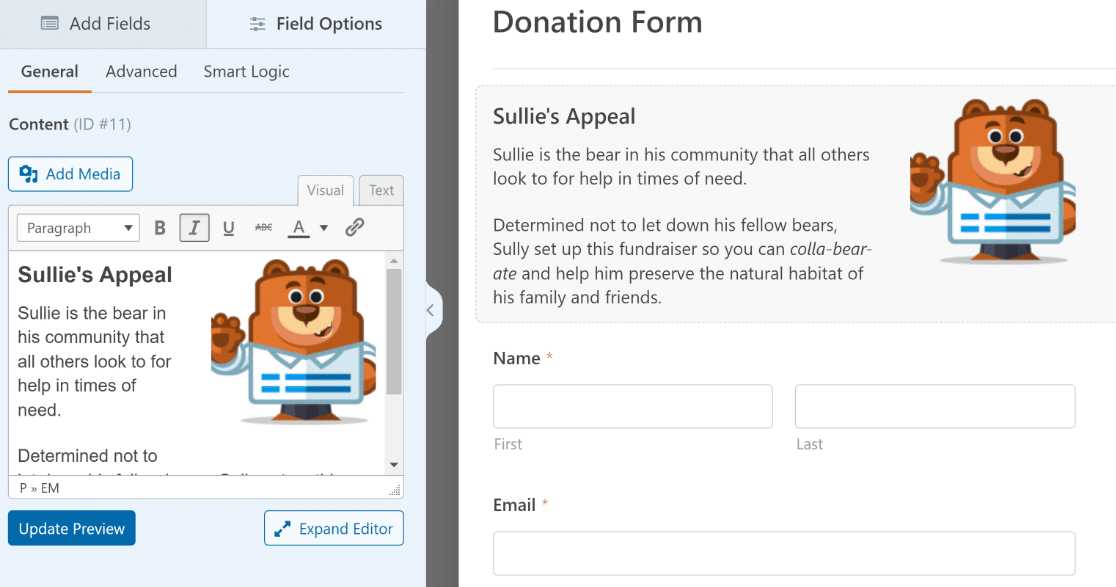 The Content field is a game changer. With this field, you can add formatted text and also upload images directly to your forms.
It simply takes usability to the next level so you can build forms faster users can build forms faster while making them dramatically more visual.
Form Layouts
Another vital aspect of form design is the layout of your fields. Previously, using CSS classes was the only way to customize the layout of a form.
That changed with the WPForms Layout field.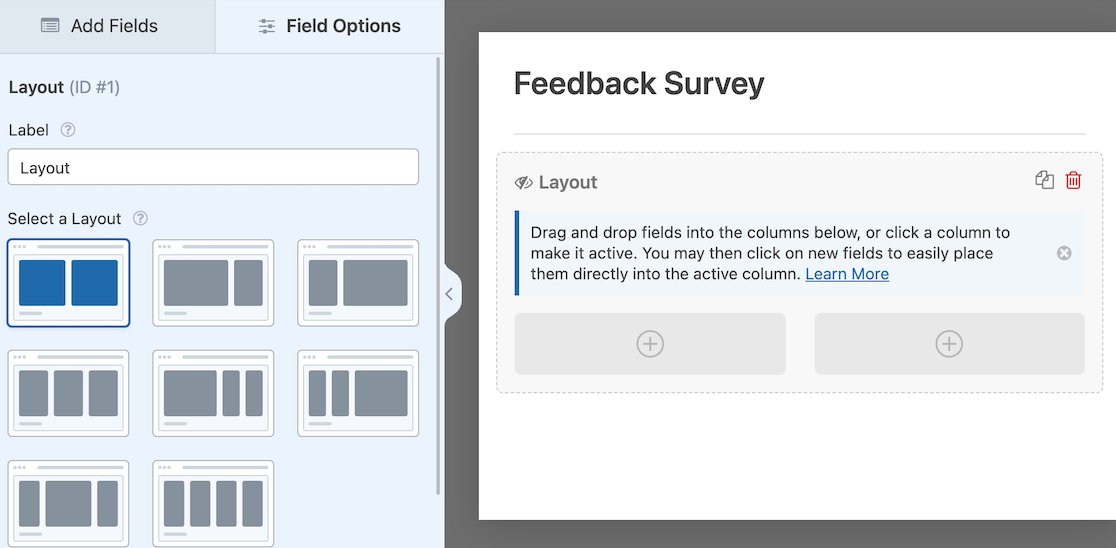 Changing the layout of your forms is now only a matter of dragging and dropping your fields into columns. The Layout field comes with 8 different presets, giving you the ability to create up to 4 columns.
The Layout field is a huge convenience when you want to make advanced forms more compact in size.
Form Revisions
Making mistakes while editing your perfect form can turn a simple and fun task into a long and boring one.
We wanted to keep the fun and eliminate the frustration. And we did that by releasing form revisions.
Not only can you instantly undo mistakes and restore an earlier version of your form, you can also see the entire version history of the same form.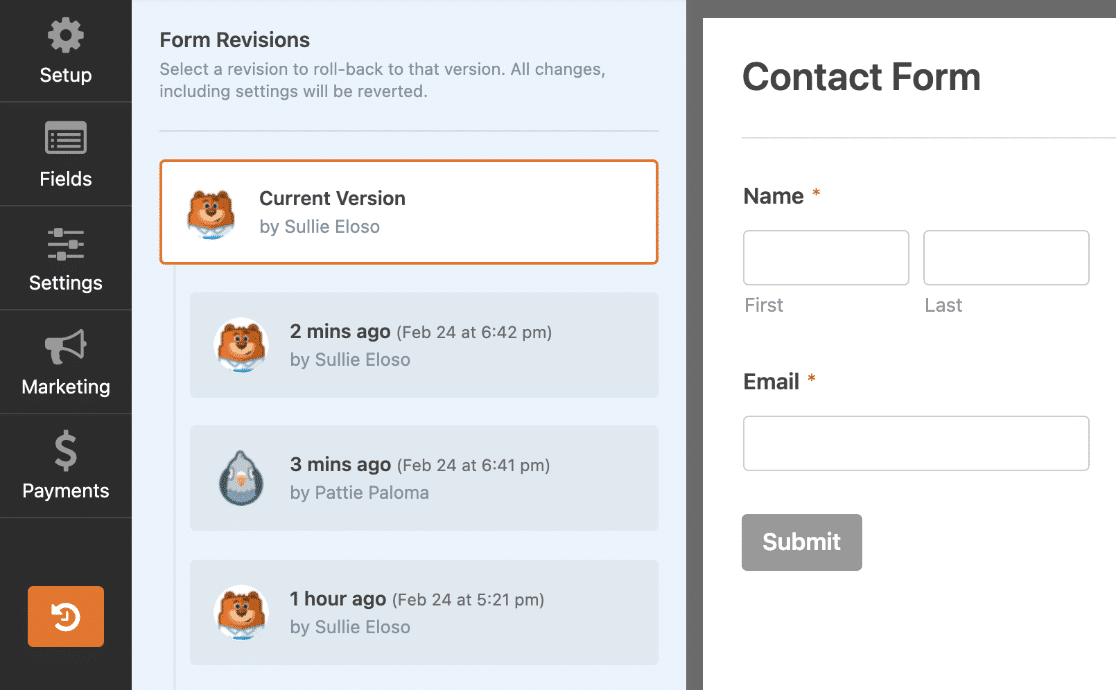 This is ideal for users who love experimenting and trying different versions of a form until they find one that converts the best.
As a built-in feature that requires no extra configurations, the form revisions feature has driven up ease of use to the next level for our users.
It's available for Lite as well as Pro license levels.
Why Should You Trust G2 Reviews?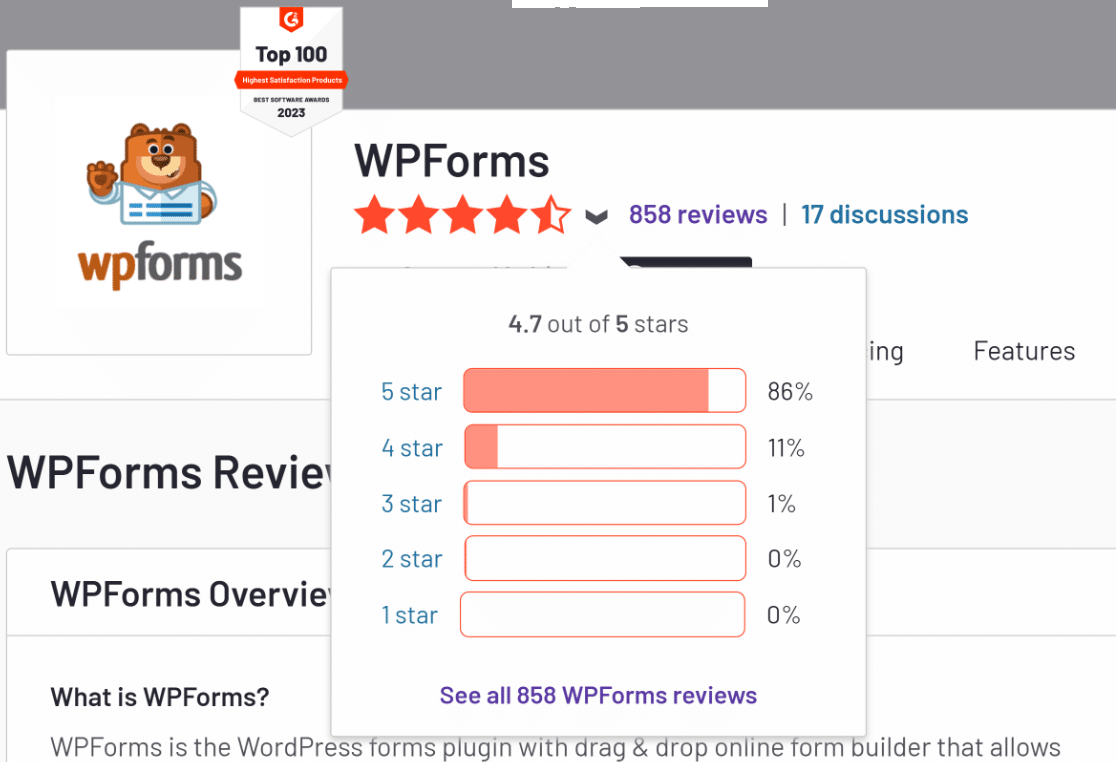 G2 stands out as a trustworthy source of product ratings due to its exceptionally rigorous scoring methodology, verification process, review moderation, and transparency measures.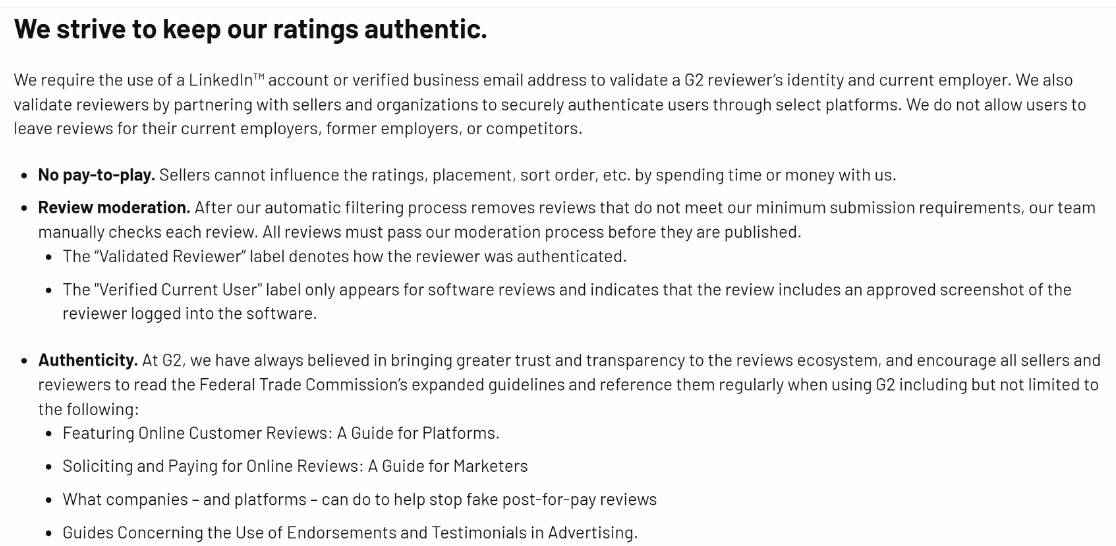 G2 openly displays whether the user's profile was validated as authentic in each review. In addition, it verifies if they're a current product user through screenshot evidence.
That's not all. G2 also openly discloses the source of the review.
For instance, many positive user reviews for WPForms are labeled as organic. This means the users weren't invited to post these reviews; they posted of their own will.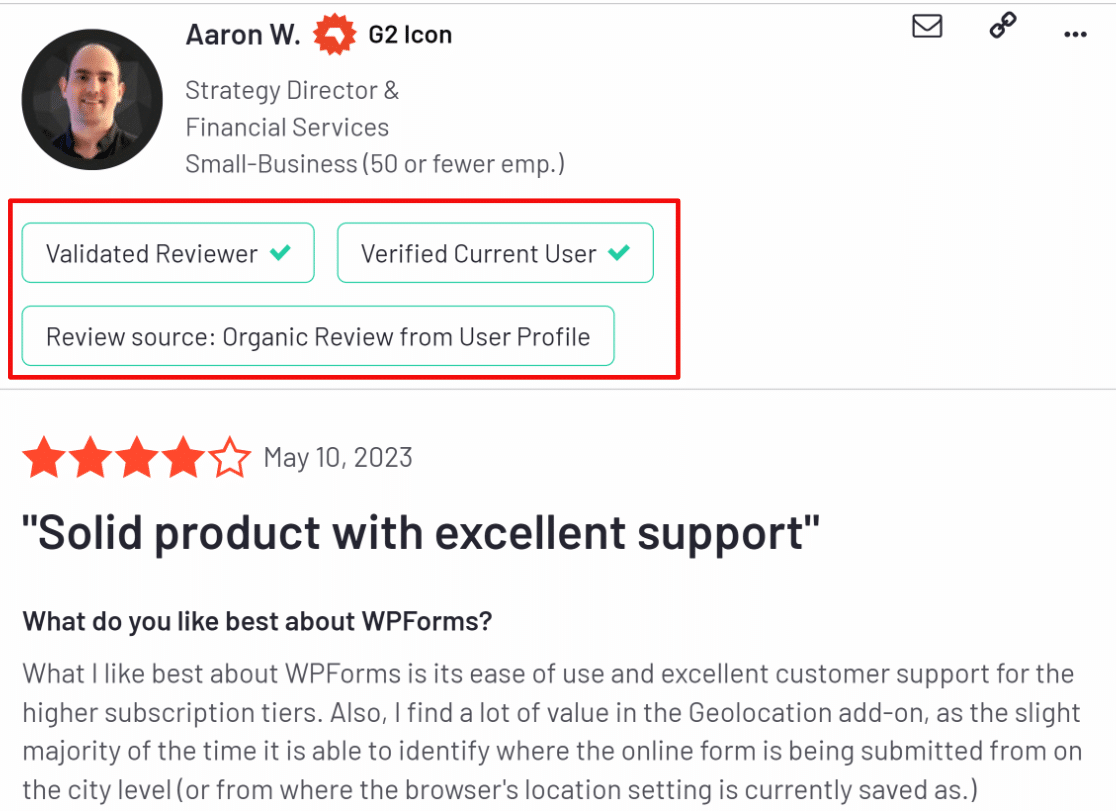 Of course, not every review is organic. G2 also occasionally invites verified users to post honest reviews. It can also incentivize users to post reviews with thank-yous, like gift cards offered to the users.
Organizations can also request G2 to collect incentivized reviews on their behalf.
It's important to note that incentivized reviews are still posted by authentic users and the content of the review is still unbiased. The incentive only exists to collect more information, not to influence a user's opinion.
G2 encourages all users to talk about their likes as well as dislikes about the product.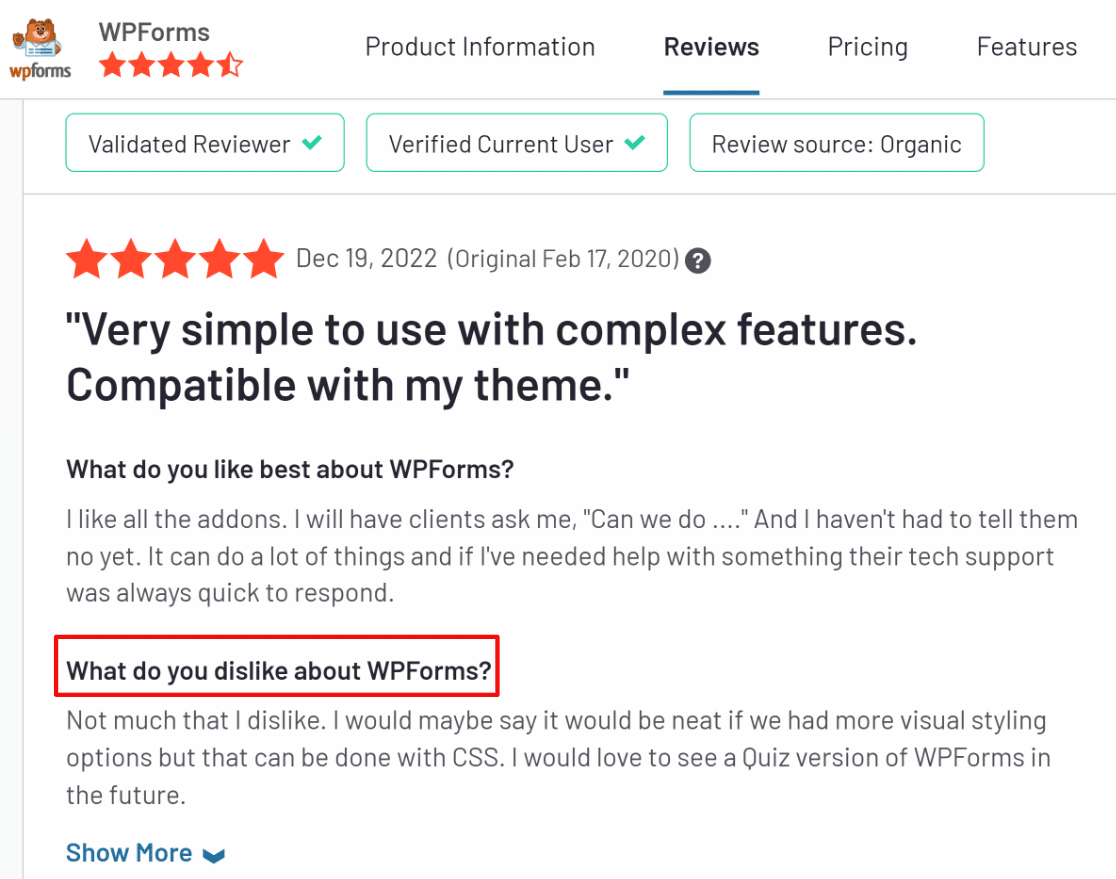 In fact, we listen to critical reviews with even greater interest. The review above is an example of that. Many features like visual form styles came into being after we saw our customers would be happier with them.
Without knowing what our users dislike about us and addressing our weaknesses, we wouldn't have been able to achieve high user satisfaction scores and become industry leaders.
At the same time, a balanced review helps other users make an informed decision before buying a product.
For these reasons, G2 is a godsend for both companies and customers alike.
We get to learn what we should be focusing on to serve you even better.
You get to check out the genuine opinions of other real users about a product, helping you make the right decision.
It's a win-win.
Next, See Why WPForms Pro Is Worth It
The decision to buy the right form builder for your website is an extremely important one. We recommend checking out our post on whether WPForms is worth it to learn more about what makes this plugin so special.
Create Your WordPress Form Now
Ready to build your form? Get started today with the easiest WordPress form builder plugin. WPForms Pro includes lots of free templates and offers a 14-day money-back guarantee.
If this article helped you out, please follow us on Facebook and Twitter for more free WordPress tutorials and guides.