Looking for an easy way to create a sales page in WordPress?
Crafting your first sales page can seem like a difficult task without the right tools at your disposal. That's where WPForms and SeedProd come into the picture.
In this guide, we'll walk you through the steps on how to use these plugins to create a high-converting sales page, without any coding expertise, in the first go!
But, what makes a sales page so integral to your business's success?
Why Build a Sales Page on WordPress?
A sales page is a standalone webpage designed with a single objective in mind — to generate sales or conversions.
It's more than just a product listing or a shopping cart. It helps build a persuasive narrative around your product or service, further assisting in:
Increasing Revenue: A well-optimized sales page can significantly increase your revenue. It can be the difference between a visitor leaving your site or becoming a paying customer.
Building Brand Authority: By providing in-depth information and solutions on your sales pages, you can position your brand as an industry leader, enhancing your credibility.
Enhancing User Experience: A well-crafted sales page makes the buying journey easier for your customers by eliminating distractions and directing visitors toward a specific action.
Boosting Conversion Rates: These pages are conversion-oriented by design. With persuasive copywriting, engaging visuals, and strategically placed CTAs, they're built to boost conversions.
Tracking and Analysis:  By using analytics tools, you can easily assess the effectiveness of your page design, CTA placements, sales pitch, and overall user experience to improve your metrics.
All of this sounds great, doesn't it? Well, building a sales or landing page that converts is an art! Here's how you may quickly master it on your very first try!
How to Create Your First Sales Page in WordPress?
To create a sales page in WordPress, you can rely on WPForms and SeedProd. Follow the steps below to get started:
1. Installing and Activating WPForms
WPForms is a powerful and user-friendly form builder that lets you create payment forms to maximize the potential of your sales pages.
While we'll be using the Pro version for this tutorial, remember that all license holders, including Lite users, have access to the Stripe payment integration.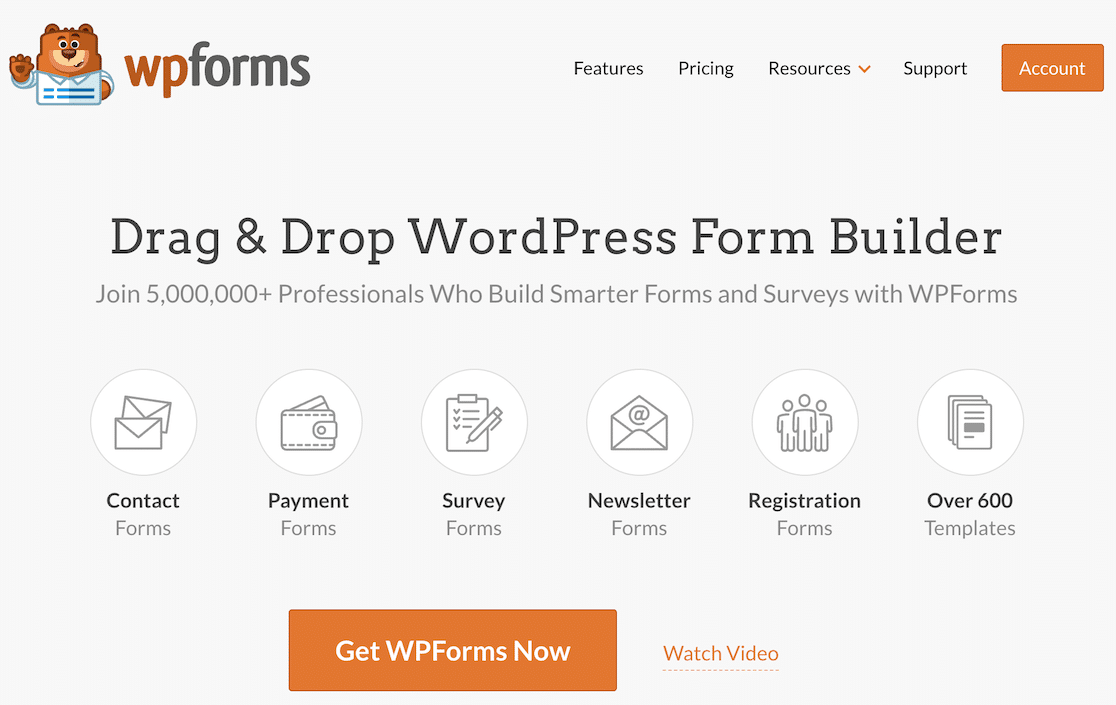 After you decide which WPForms version suits your needs, it's time to install and activate the plugin on your WordPress site.
Once you activate WPForms, you can easily get started with creating a payment form that you can integrate into your sales page from SeedProd.
2. Connecting WPForms with Stripe
Good work on installing WPForms! Now, we'll walk you through the process of connecting the plugin with Stripe.
From your WordPress admin dashboard, navigate to WPForms and click on Addons from the list of options.

In the Seach Addons field, type in Stripe Pro Addon. Next, simply click on the Install Addon and then the Activate button.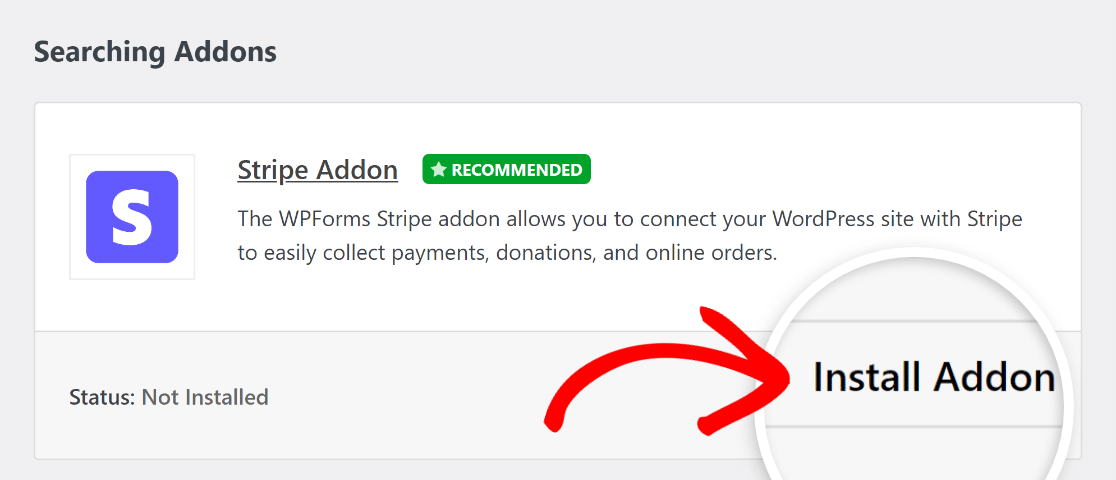 After that, navigate to WPForms » Settings and go to the Payments tab to configure your Stripe payment settings.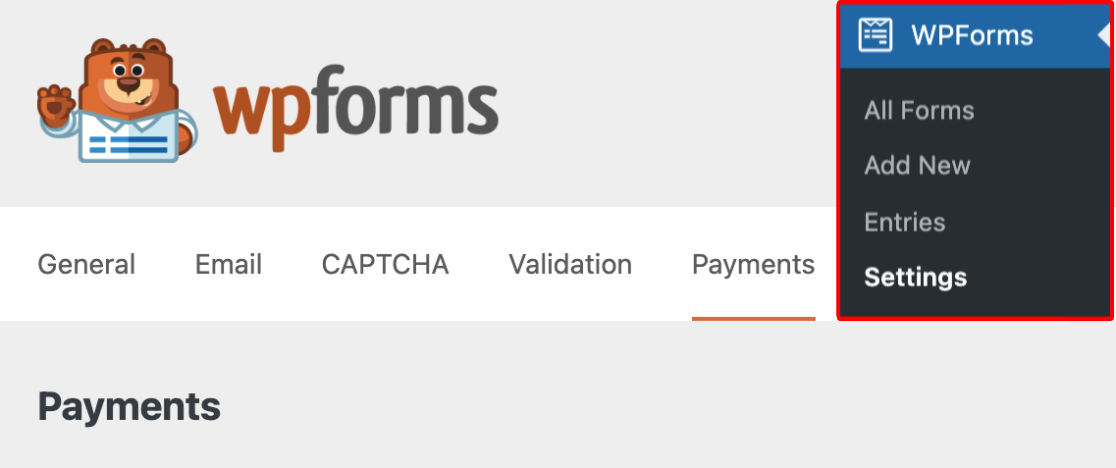 Great job! You're now ready to integrate Stripe into your platform. Scroll down to the Stripe section and click the Connect with Stripe button.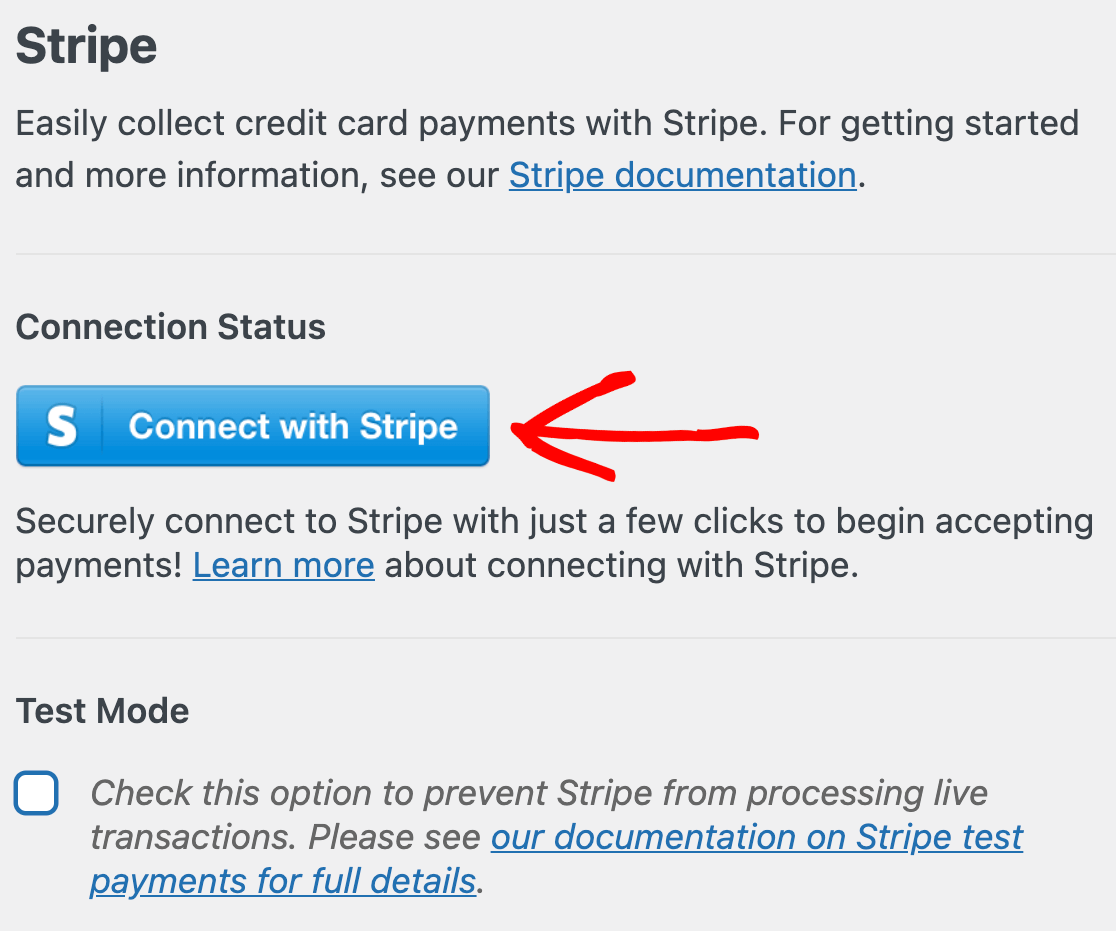 After that, you can link your Stripe account with WPForms by entering your Stripe login information. If you don't already have a Stripe account, you should consider signing up for one right away.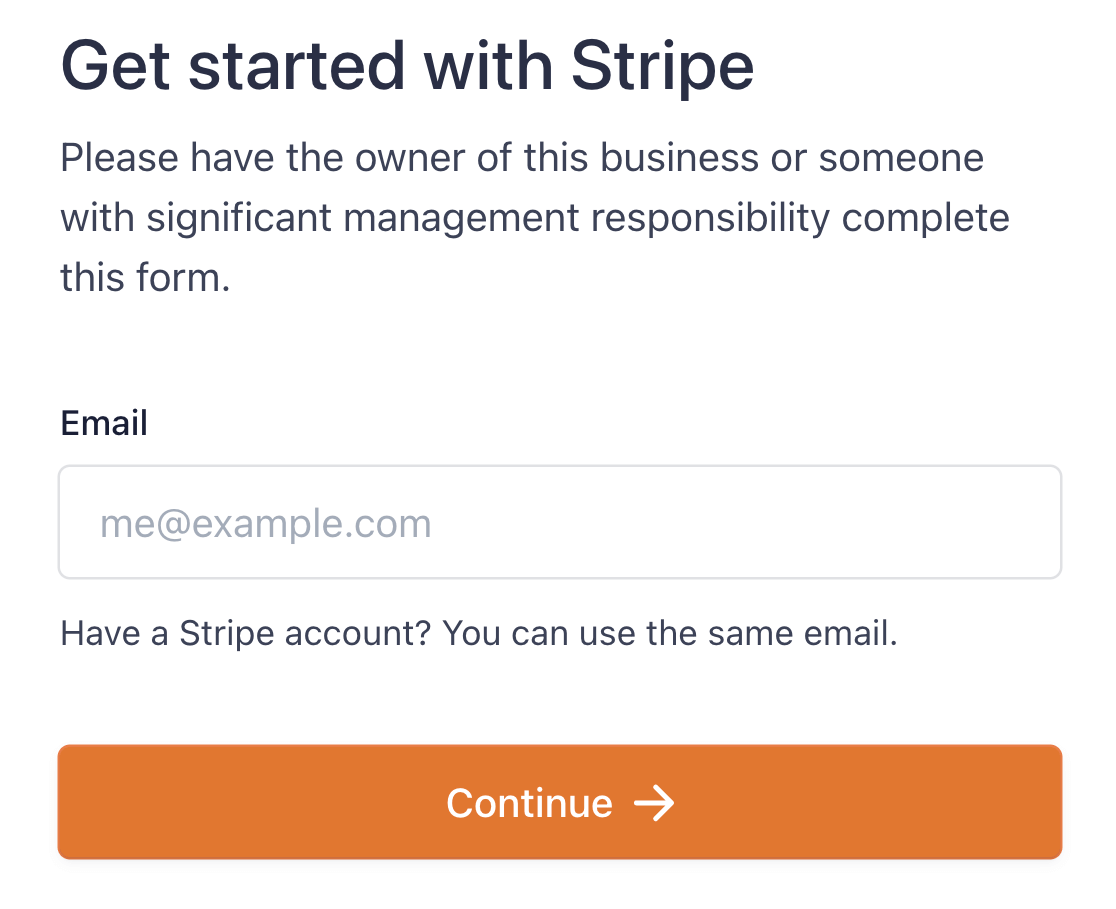 After you've finished all of the steps in the Stripe Connect Wizard, you'll be taken back to the admin area of your site.
If everything is working as it should, there will be a green checkbox right next to Connection Status.

If you're using WPForms Lite, you won't have access to the Stripe Pro addon, unless you consider upgrading to WPForms Pro.
In this case, you can skip the addon installation step and directly go to the Payments tab to connect your Stripe account.
Stripe is set to Payment Elements by default for new WPForms users, allowing them to accept payment methods, such as Apple Pay, Google Pay, and more.
If you previously used the Card Elements mode and are updating to WPForms 1.8.2, you'll have the option to switch to Payment Elements.
3. Utilizing the Stripe Payment Form Template
Now we can go ahead and create your payment form. From your WordPress dashboard, navigate to WPForms » Add New.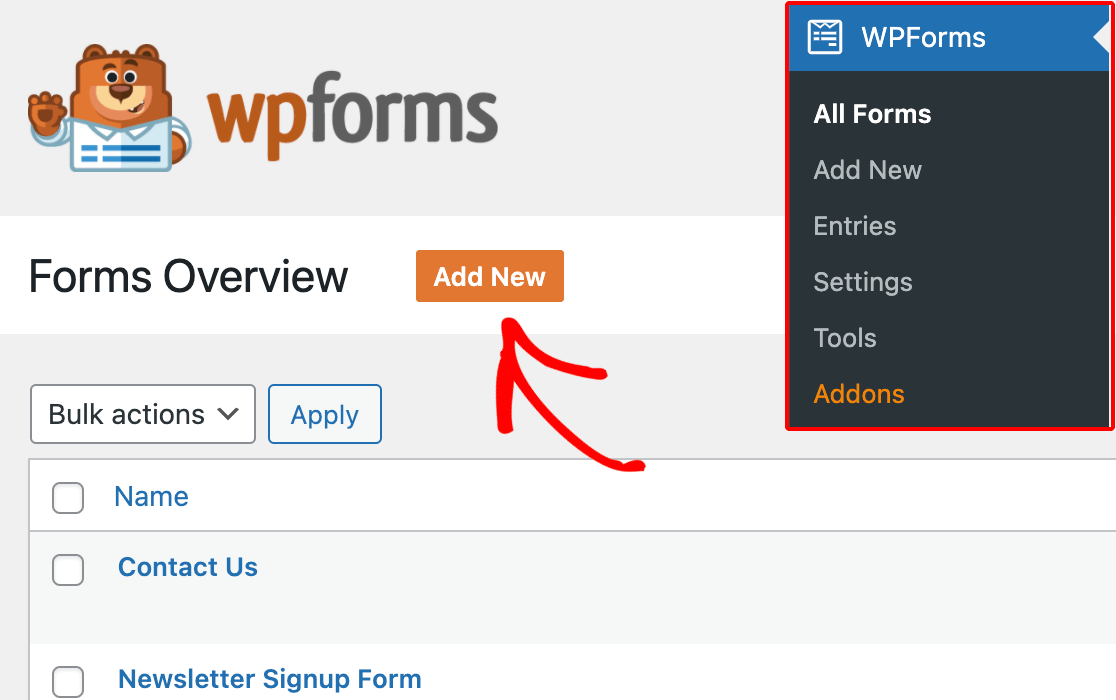 Give your form a name and use the search box to find the Stripe Payment Form template. Once it shows up, click on the Use Template button.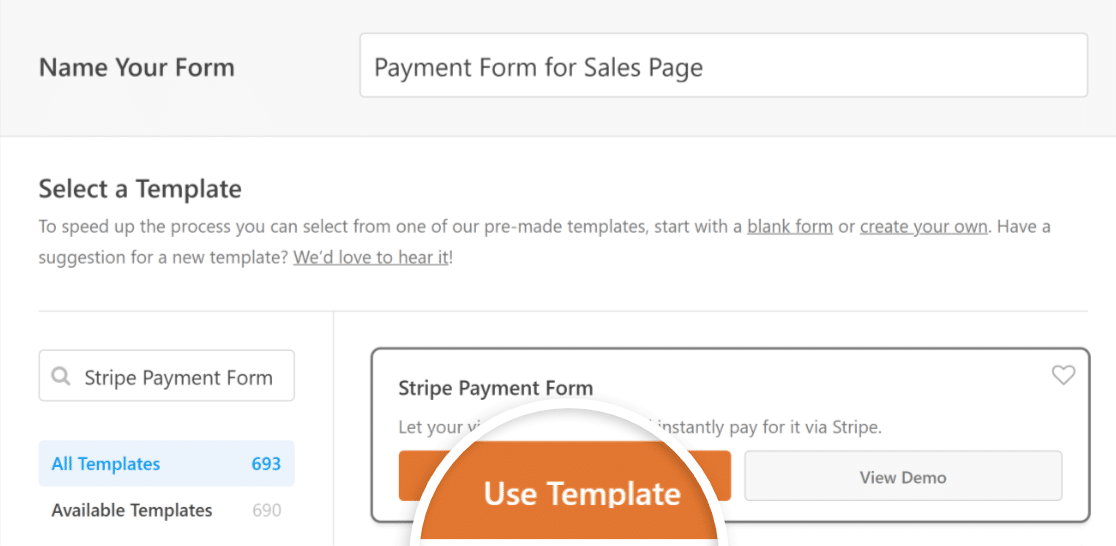 As you can see, the template is built with fields that capture a customer's details, item selection, total, and Stripe credit card details.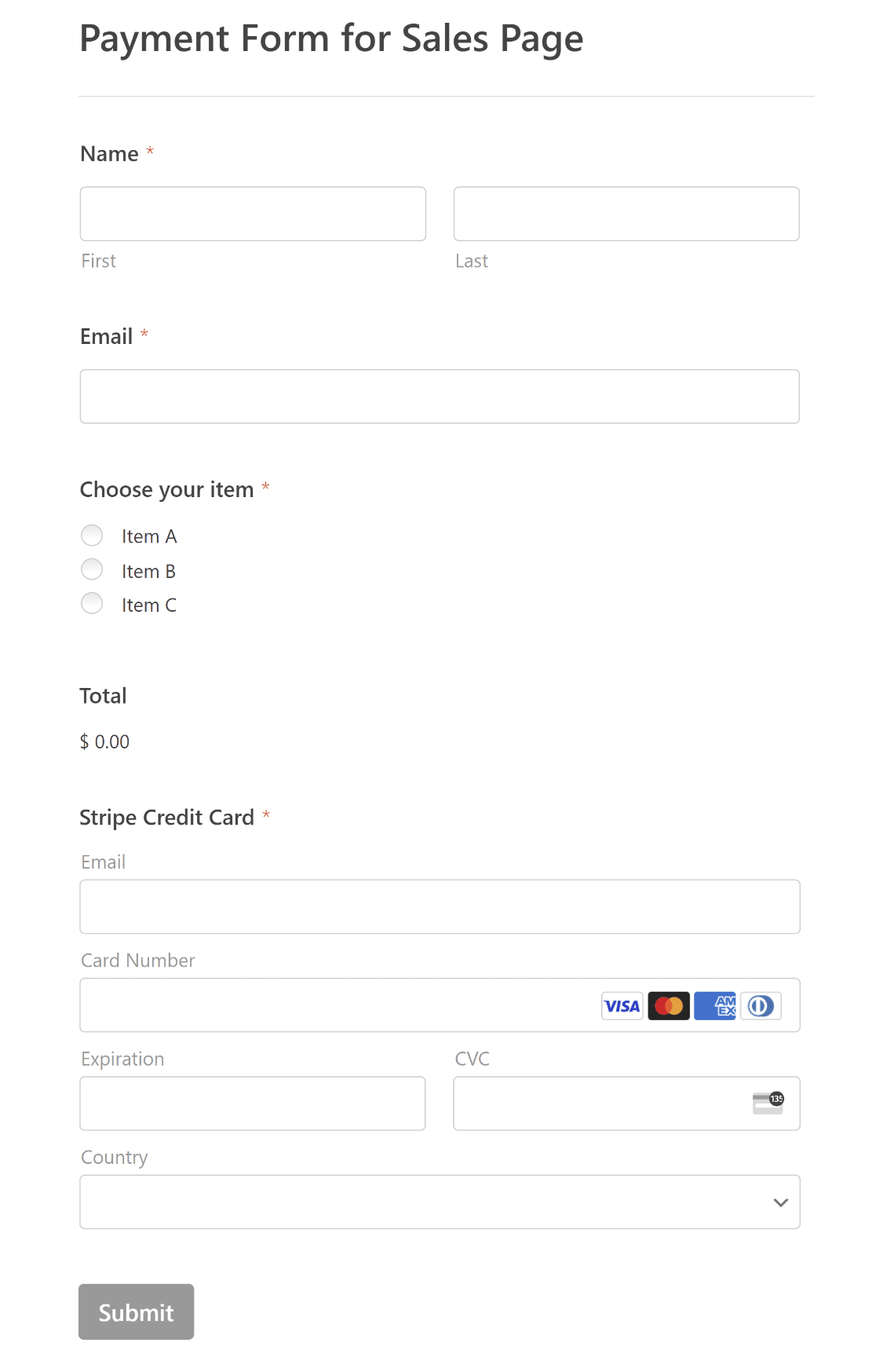 To customize the form to your liking, simply add, edit, and rearrange fields using the WPForms intuitive form builder.
4. Configuring Stripe Payments in Your Form
It's now time to enable the Stripe payments integration after you're done adding all the necessary fields to your Stripe Payment Form.
You can easily do this by going to Payments » Stripe in your form builder. Then, click on the Enable Stripe Payments toggle button.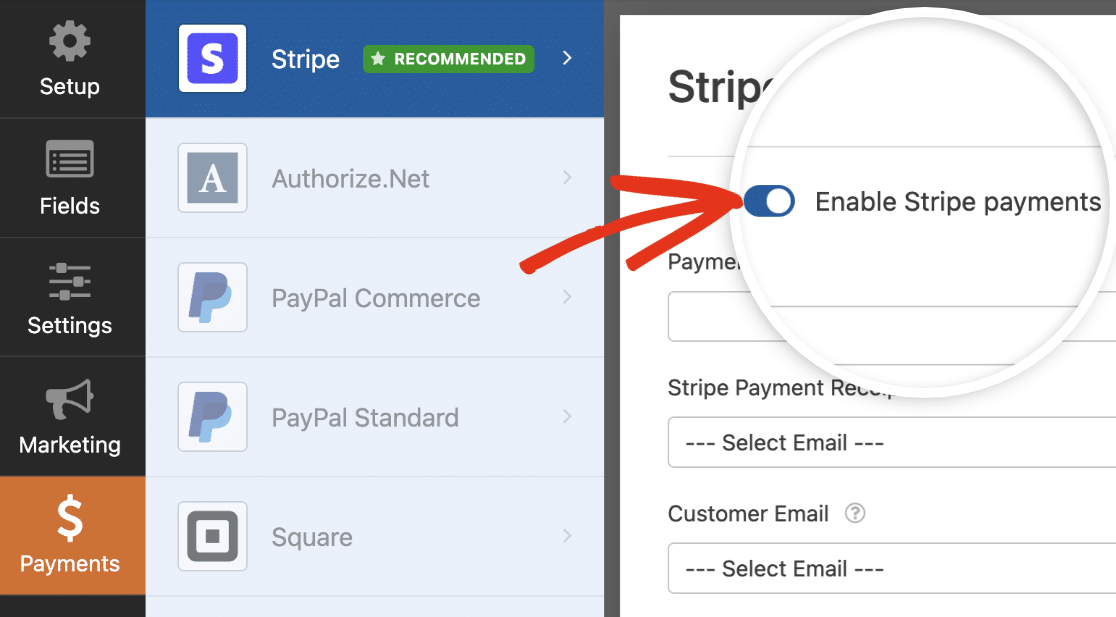 After enabling Stripe payments, you will see a range of additional settings to help personalize the payment experience for customers.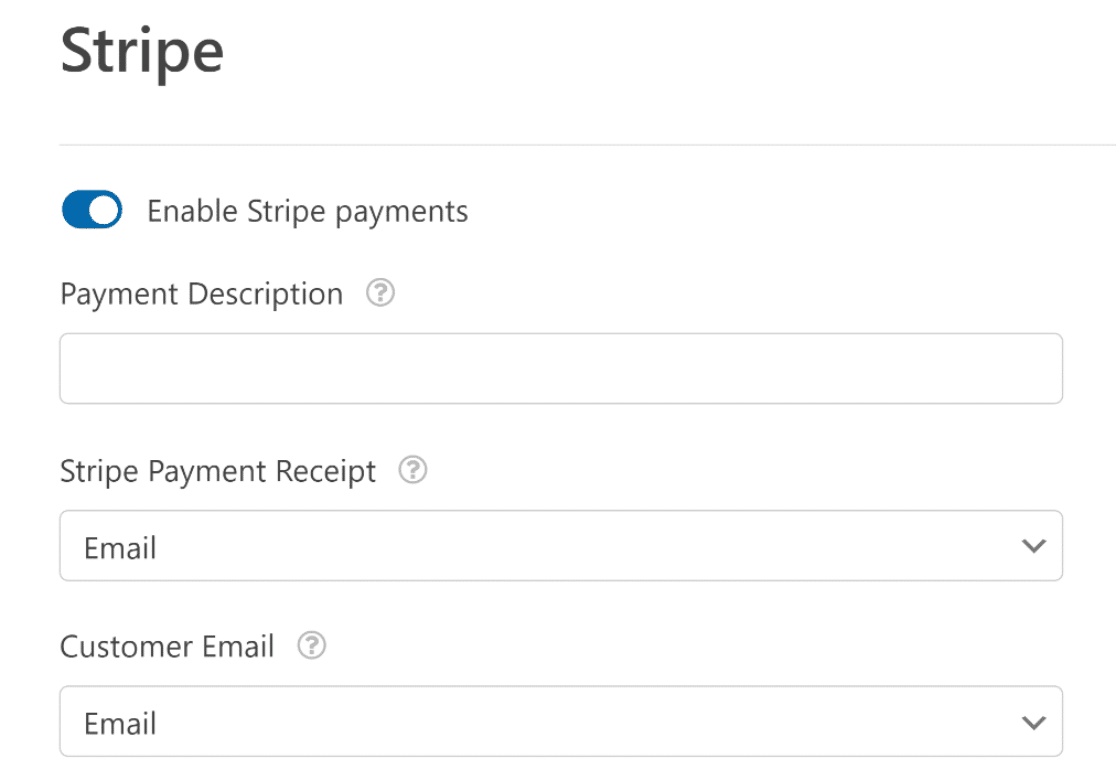 Let's explore what these different options mean:
Payment Description: The description input here will be reflected on your customers' bank statements, so choose a description that your customers can easily identify.
Stripe Payment Receipt: By choosing the appropriate Email field in your form, you can authorize Stripe to send automated payment receipts to customers' email inboxes.
Customer Email: Identify the Email field holding the customer's email data. This will assist you in tracking payments directly from your Stripe account interface.
5. Enabling Notifications and Confirmations
To keep a close eye on new sales activity, it's crucial to optimize your form's notification settings. Navigate to the Settings tab and select Notifications.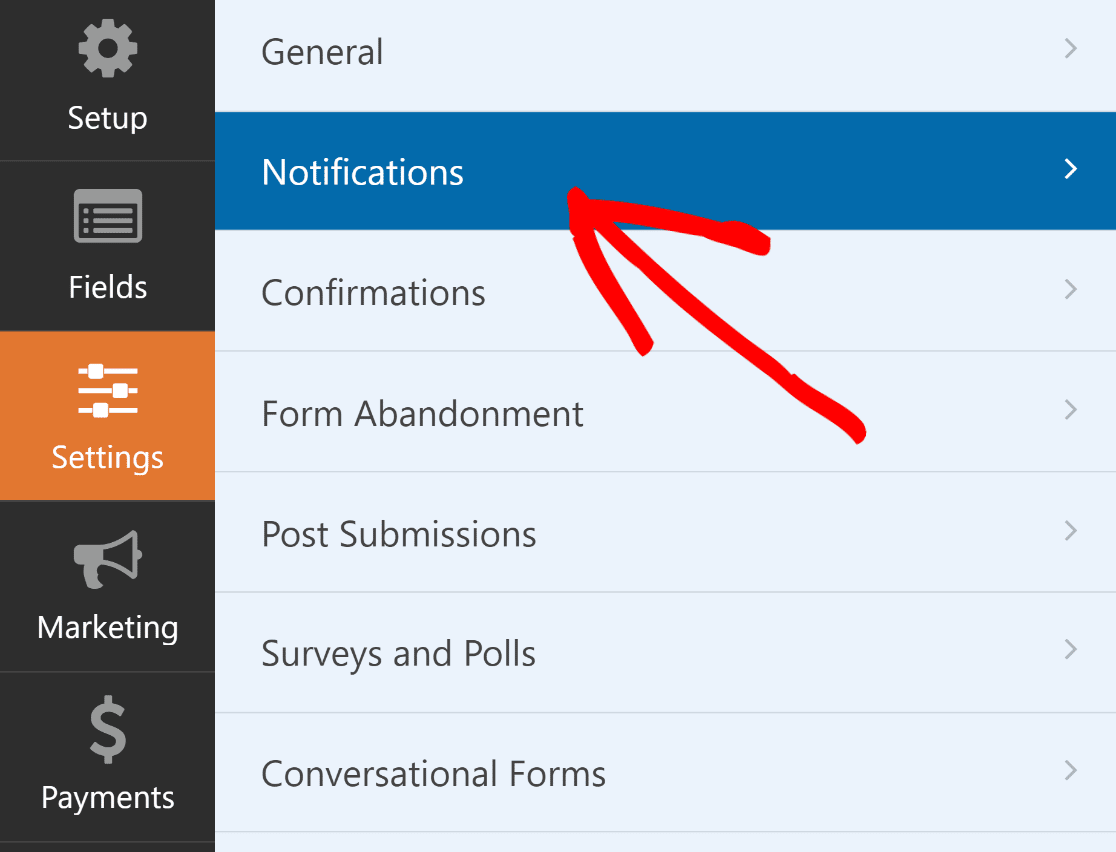 By default, admin notifications are active. However, you have the flexibility to modify the email subject line, the body of the message, and to add or edit recipient email addresses.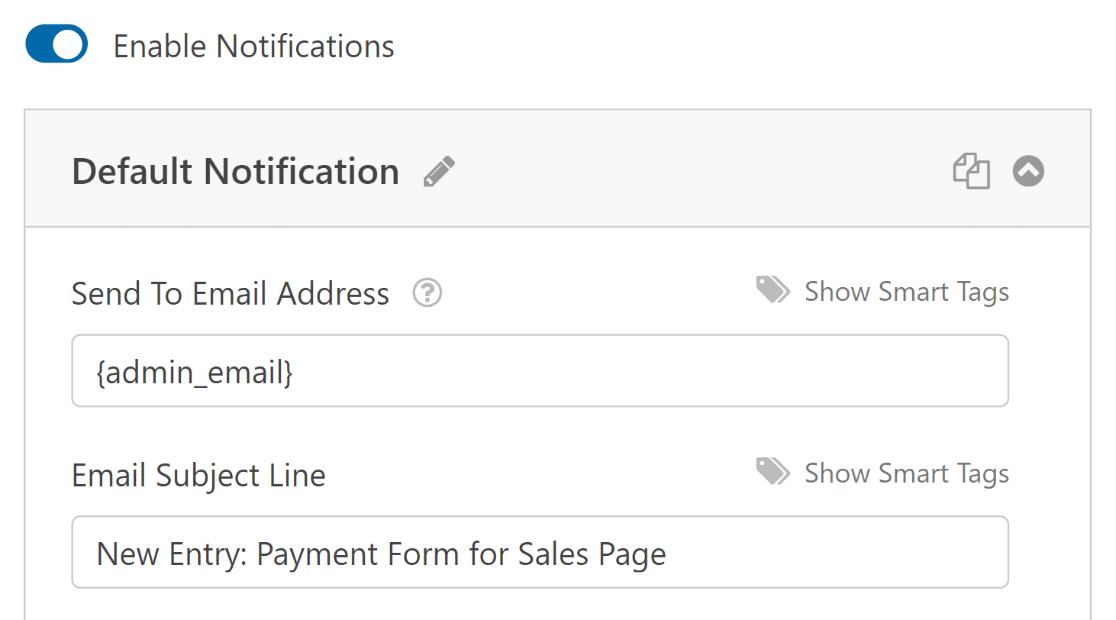 Next, under the Settings tab, choose Confirmations to adjust the message your customers will receive once they've successfully submitted their form.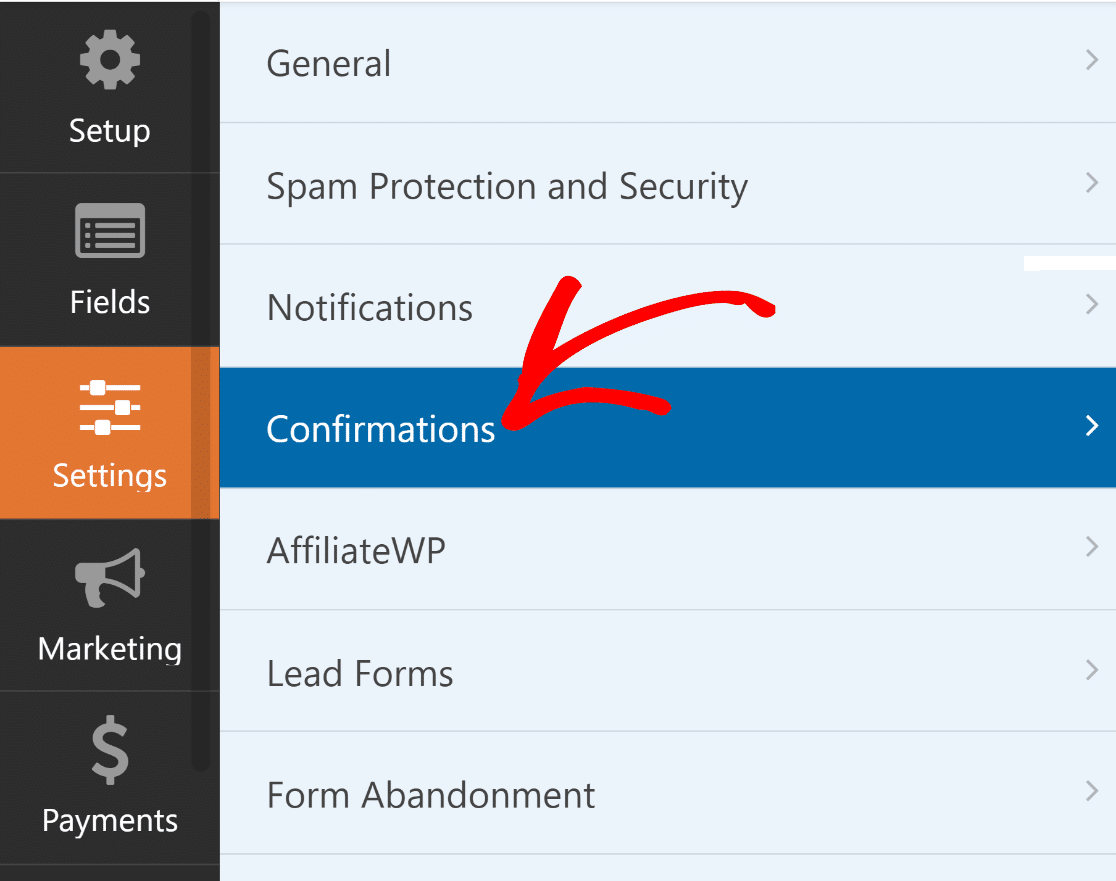 WPForms' Confirmation Type options include showing a message, displaying a page, or redirecting the user. Choose the one that is most applicable to your business,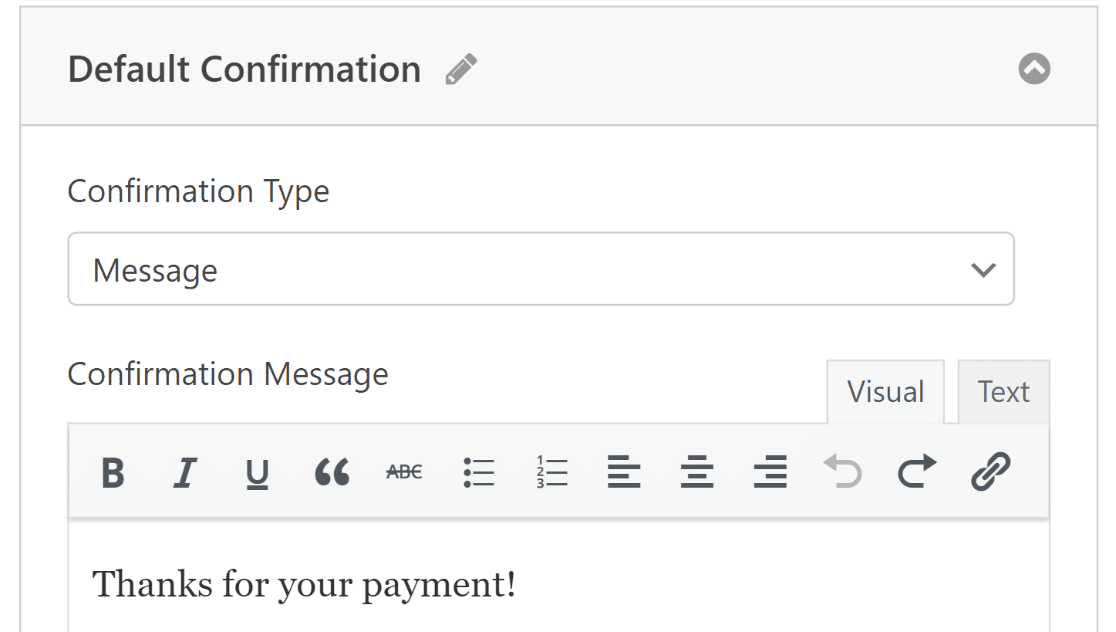 Make sure to hit the Save button to avoid losing any changes. In the next step, we'll show you to how to build your sales page with SeedProd.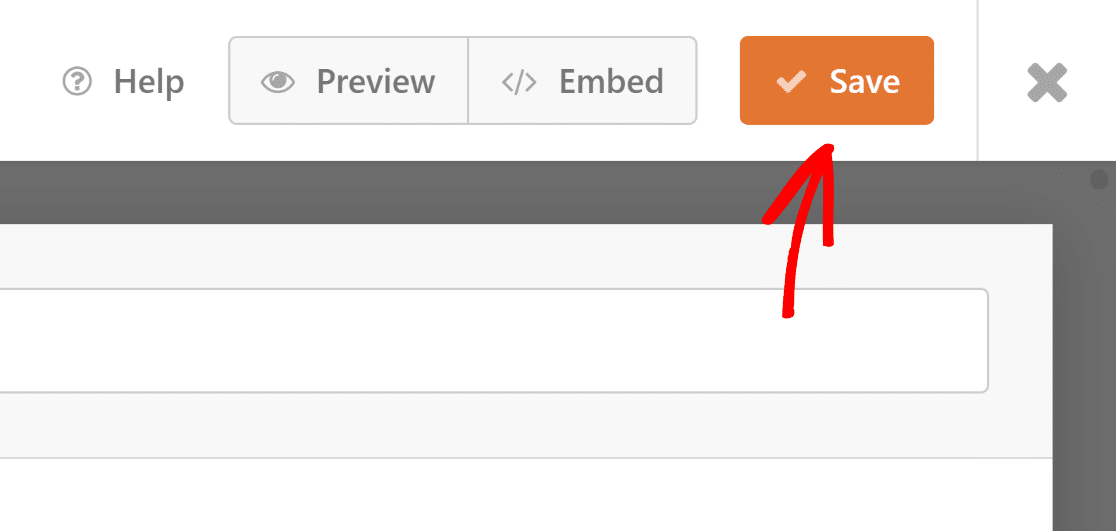 6. Creating Your First Sales Page with SeedProd
You're doing great so far! Now, it's time to kick off your journey with SeedProd. You can follow these steps to install the WordPress Plugin.
After activating the plugin, click on the SeedProd icon from your WordPress admin area to launch the landing page dashboard.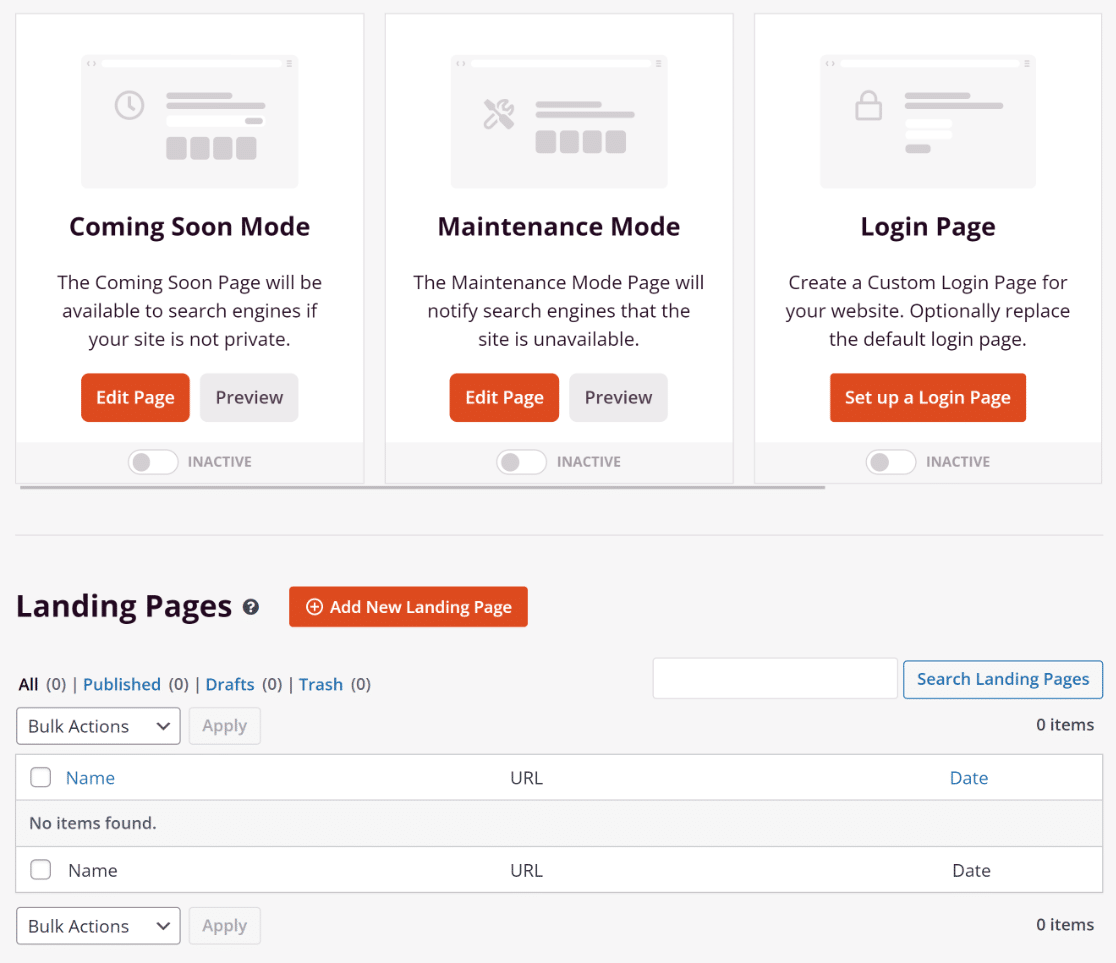 Next, click on the Add New Landing Page Button to get started. From the Filter options in the landing page templates gallery, click on Sales.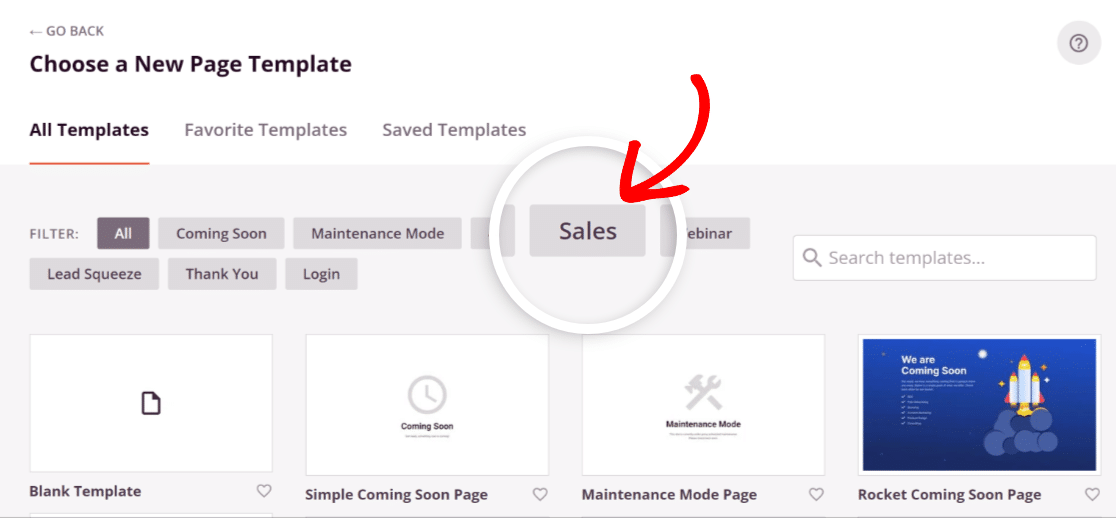 After that, pick a template that aligns with your vision. Simply hover over it and click the Tick icon. For this guide, we've chosen the Ebook Sales Page.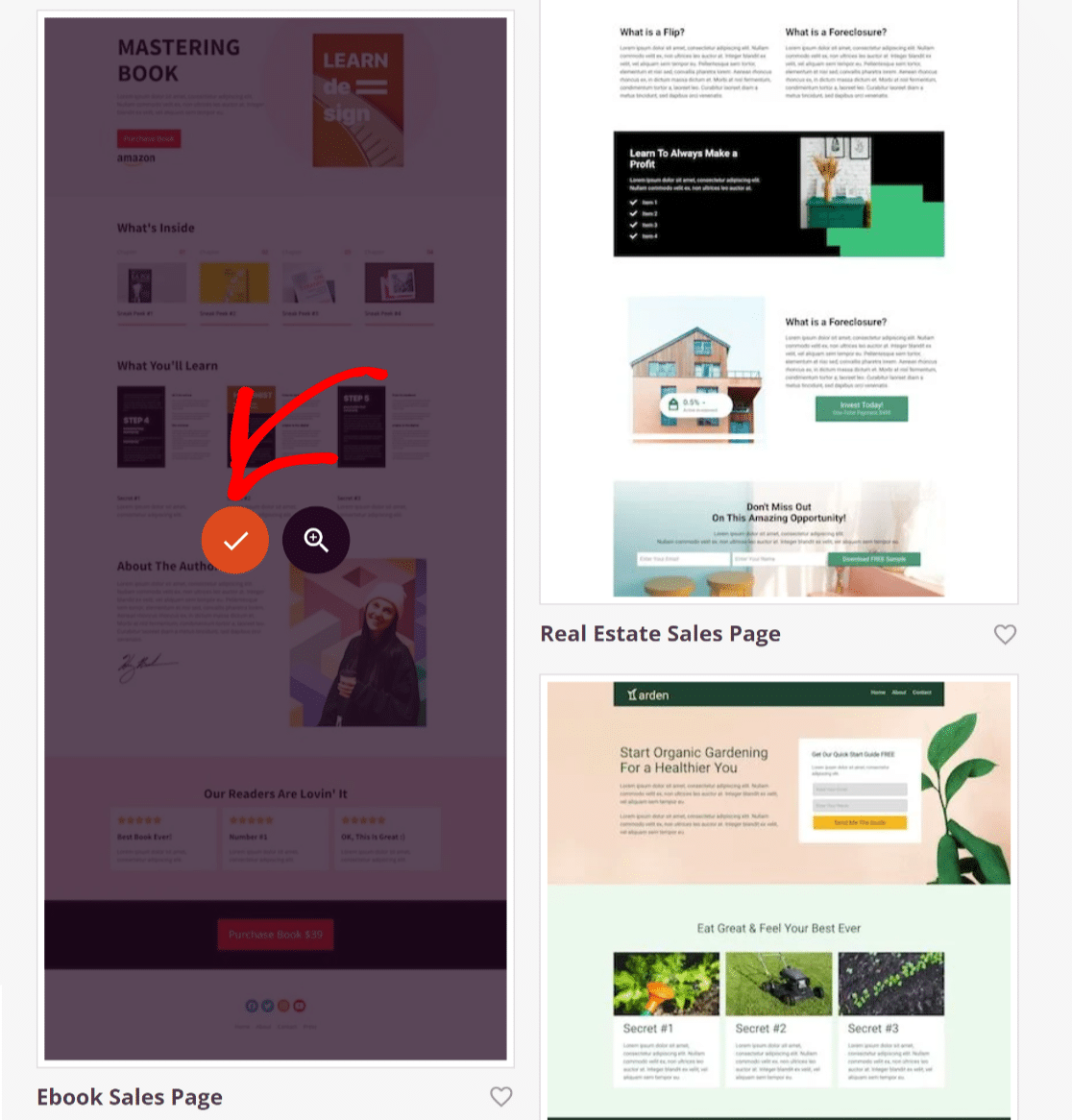 Next, SeedProd will ask for details like Page Name and Page URL through a popup window. Fill it out and click the Save and Start Editing the Page button.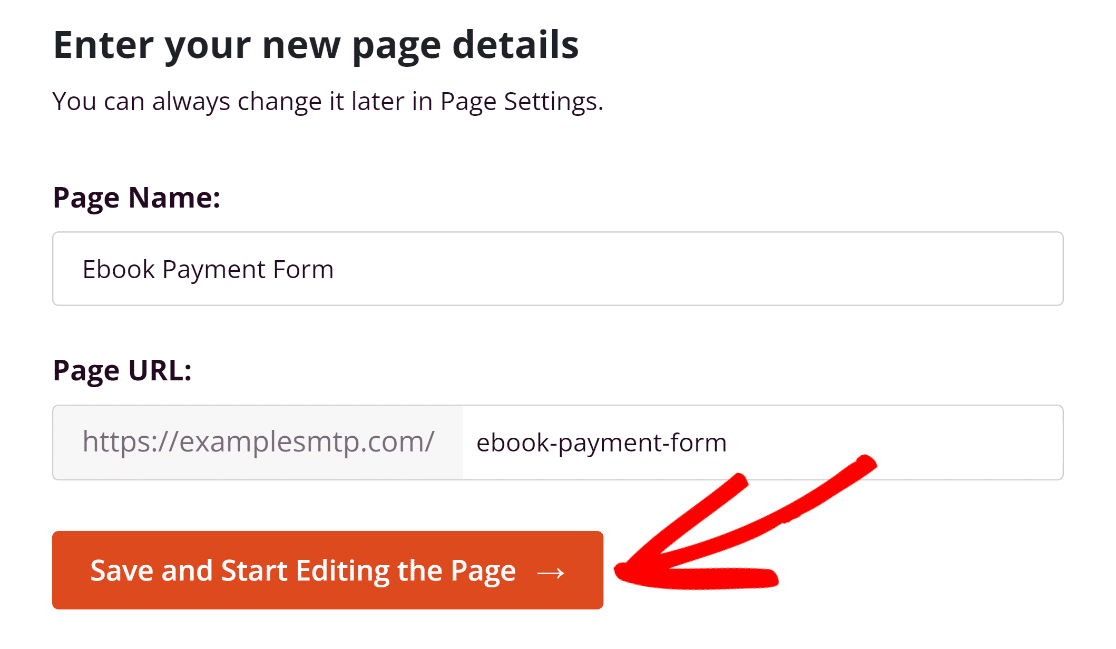 You can now begin customizing the sales page template to your liking with SeedProd's intuitive drag-and-drop page editor.
Click any component on your page preview on the right, and you can edit the content live, or add Blocks to your page from the left panel.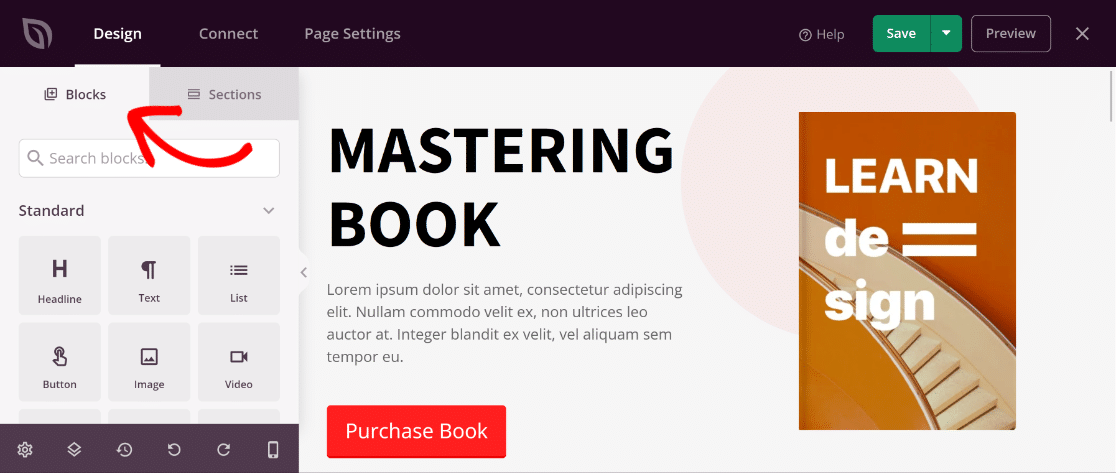 Once you're satisfied with the design and content of your sales page, remember to hit the Save button located at the top-right corner of your screen.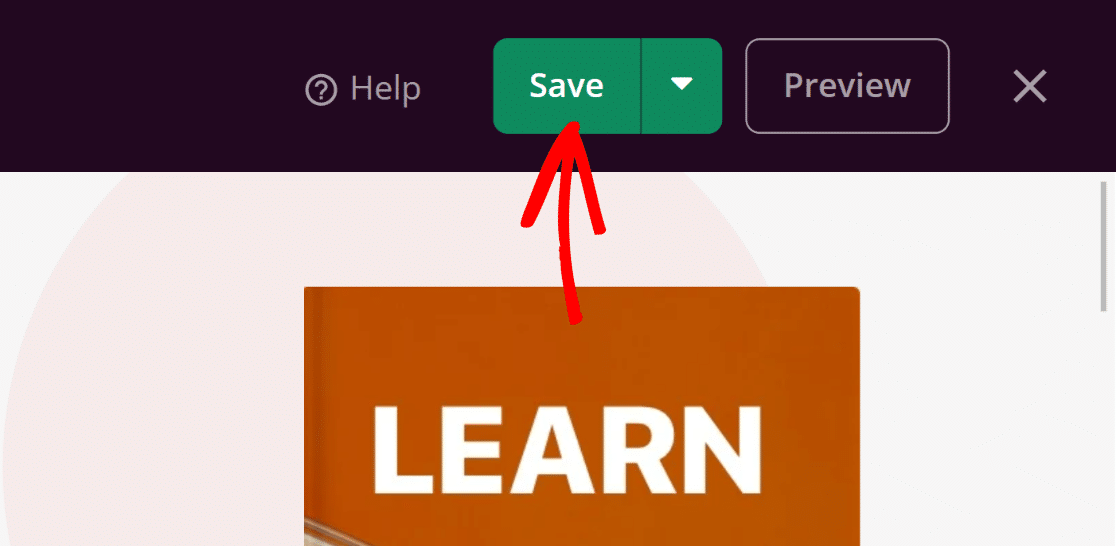 We're almost there! In the next step, we'll explain how you can integrate the payment form into your sales page from SeedProd and publish it.
7. Integrating WPForms and Publishing Your Sales Page
From the SeedProd page builder, navigate to the page section you want to attach the payment form you created with WPForms.
In the Blocks menu on the left side, search for the Contact Form block, select it, and drag it to the section on the right.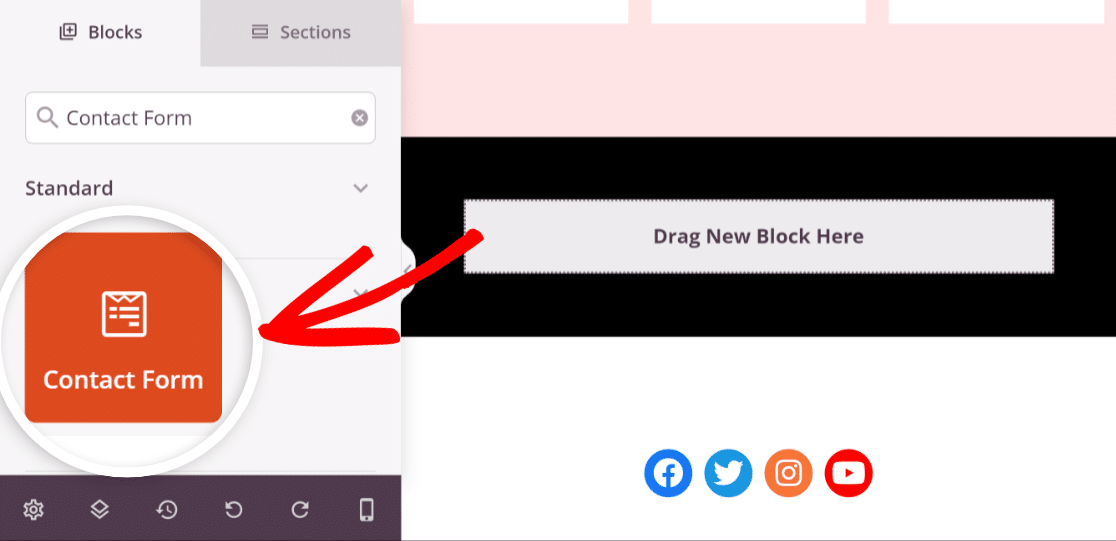 The WPForms block will now get activated automatically. Simply click on the Select a Form button and add your payment form.

If you're satisfied with the way your form and page look, hit the Publish button, and your sales page with the payment form will go live.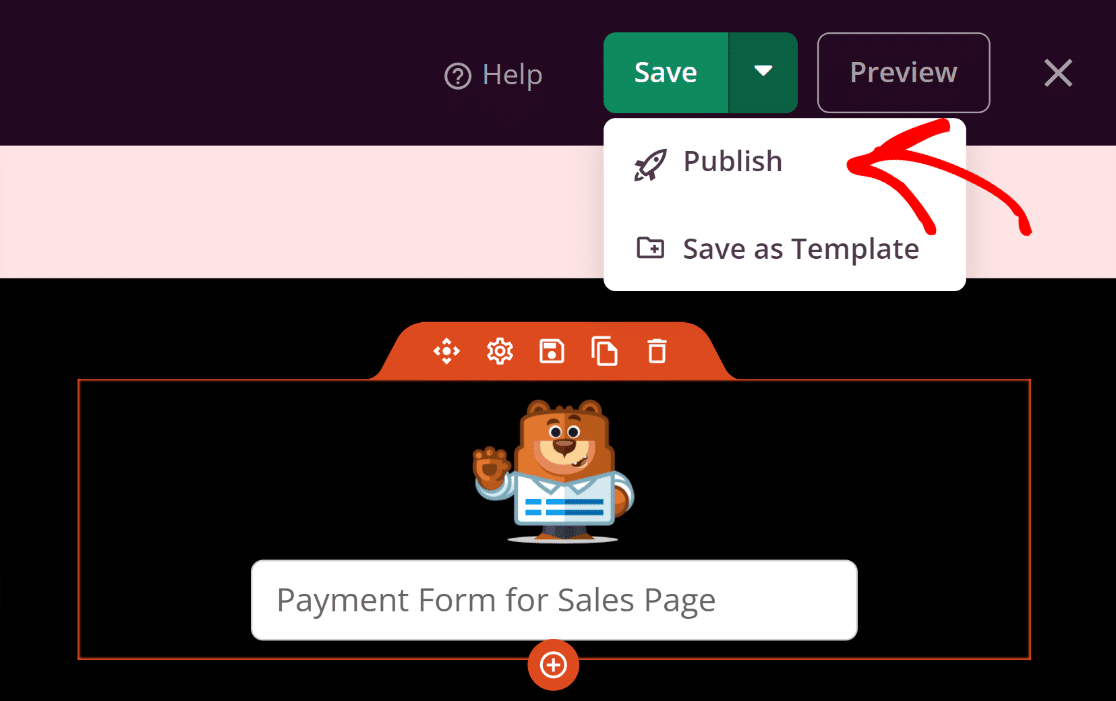 Now all you need to do is test the embedded form after publishing to make sure it works as expected to avoid any problems.
Perfect! You're all set to start selling your products with the sales page. But how are you going to track your payments? That's easy to do with WPForms too!
8. Tracking Sales Orders with WPForms' Payments Summary
Another standout functionality available to both WPForms Lite and Pro users is the seamless tracking of all transactions with the Payments Screen.
To access your comprehensive transaction summary, simply navigate to WPForms » Payments in your WordPress dashboard.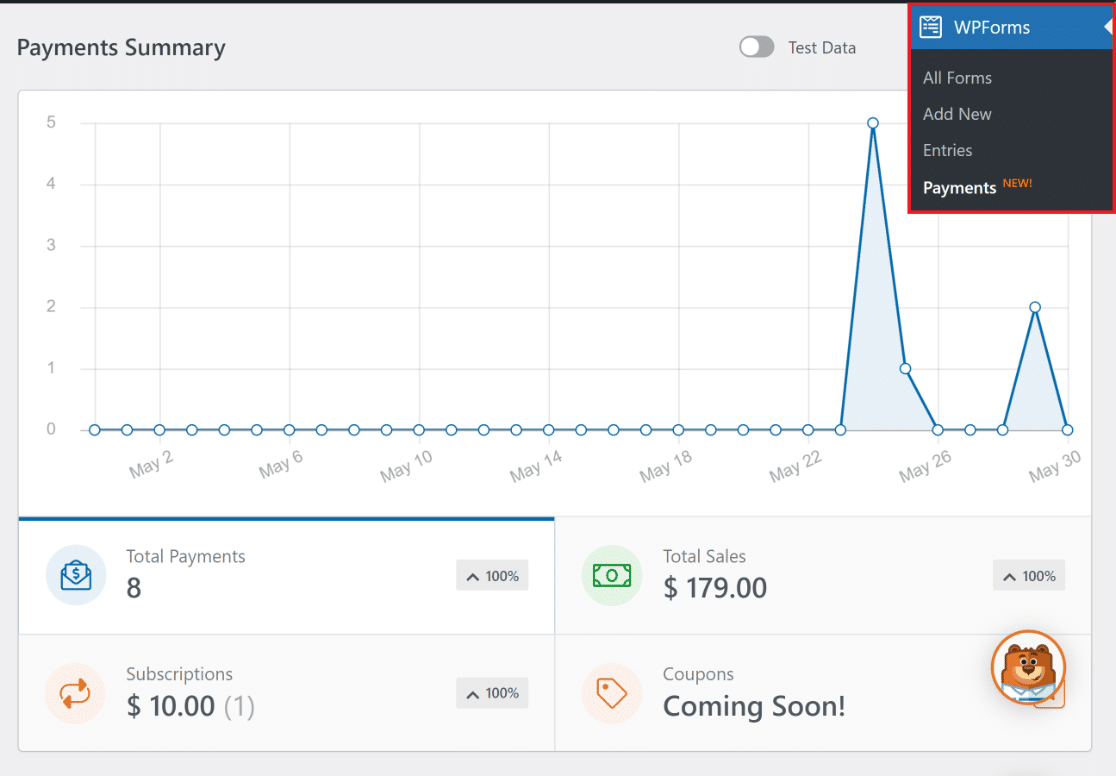 If you delve a little deeper and scroll down, you will also come across a detailed table that enlists all individual transactions processed through your form.
Each transaction in the WPForms payment table comes with its own set of specific details that can be viewed by clicking on the particular entry.

This provides a comprehensive overview of all payments received through your sales page and form, streamlining your operations.
Next, Learn How to Grow Your Online Business
Ready for the next level? Harness the power of your newly built sales page by exploring our in-depth guide on growing your online business. Unlock strategies and insights designed to propel your online business toward success.
Also, if you're interested in streamlining routine WordPress tasks, we suggest exploring these best WordPress plugins featuring ChatGPT to elevate your efficiency in managing your WordPress website.
Create Your WordPress Form Now
Ready to build your form? Get started today with the easiest WordPress form builder plugin. WPForms Pro includes lots of free templates and offers a 14-day money-back guarantee.
If this article helped you out, please follow us on Facebook and Twitter for more free WordPress tutorials and guides.