Are you looking for the top Asana integrations?
Asana is an awesome project management tool. Adding integrations can speed up your workflow and improve your efficiency.
In this article, we'll take a look at some cool ways to integrate your Asana projects with other services.
Create Your WordPress Form Now
Is Asana Free?
Yes! There's a free version of Asana for teams of 15 people or fewer. It lets you create unlimited teams and projects, and up to 1,000 tasks per team.
The free version has the same security features as the paid version. It doesn't have advanced features like timeline views, custom fields, or milestones.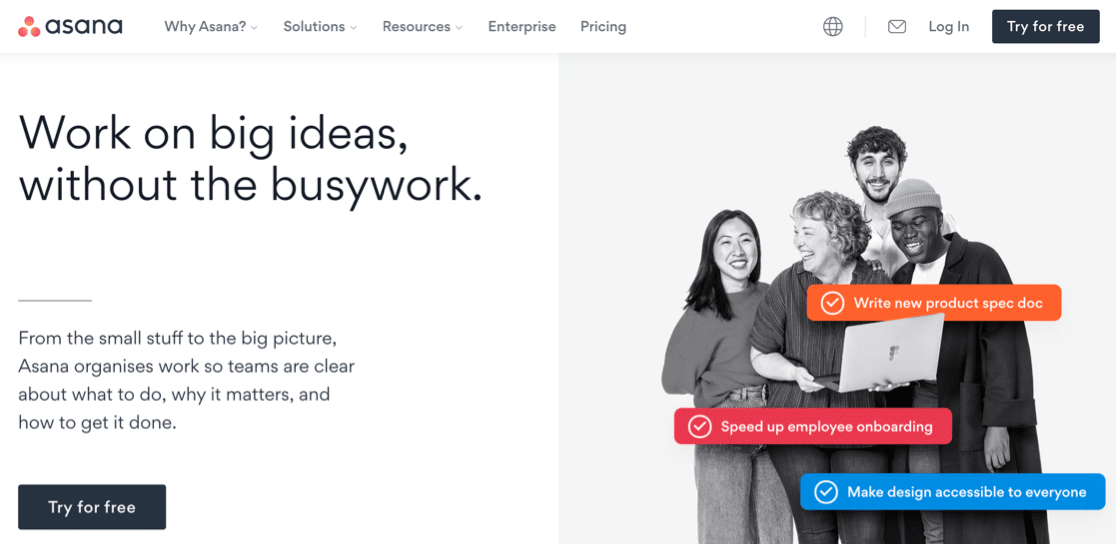 If you're just starting out, the free version of Asana will let you use all of the most important features. Over time, you can upgrade to the paid version to unlock admin controls and functionality.
Let's look at some important Asana integrations to try in the free and paid versions.
Top Asana Integrations
1. WPForms: Connect Your Form Data
Our #1 Asana integration is WPForms.
WPForms is the best form builder plugin for WordPress. It lets you create any type of WordPress form and get unlimited responses.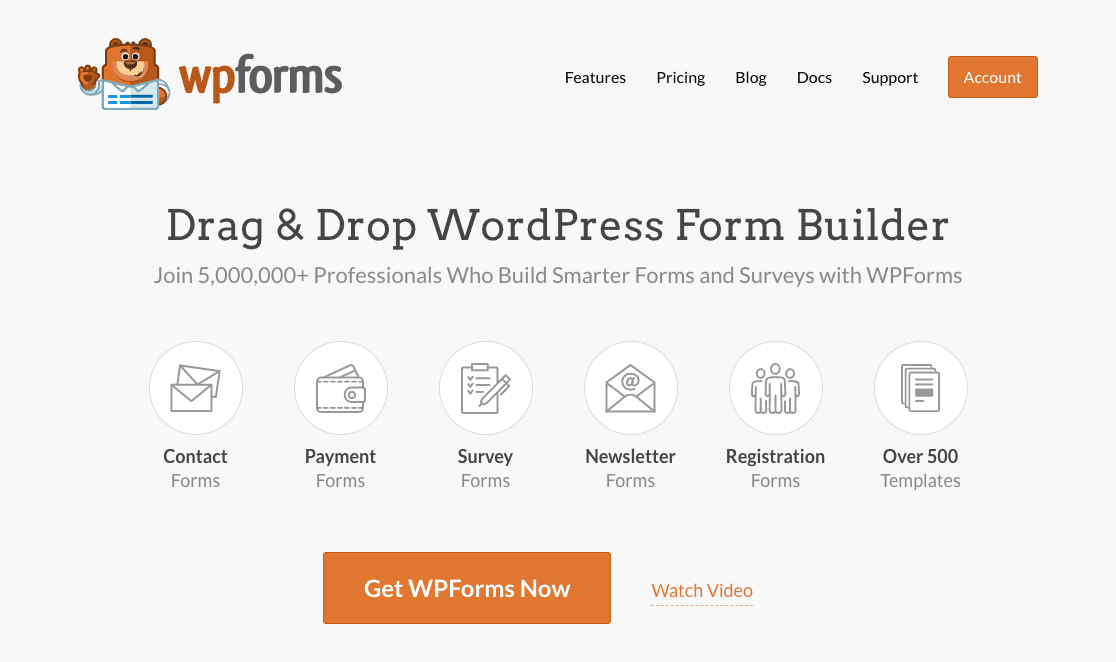 WPForms has over 500 ready-made form templates that allow you to quickly build any type of form including:
If you get a lot of form submissions, it makes sense to automatically create an Asana task for each one. That way you can follow up on each one and tick it off so you don't lose track.
With WPForms, connecting your forms to Asana is simple.
You'll want to install and activate the Zapier addon to start.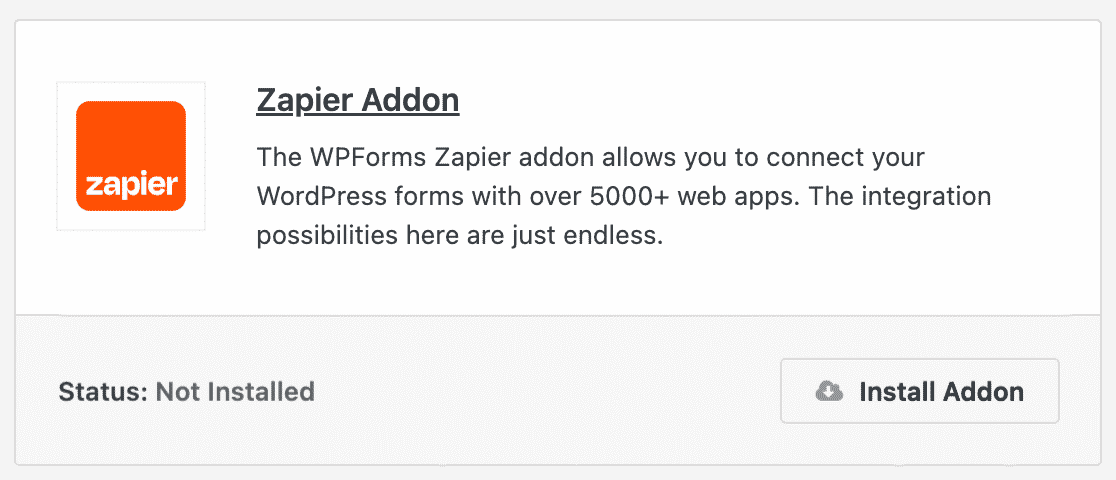 WPForms makes it easy to connect your forms to Zapier. In your form's Marketing settings, you'll see the API key you need to create the connection. And you'll see some example integrations too.

Once Zapier is connected to WPForms, you can easily send the content of any form submission to Asana.
To learn how to create this top Asana integration, check out this article on how to create an Asana task from a WordPress form.

You can use this integration in a few different ways. For example, you can use a form submission to:
Make an Asana project from a form entry
Create a task in an existing project when a form is submitted
Add a task to a specific section of a project to keep things organized
Create a sub-task under an existing task
And more.
2. WordPress: Create Automated Publishing Tasks
Did you know that you can make tasks in Asana right from your WordPress dashboard? This makes it easy to create reminders when you're working on your site.
To set up this integration, you'll want to download the Completionist plugin. It works with any regular project in Asana except for Personal Projects.
After you install and activate the plugin, open the Completionist settings in WordPress.
Next, you'll want to open up the Asana development console. Click the button to create a new Personal Access Token.

Now switch back and paste the access token into the Completionist settings. Tick the checkbox to agree to the terms and click Authorize.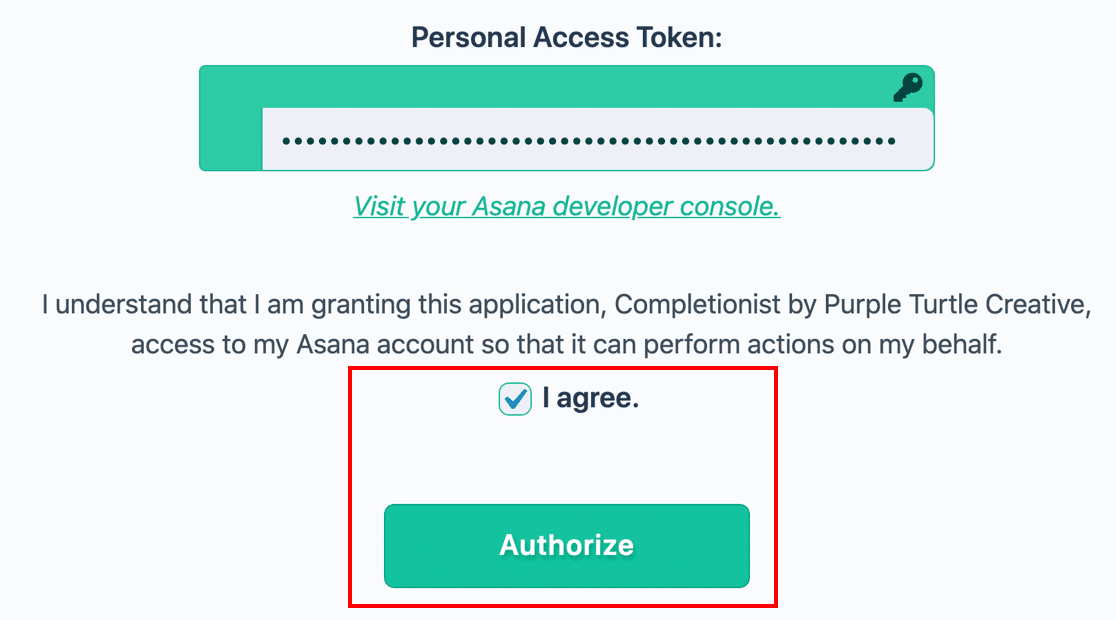 The plugin will confirm that your WordPress Asana integration is set up.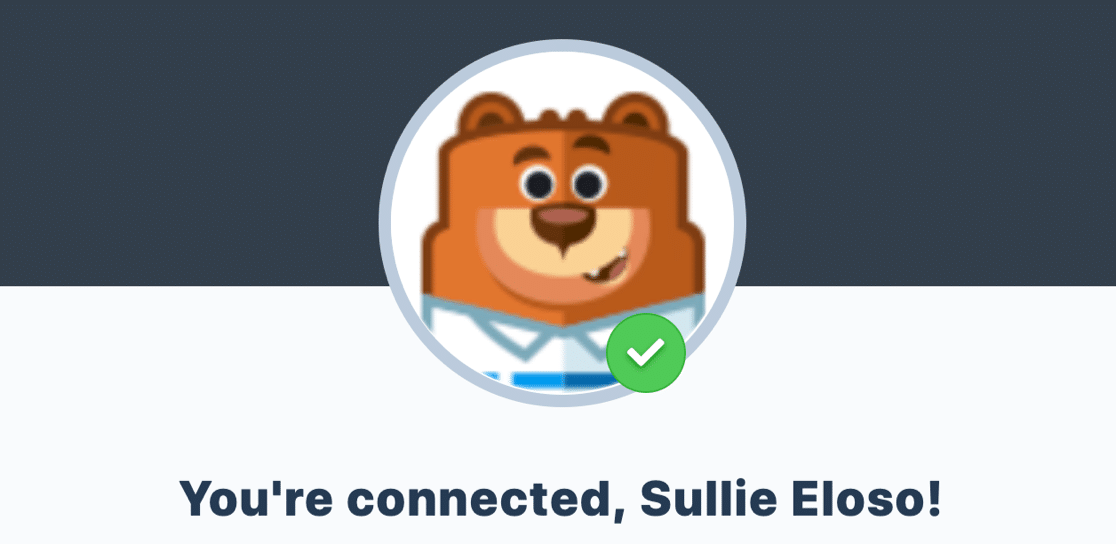 Next, scroll down a little and select your business project from the first dropdown. Remember: you can't use Personal Projects for this integration.
In the second dropdown, choose or type in a tag for the tasks you create. Then click Save.

Now when you edit any post or page in WordPress you'll see a tasks pane. You can use this to add a task in Asana right from the WordPress dashboard.
When you click Add Task, it's sent immediately to your Asana project and tagged with your chosen tag.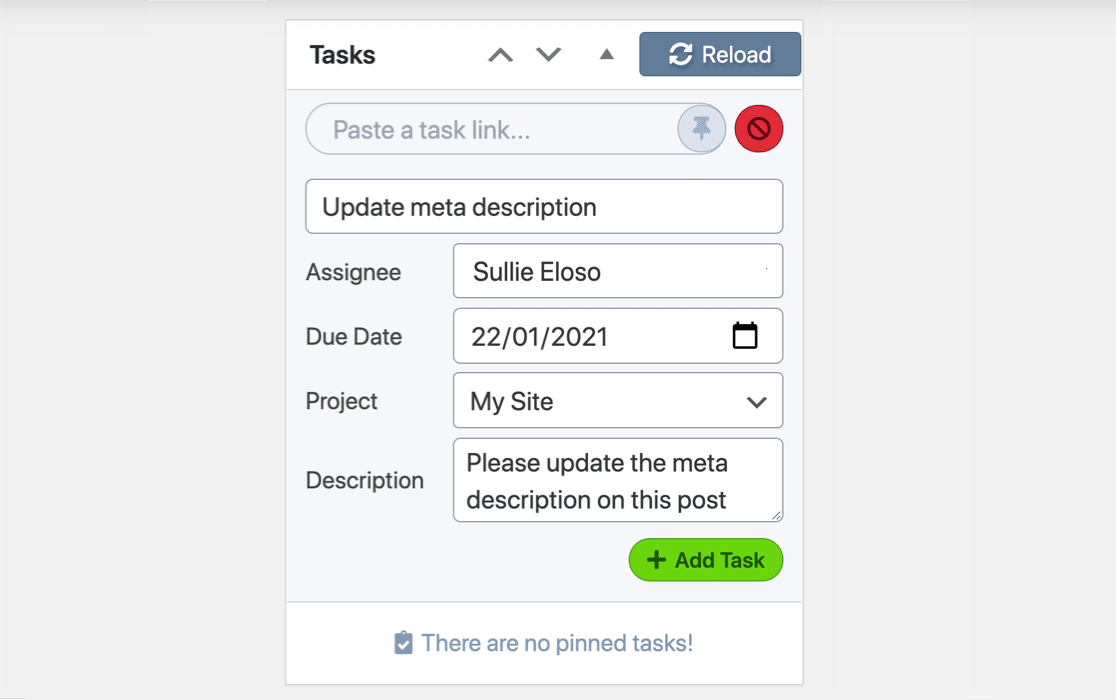 Here's what our new WordPress task looks like in Asana:

The plugin also lets you create automated tasks in Asana.
For example, you can have it automatically create a task in Asana each time a new post is created on your WordPress site.
This could save you tons of time when making content plans or managing a team of writers. Also, you don't have to buy a separate to-do list plugin for WordPress, so it could save you money.
If you're working in a remote team, keeping everyone on the same page can be tricky. That's why we chose Slack as one of our top Asana integrations.
It's easy to connect Asana to Slack so everyone sees task updates in their own private channel.
To add the Asana app, just click the plus icon next to Add apps in the Slack sidebar.

When you complete the integration, each user can add a new Asana channel under Apps.
And this channel automatically shows activity in Asana right inside Slack.

This integration is neat because you can also update Asana tasks from Slack.
In the dropdown next to the Asana message, it's easy to:
Mark Asana tasks as complete
Like a task or a comment
Change the assignee or due date
And more.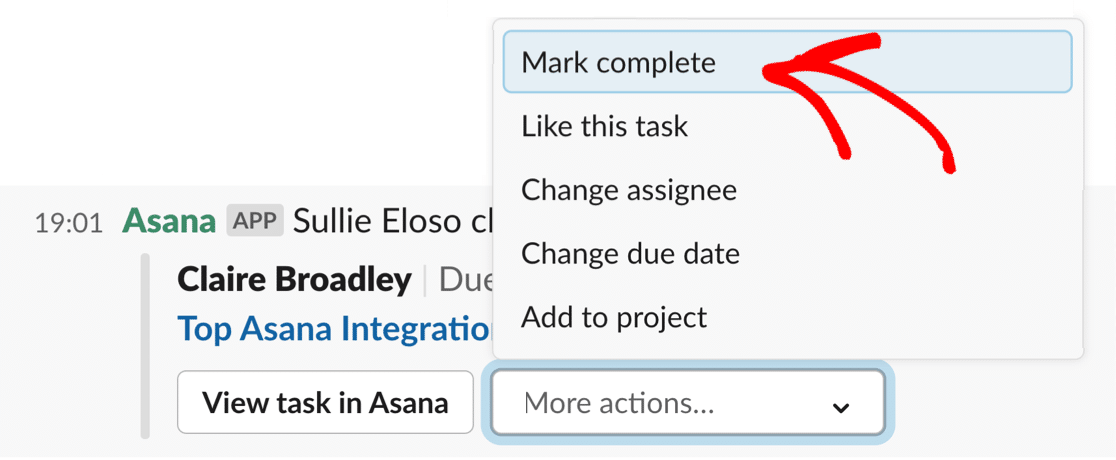 This top Asana integration helps to make project management easier and saves time switching back and forth between applications.
4. Trello: Visualize Your Workflow
If you're an avid Trello user, importing tasks from Asana will help you to visualize your to-do lists.
But here's the neat thing: you can also integrate them the opposite way round!
For example, you could use Asana to keep up with your Trello due dates by creating a zap like this: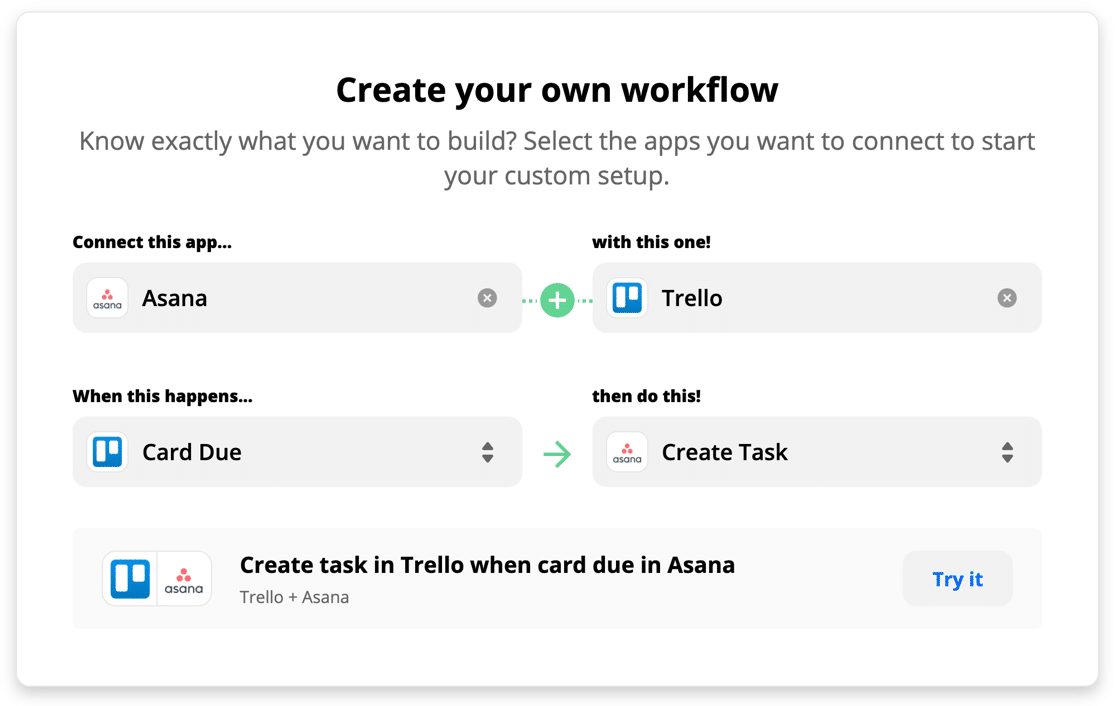 And you could then create another integration to mark completed Asana tasks as new Trello cards. It's perfect if you want to organize your work in both tools.
Zapier lets you get creative because there are so many different triggers and actions. You can cook up a custom Trello-Asana workflow that keeps everything in sync and suits the way you work.
PS. Did you know that you can also use WPForms with Trello? Check out this guide on how to make Trello cards from form entries.
5. Toggl Track: Take Time for Your Tasks
Do your employees use Toggl Track to track their work time?
It's super easy to integrate Toggl with Asana so you can see exactly how long each task is taking.
And the awesome thing about this integration is that you can use the Toggl Button extension to allocate time against Asana tasks.
This integration will automatically pull in Asana users and projects. If you want to also sync your Asana tasks, you'll need to have the Pro plan for Toggl Track.
To start, log in to Toggl Track. Click Settings on the left.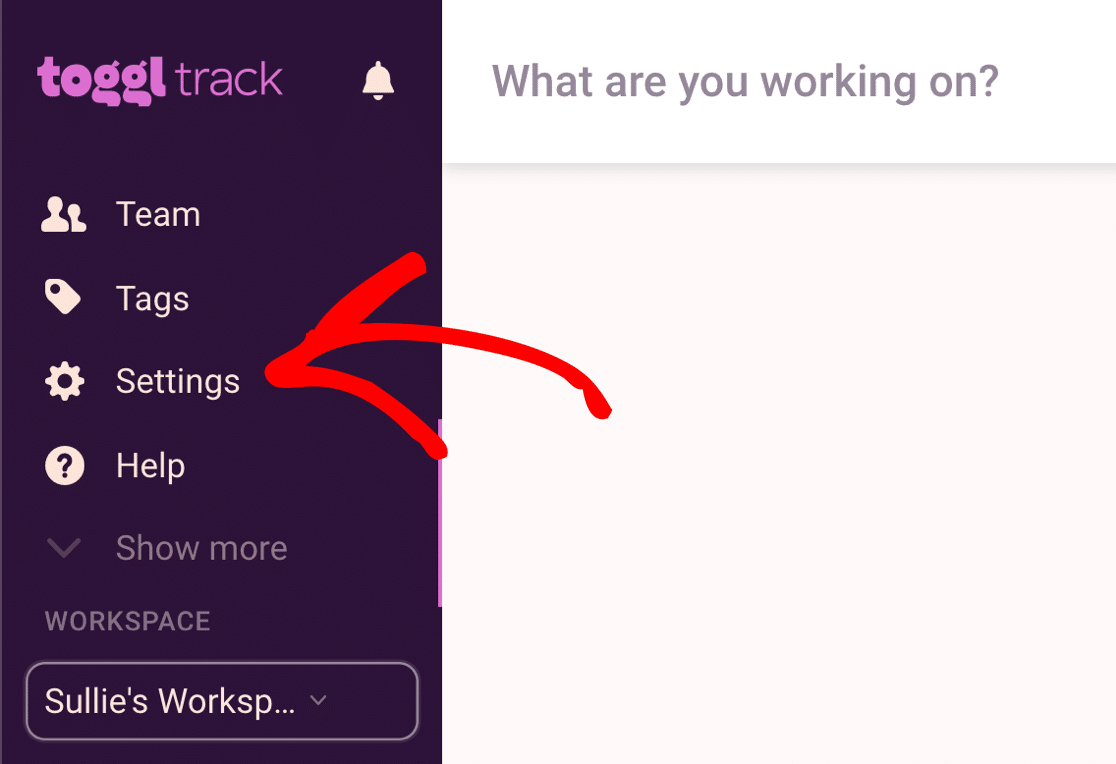 And now click Integrations from the tabs across the top.

Scroll down until you find the Asana integration and click Enable.

When prompted, click Allow to set up your Asana integration in Toggl.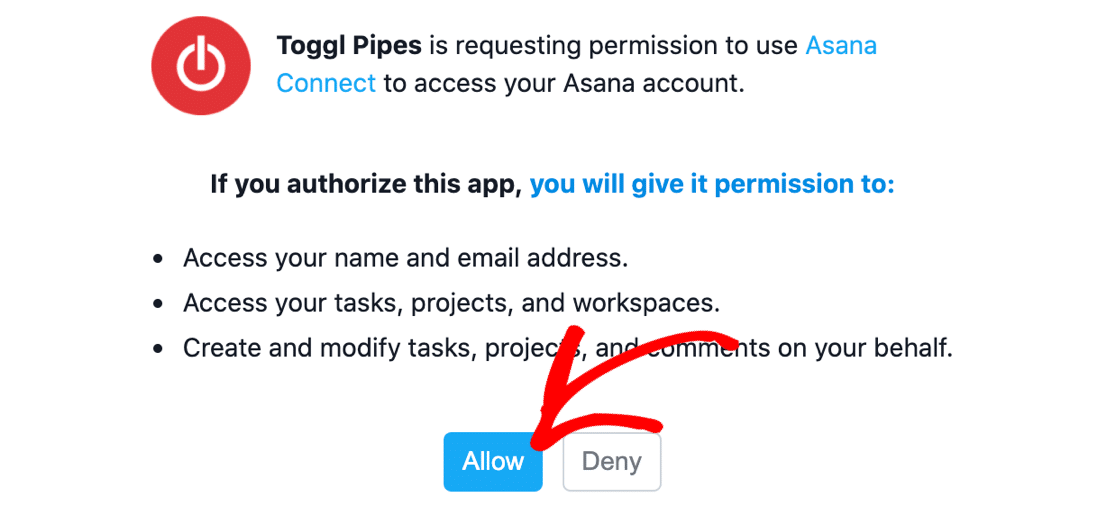 Once the connection is complete, click each Sync Now button one by one to pull in your Asana details. As we mentioned up top, you'll need the Pro plan to pull in Asana tasks.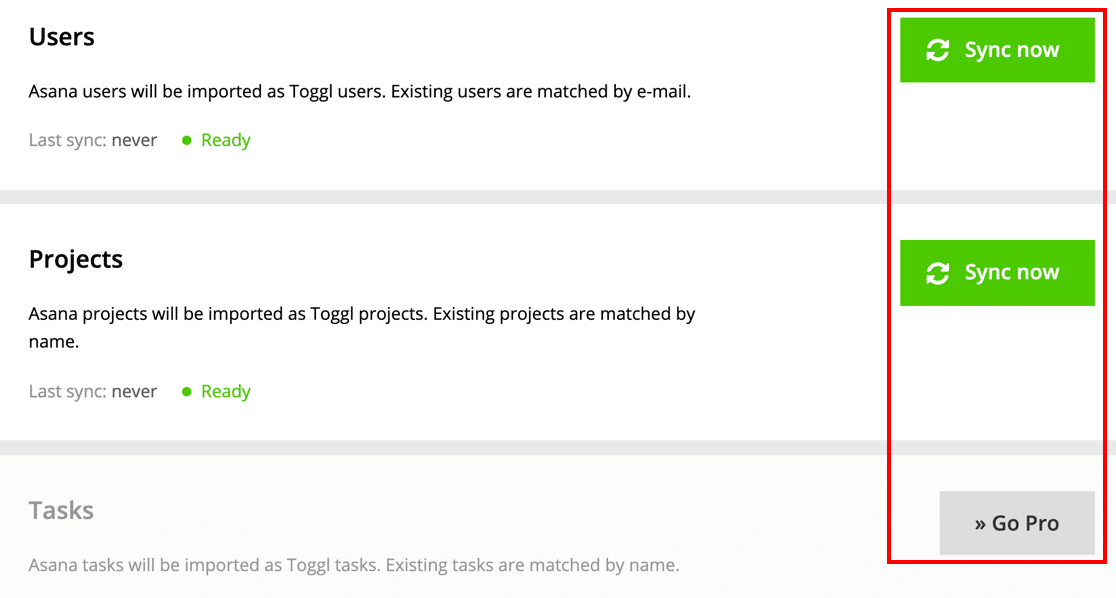 That's it! Now you can track time against Asana projects using Toggl Track.
Here's another tip. You can easily send data from WPForms to Toggl as well. Check out our guide to using form submissions to kick off your Toggl project.
6. Google Drive: Collaborate With the Team
For any remote team, Google Drive is a top Asana integration and a must-have for productivity.
Asana lets you easily add files from Google Docs or Google Sheets as file attachments. Under each attachment, you'll see a link that lets you easily open it in Google Drive.
If you're used to simply pasting in links to images, you may have missed this useful feature.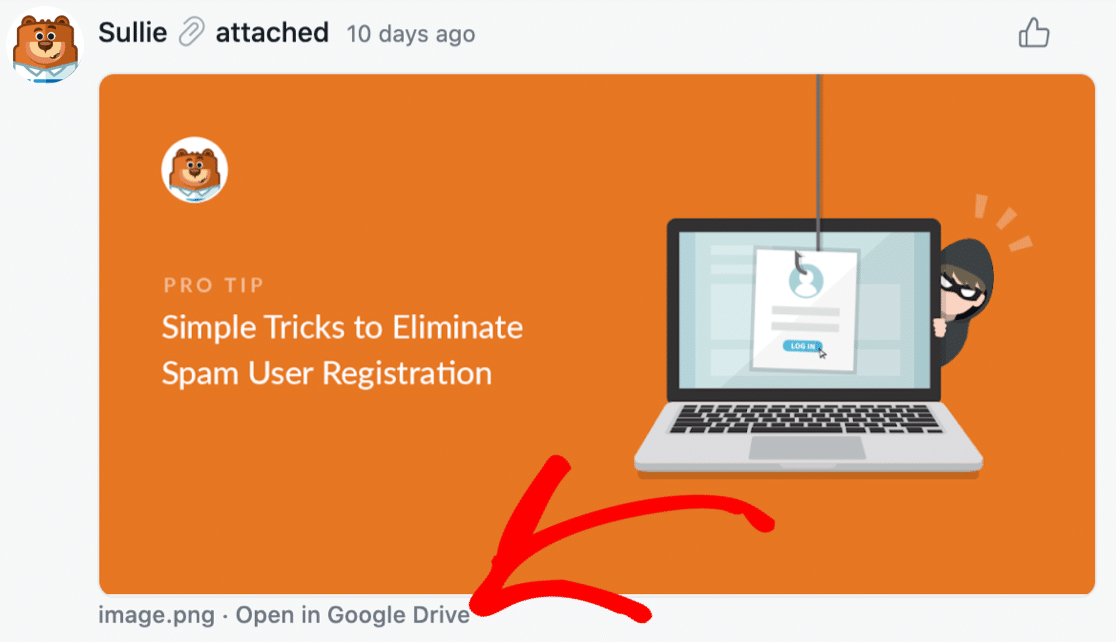 Next time you share an image, don't paste the link. Instead, click the paperclip icon and click Google Drive.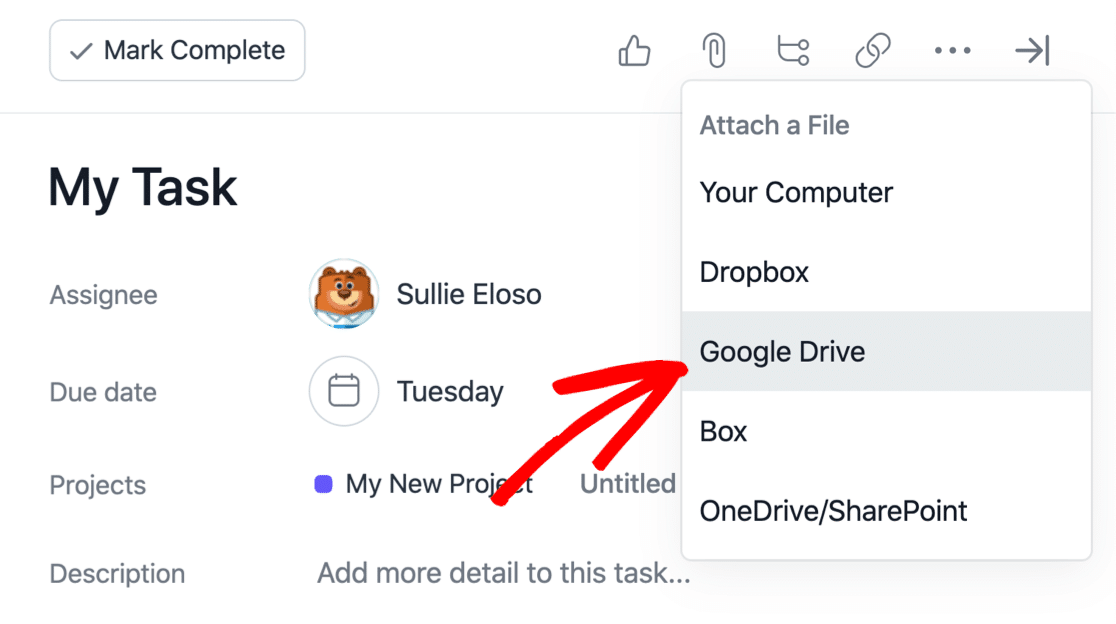 When you log in to Google Drive, you'll see all of your files and you can share them directly in Asana without pasting links or uploading them manually.
Loom lets you create short screen recordings that you can easily share with your team.
It also allows you to record your mic and webcam so you can easily explain steps, create overviews, or record quick tutorials.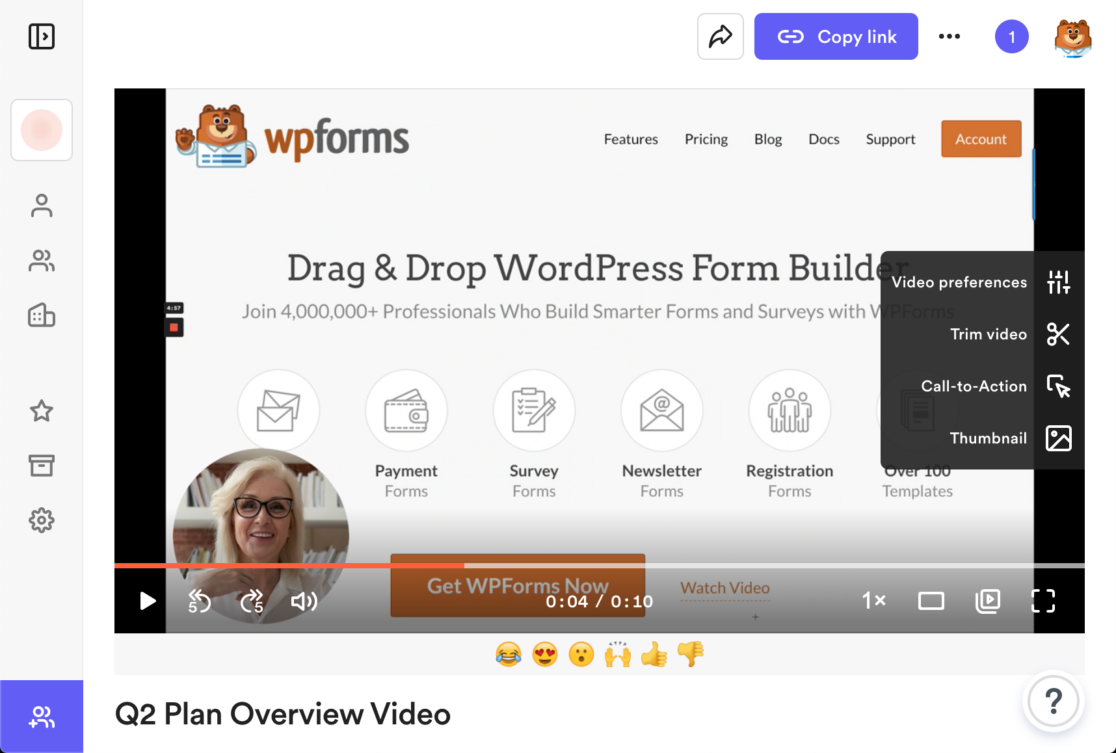 You can easily embed your Loom video in any project overview. This top Asana integration makes it easy to give your team an overview of a project without spending tons of time writing it all down.
After making your Loom video, open it up in your browser. At the top, click the arrow to share, then click Copy Link.

Back in Asana, head to your project and click the Overview tab at the top.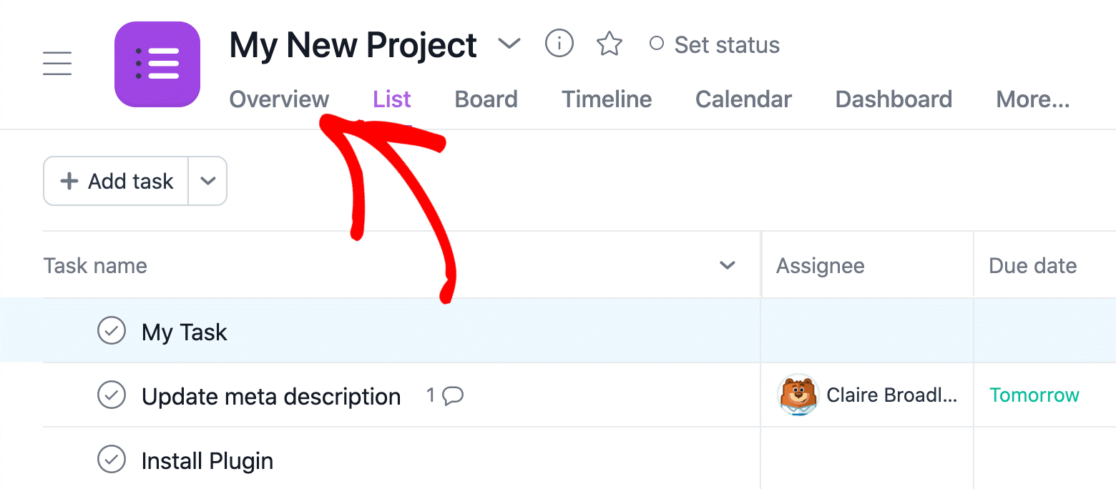 The overview page lets you set up the basic goals and background for a project. Let's scroll down a little and click Create project brief.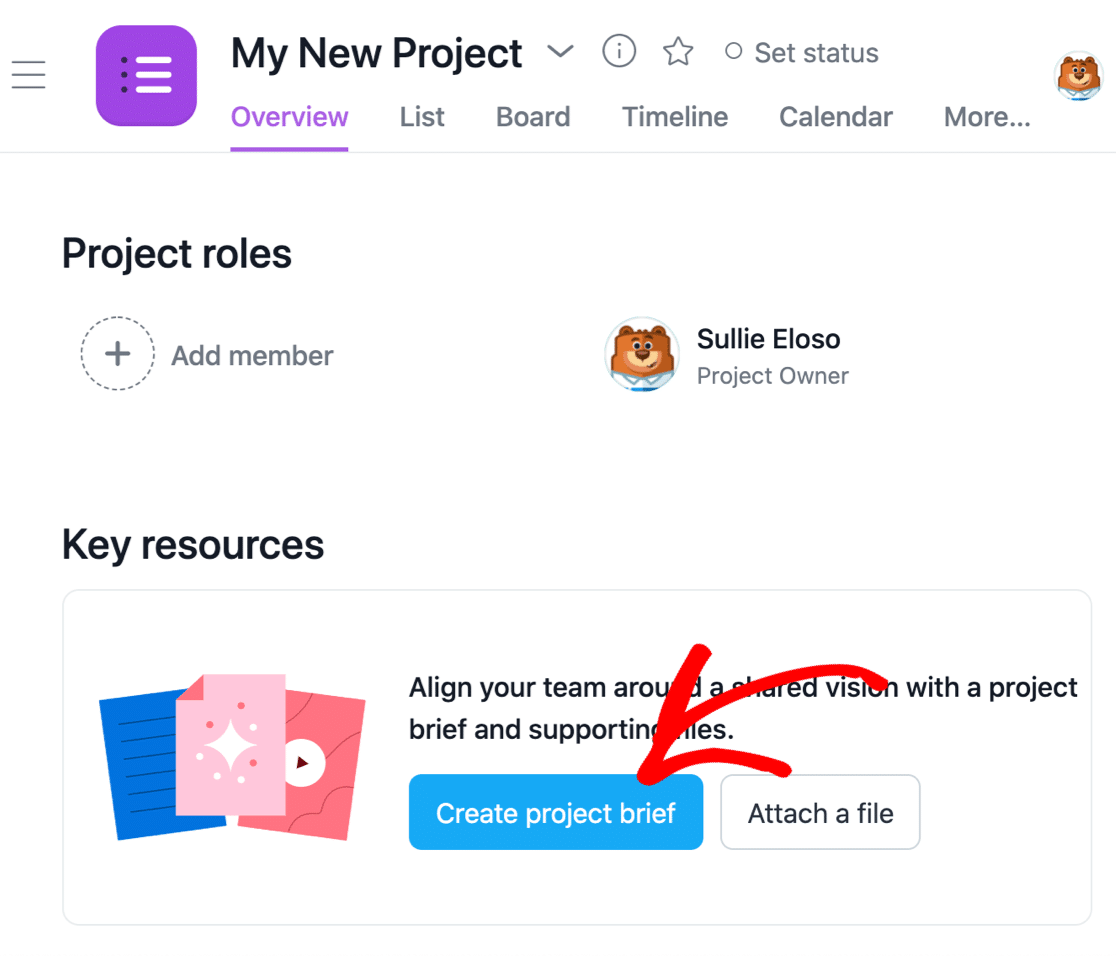 Now you'll see a blank workspace for your project brief. Paste in your Loom URL to embed your overview video.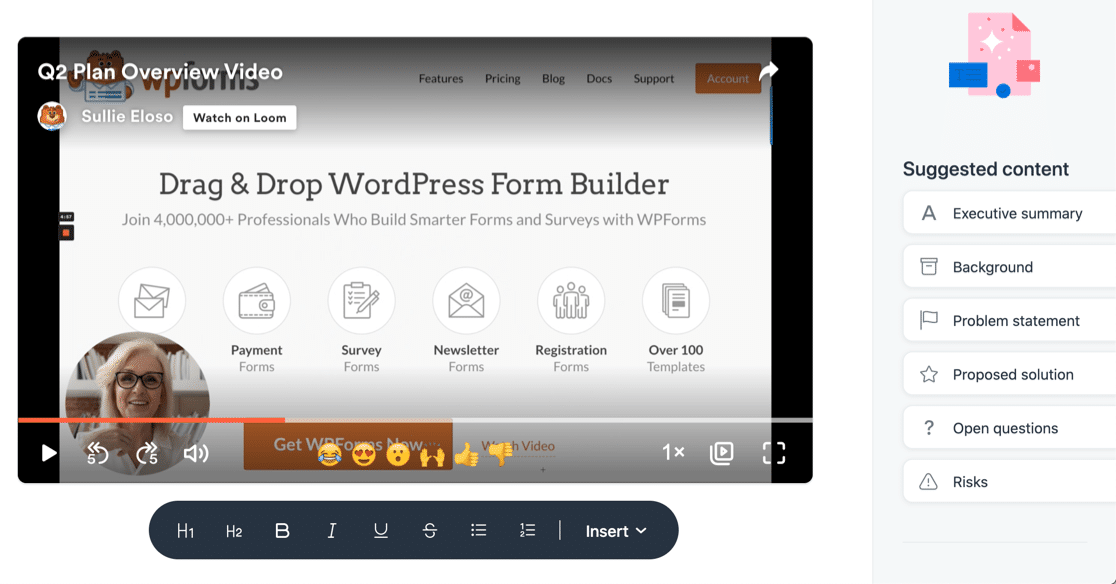 Now you can direct your team to your new Asana project. They'll find your video brief right there in Asana so everything they need is in 1 place..
This is an awesome way to speed up the process of creating briefs in Asana. You can quickly record a Loom clip to explain your goals and embed the video in seconds.
Even better, this Asana integration works perfectly with the free Loom plan, so it's affordable for everyone.
Create Your WordPress Form Now
Next, Explore WPForms Integrations
Did you know that WPForms integrates with tons of different tools and addons? You can easily send form submissions to tons of different applications.
Check out our guides on:
If an employee decides to leave, you can also ask these exit survey questions to get valuable feedback that'll improve your workflow.
Ready to build your form? Get started today with the easiest WordPress form builder plugin. WPForms Pro includes lots of free templates and offers a 14-day money-back guarantee.
If this article helped you out, please follow us on Facebook and Twitter for more free WordPress tutorials and guides.