Contact Form Templates
Contact forms are the first point of contact between your website and visitors. Choose from a variety of our contact form templates designed to foster engagement, collect visitor information, and generate leads safely on your site.
1 Contact Form Templates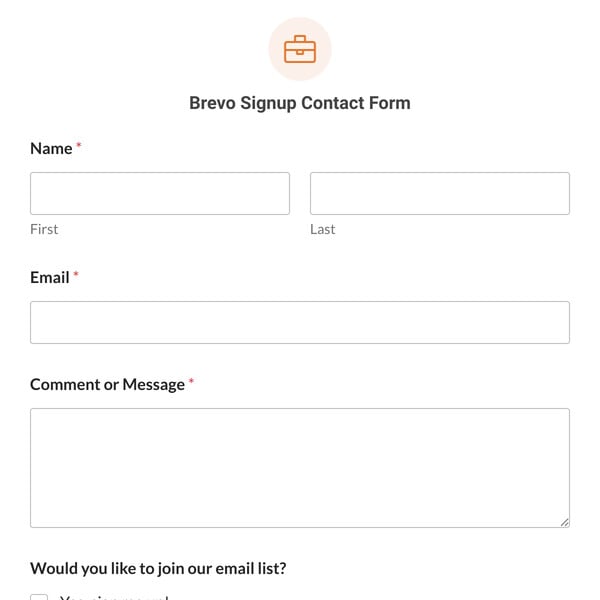 Let visitors join your Sendinblue newsletter when they submit your contact form.
Tips for Creating Contact Forms That Convert
Our contact form templates come in a variety of shapes and leverage different WPForms functionalities to suit a wide range of use cases.
General Contact Forms
Most websites only need a basic contact form to allow people to send a message along with their contact information for correspondence.
This is the safest and easiest way for visitors to reach you.
At the same time, there are situations where you may want to make slight variations to the basic contact form. Either way, WPForms offers tons of options including:
You're free to use any kind of contact form template in WPForms and customize it using the beginner-friendly drag and drop form builder.
Contact Forms With Advanced Layouts
Contact forms typically use a one-column, single-page layout. However, there's no one-size-fits-all approach for web forms.
If you want to make your forms more interesting, feel free to give our multi-page or multi-column templates a try:
There are different ways to create multi-step forms in WPForms Pro. For instance, you can simply insert page breaks to break your form into smaller chunks.
But if you want to go even more advanced and get access to styling options for the form container, you can use the Lead Forms addon to automatically insert page breaks after every field.
Special Contact Forms
WPForms includes powerful capabilities to fuel your conversions. We have many contact form templates that use one or more of our premium features to help improve user experience and give you greater control:
Other Contact Forms
Aside from the examples above, our form template library is home to dozens of other kinds of contact forms. Just pick a form that closely matches your needs and customize it to your heart's content:
Ready to build your form? Get started today with the easiest WordPress form builder plugin. WPForms Pro includes hundreds of templates and offers a 14-day money-back guarantee.
Read More
Our form templates let you create any kind of WordPress form in a few clicks.
You can select any template to view the demo and try it out. If it works for you, you can import it and publish it in minutes. Each WPForms template is fully customizable too. Our drag and drop form builder makes it easy to adapt any template to fits your business' needs. When you use our form templates, you can easily:
Import Any Template With 1 Click

Ready to get started? Import any form template and start customizing it right away.

Add or Remove Fields

Use our simple drag and drop form builder to add fields, delete them, or move them around.

Customize Notification Settings

It's easy to edit the notification emails on any template with your own text or smart tags.

Change the Confirmation Message

Easily display a custom message after submission – or forward your visitor to another page.

Change the Field Labels

Click on a field and change the text to collect the exact information you need.

Change the Notification Email

Add CCed recipients and multiple notifications so you never miss an entry.

Customize the Submit Button

Adapt the words on the button and change the color so that it matches your theme.

Publish Your Form With Ease

Hit publish — that's it! WPForms makes it easy to get your forms online without writing code.
WPForms makes it easy to publish forms on any post or page. You can also publish your forms in the WordPress sidebar or footer. And because we integrate with page builders, you can easily use a template to make an Elementor contact form, or publish any form on a landing page in
SeedProd
.
Here's what people are saying about us...
"I don't know why the existing form plugins never thought of templates. 99% of people installing this plugin want a simple contact form. Instead of you having to build it, you click the Simple Contact Form template and its built for you!"

"I've used this plugin on several sites Ive built and its perfect easy to use, and just works. Very grateful that this plugin exists."

"The user interface is very smooth, and quite quick. It does open a separate screen for form creation and editing, but I suspect it does this to improve flow and speed."