Nonprofit Form Templates
Fundraise, fill your volunteer roster, and manage events with our nonprofit form templates. By making it easier for donors and volunteers to contribute, you'll be able to focus on your mission.
1 Nonprofit Form Templates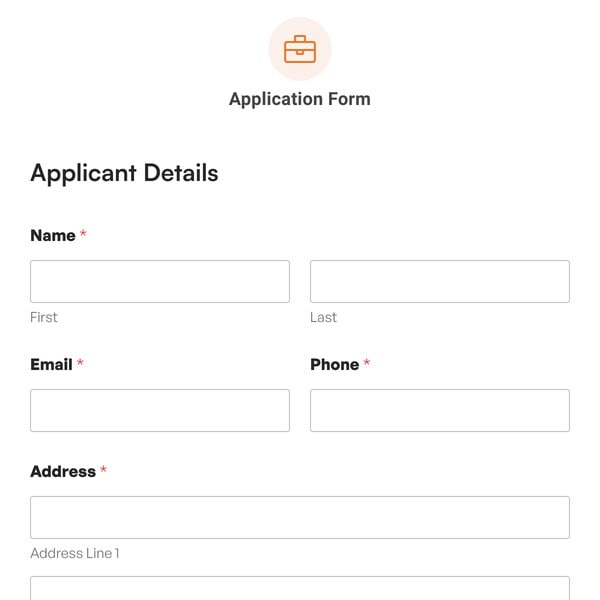 Streamline your organization's application and screening process with this user-friendly form.
Tips for Creating Nonprofit Forms That Convert
Our nonprofit form templates make it easy to raise money, recruit volunteers, arrange fundraising events, and more.
Here's a quick rundown of some of the form templates that'll help you reach your goals and streamline your nonprofit organization.
Nonprofit Donation Forms for Fundraising
We know how important it is to raise funds quickly and with minimal hassle.
That's why we've created a variety of donation forms that'll help you to bring in much-needed funds.
With WPForms, you can quickly publish a form with payment fields that'll allow you to collect donations on your website.
WPForms has a choice of integrations, including Stripe, PayPal, Square, and Authorize.Net.
Your nonprofit can set up secure payment processing easily by connecting your WordPress site to your chosen payment gateway.
If you're just starting out, we have a range of templates to help you start bringing in much-needed funds:
Use our simple donation form template as a starting point. This flexible form lets you take donations via PayPal or credit card. Your potential donor can specify the amount they want to give.
The variable donation form template has a suggested donation of $5 which you can easily edit after you've imported the template. On this template, payments are taken using Stripe.
Our donation tracker form template has a Stripe payment field. It'll allow you to export all donations to a Google Sheet. This is handy if you need to send out thank you notes with donation receipts.
All of our online donation forms can be adapted so you can accept donations in a variety of ways. For example, our food bank donation form template uses icons to allow your donor to pick the size of food parcel they'd like to pay for.
The labels and fields on any form can be switched out to support the kind of charitable donations you need to take.
Volunteer Recruitment Forms
Most nonprofits need to encourage volunteers to sign up and help with their community service or nonprofit activities.
You may also need forms to support data collection if you have certain terms and conditions that volunteers need to agree to.
We've made this easy by creating a variety of volunteer form templates for WPForms:
If these forms don't quite fit your needs, don't worry. All of our nonprofit form templates can be adapted and customized with our easy drag and drop form builder.
Forms for Specific Nonprofit Organizations
To save you time, we've created online forms for specific types of volunteer and nonprofit organizations, including:
Our nonprofit form templates make it easy to run any kind of fundraiser or crowdfunding campaign. You can easily change the wording, add your contact information, and change the colors of your forms.
When you upgrade to WPForms Pro, you can also export your entries to Excel or Google Sheets whenever you need to.
Read More
Yes. It's easy to create a website for your nonprofit using WordPress. WordPress hosting is typically very affordable and lets you run your entire website by yourself.

When you set up your site, be sure to install the WPForms plugin. You'll get access to all of our pre-made form templates, including contact forms and donation forms. By creating forms from a template, you'll be able to launch your nonprofit site quickly and easily.

Yes! WPForms would like to support your cause by providing a discounted license for WPForms Pro or WPForms Elite.

If you already have a WordPress website, you're good to go. All you need to do is contact our support team to apply.

You'll find full details on our WordPress Forms for Nonprofits page.