Customer Service Form Templates
Handle customer service with ease using online forms. Skip the emails and phone calls and let customers contact you through your website. Gather important details from clients, manage support tickets, or put together custom quotes with help from user-friendly forms.
1 Customer Service Form Templates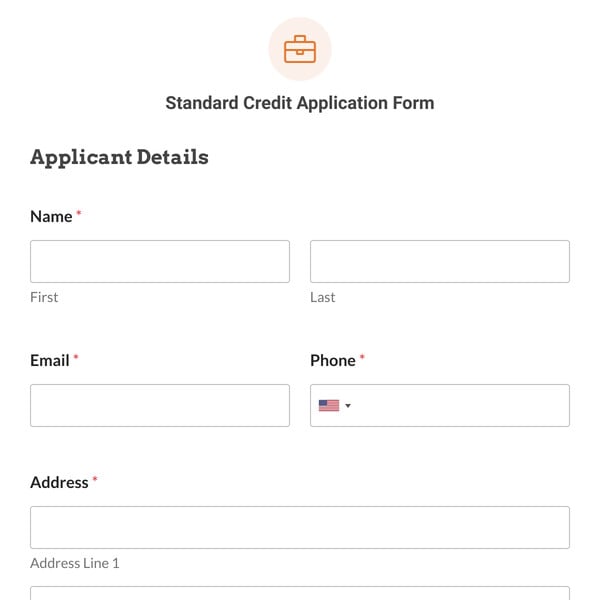 A simple form designed to make the credit application process seamless.
Tips for Creating Customer Service Forms That Convert
Our customer service form templates can help to streamline the process of giving your customers the best possible support. Here's a quick rundown of the online forms you can create from a WPForms template.
Simple Contact Forms and More
Our most popular WordPress form template is the simple contact form template, and with good reason. Our contact form template makes it easy to get messages from customers no matter what your business does.
If you need something a little different, we have some variations on the simple contact form that'll help you provide quick, efficient customer service:
These contact forms are all based on the same basic fields, but they allow you to take customer service messages in a variety of ways. If they're not right for your business, you can easily add or remove fields, change the labels on the fields, or change the appearance of your favorite template so that it's a perfect match for your needs.
Streamlining the Customer Experience
Getting customer information is essential if you want your business to grow. Sometimes, the layout and design of a form can make all the difference in getting form conversions. That's why WPForms has a drag and drop form builder that makes it easy to adapt the appearance and design of your forms to increase completion and reduce form abandonment.
To make the process as easy as possible for customers, we've demonstrated some of the layouts you can use in the following templates:
Whatever your requirements are, WPForms has a ton of features that let you adjust your form's layout and design to give your customers the best experience.
Making Your Customers Feel Heard
As your business grows, you'll likely need to manage customers' requests and complaints. Being able to log these complaints through your website will make it easier for you to give your customers the best possible response.
Need More Customer Feedback Forms?
Do you need to collect feedback from customers after they interact with your team? We have a whole category dedicated to feedback form templates, including customer satisfaction survey templates and questionnaires.
Explore our template gallery to browse hundreds of essential order forms, registration forms, and consent forms. And for the best possible experience, check out the features and addons you'll enjoy when you upgrade to WPForms Pro.
Read More
Yes! WPForms makes it easy to customize the fields, field labels, colors, and layout of your forms.

You can use the easy drag and drop form builder to adapt any of our customer service form templates so that they fit your needs.

The most important thing to remember is that your form should collect all the information you need while being easy for customers to navigate and use.

WPForms Pro includes all of our advanced form fields, allowing you to collect customer information in a format that makes sense for your business.

You'll want to make sure that forms appear welcoming to customers. Long forms can be split into multi-step forms so that they're easier to fill out. This layout works great with the WPForms Save and Resume addon since it gives customers the option to save a partial entry and complete it later.

Yes, you can. You can use WPForms addons to easily send form entries to different CRMs or platforms. You can also send information to Google Sheets.