Education Form Templates
Leave paper school forms in the past and let parents fill out their students' information online. Avoid missing permission slips and enrollment forms by adding them to your school website. Students can even submit assignments online without a complicated learning management system.
1 Education Form Templates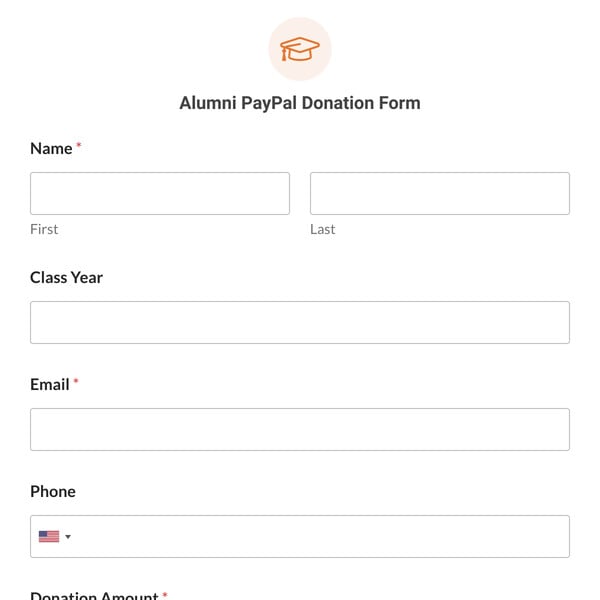 Use the alumni PayPal donation form template to collect alumni donations via PayPal.
Tips for Creating Education Forms That Convert
Our education form templates help schools, universities, and other educational institutions go paperless and save time.
With so many students, faculty members, and staff to manage, it can be difficult to keep track of communication with parents, lesson plans, and registration forms. That's where our templates can help.
Instead of using a generic contact form, our templates let you create enrollment forms, request forms, and questionnaires that always gather the information you need. You can gather student information in a variety of ways with fully customizable form fields and labels.
Forms for Schools and Teachers
Most schools need to take registrations for students, pupils, or young children who are signing up to attend. We have application form templates for many purposes, and they can be customized with your school logos and colors.
With WPForms Pro, you can store entries and print them to PDF, making it easy to share lesson plans with other teachers or archive them for use in the future.
Permission Forms for Education
Schools can use our education templates to create standardized permission slips for high school field trips, activities, and the use of photos taken on school premises.
The Permission Form Template makes it easy to collect consent from parents or guardians for field trips or other activities. It lets you store a digital signature for every form entry so you have proof of consent. You can also gather emergency contact information.
The Parental Consent Form Template offers slightly different options if you prefer not to collect a signature, but you still need proof of consent and contact information.
Supporting Students
Our form templates make it easy for you to support students to be successful.
Our SEN Observation Form Template makes it easy for special needs coordinators to collect observations on a tablet without needing a paper evaluation form.
To support children in their growth in sports, WPForms has read-made templates for Basketball Tryouts, Football Tryouts, Softball Tryouts, and more. These forms will help to streamline your workflow and cut down on administration.
Ready to get started? Unlock hundreds of useful form templates with WPForms Pro. Explore our other categories to find feedback forms, marketing forms, order forms, nonprofit forms, and other types of online forms that can be customized easily in our form builder for convenient data collection.
Read More
WPForms has hundreds of form templates that can easily be adapted to collect student information, track attendance, manage consents or waivers, and collect internal information from your professors or teachers.

In some countries, educational institutions are classed as nonprofit organizations. If your organization can provide proof of nonprofit status, you may qualify for the WPForms Nonprofit Discount.

Eligible schools or universities can use WPForms Pro for up to 75% off the usual price.