Want to help people buy their favorite products from you over the web by creating an online Avon order form?
Letting your Avon customers order online from you on your website is a great way to skyrocket your income. In this step-by-step tutorial, we'll walk you through how to make an Avon order form in WordPress.
Click Here to Start Making Your Avon Order Form Now
Why Create an Avon Order Form in WordPress?
Back in the day, an Avon representative would go from door to door to make sales. Today, the most successful network marketers are utilizing technology to grow their Avon business online.
Avons reps new and old create online Avon Order Forms to:
Make more money online by reaching more customers from anywhere in the world
Take orders at anytime, day or night, so you can make money while you sleep or spend more time with your family
Set repeat customers up on recurring payment plans to get guaranteed orders
Reduce errors on forms by letting customers submit themselves
Connect the orders forms to social media to share easily and encourage others to do the same
Collect email addresses to grow your email list fast
Automatically get the customer's product number, campaign, and catalogue page number
You can get set up in just minutes with our Avon order form template. Then, you can customize it with the drag and drop visual builder to make the form exactly the way you want it.
So now that you know why online Avon order forms are so great, let's dive into how to make one.
How to Create an Avon Order Form in WordPress
First things first, you need to already have or create a WordPress site.
Then, it's insanely easy to get your online Avon Order Form up and running on your WordPress website. Just follow these steps.
Step 1: Generate Your Avon Order Form
First, install and activate the WPForms plugin.
WPForms will let you add a form anywhere on your site. For more details on how to install it, see this step-by-step guide on how to install a plugin in WordPress.
From your WordPress dashboard, go to WPForms » Add New to create a new form and name it. Next, scroll down to the Additional Templates section and type "Avon Order Form", then click on it to open the template.

Make sure you've already activated the Form Templates Pack Addon to search for this form.
Once you open the form template, a pre-built Avon Order Form will populate along with the drag and drop builder. Here, you can add additional fields to your form by dragging them from the left panel onto your form.
With the Avon Order Form template, you'll already have these following fields:
Catalogue Name
Catalogue Page Number
Quantity
Product Number
Product Description
Cost
Name
Email
Phone
Address
You can click on any of the fields to make changes. To rearrange your form, click on a form field and drag it up or down.
We have an article on common complaints about payment forms that could help you to design a really great form.
You can also make forms look great by following the steps in our post on how to create a multi-step form in WordPress. But for the sake of this tutorial, we'll stick with a single page.
Step 2: Customize Your Avon Order Form Settings
To start, go to Settings » General.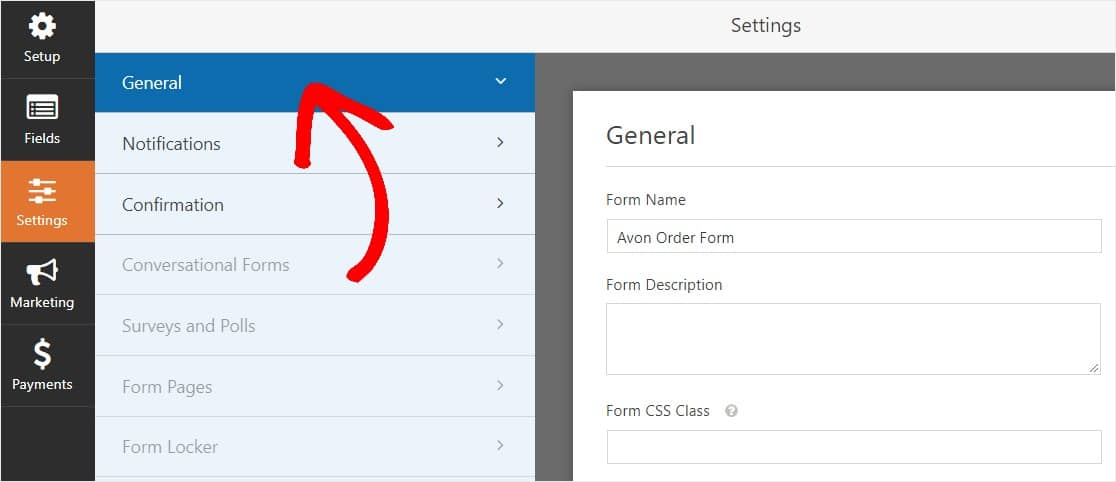 Here you can configure the following:
Form Name — Change the name of your form here if you'd like.
Form Description — Give your form a description.
Submit Button Text — Customize the copy on the submit button.
Spam Prevention — Stop contact form spam with the anti-spam feature, hCaptcha, or Google reCAPTCHA. The anti-spam checkbox is automatically checked on all new forms.
AJAX Forms — Enable AJAX settings with no page reload.
GDPR Enhancements — You can disable the storing of entry information and user details, such as IP addresses and user agents, in an effort to comply with GDPR requirements. Check out our step-by-step instructions on how to add a GDPR agreement field to your simple contact form.
And, we've got a tutorial for you if you'd like to learn how to use the power of discounts and add a coupon code field to your forms.
And when you're done, click Save.
Step 3: Configure Your Form's Notifications
Notifications are an excellent way to know when someone submits one of your forms.
And, unless you disable the notification feature, you'll get an email notification whenever someone submits a form on your site.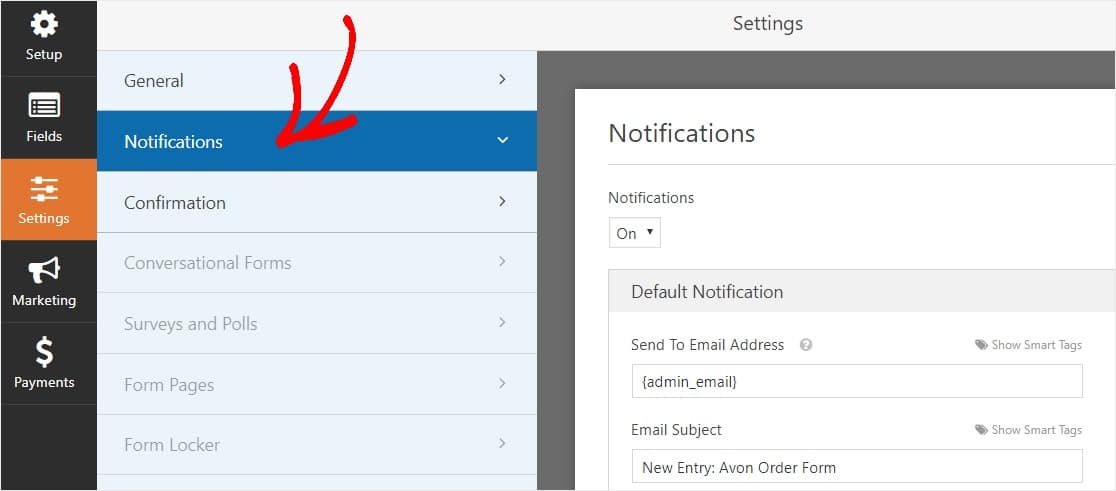 To get an email message when someone completes your Avon order form, you'll need to set up form notifications in WordPress and provide your email address.
Also, if you use smart tags, you can send a personalized notification to your site visitors once they finish your form to let them know you received it. This assures users their form has gone through properly.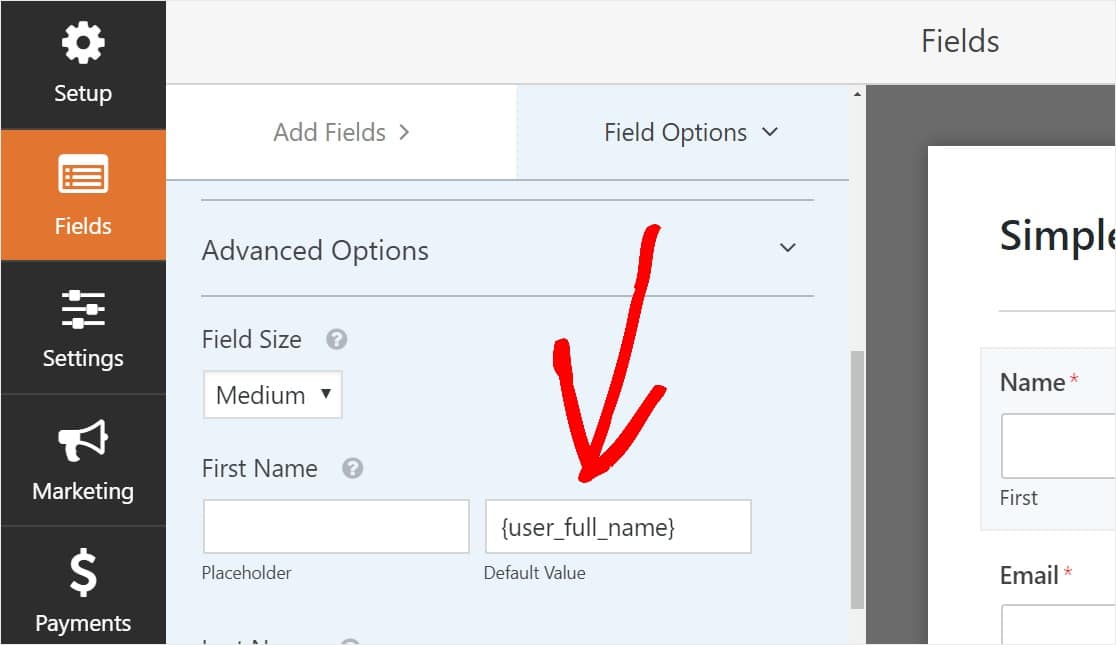 For more on this, check out our tutorial on how to send multiple form notifications in WordPress.
Also, you have the option to easily brand your notification emails by adding your logo (or any image you choose) in the custom header image area. The logo/image you choose will show up at the top of email notifications like the WPForms logo below.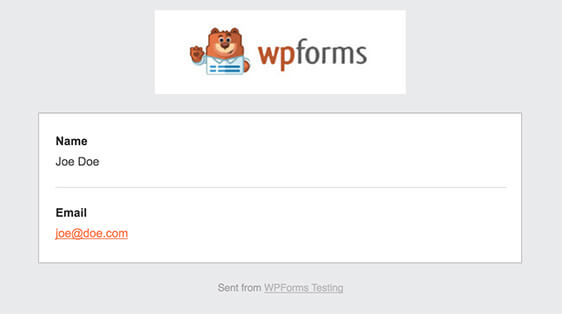 Step 4: Configure Your Form's Confirmations
Form confirmations are ways to take action immediately (and automatically) after your user has submitted information to your form. For extra help with this step, check out our tutorial on how to setup form confirmations.
There are 3 different kinds of confirmations in WPForms:
Message — This is the default confirmation type that appears after someone hits submit on your form, and it's customizable. Check out our tips on ways to customize your confirmation message to boost your site visitors' happiness.
Display Page — Automatically send users to any page on your site (like a thank you page)
Redirect — Useful if you want to take the user to a different website or specialized URL for more complex development.
So let's see how to set up a simple form confirmation in WPForms. That way, you can customize the success message site visitors will see when they hit submit on your Avon order form.
To start, click on the Confirmation tab in the Form Editor under Settings.
Next, select the type of confirmation type you'd like to create. For this example, we'll select Message.

Then, customize the confirmation message to your liking and click Save when you're done.
Now you're ready to add your form to your website.
Step 5: Add Your Avon Order Form to Your Website
After you've created your form, you need to add it to your WordPress website. And WPForms lets you add your forms to multiple places on your website including your pages, blog posts, and sidebar widgets.
So let's take a look at the most common placement option: page/post embedding.
To begin, create a new page or post in WordPress, or go to the update settings on an existing one. After that, click inside the first block (the blank area below your page title) and click on the Add WPForms icon.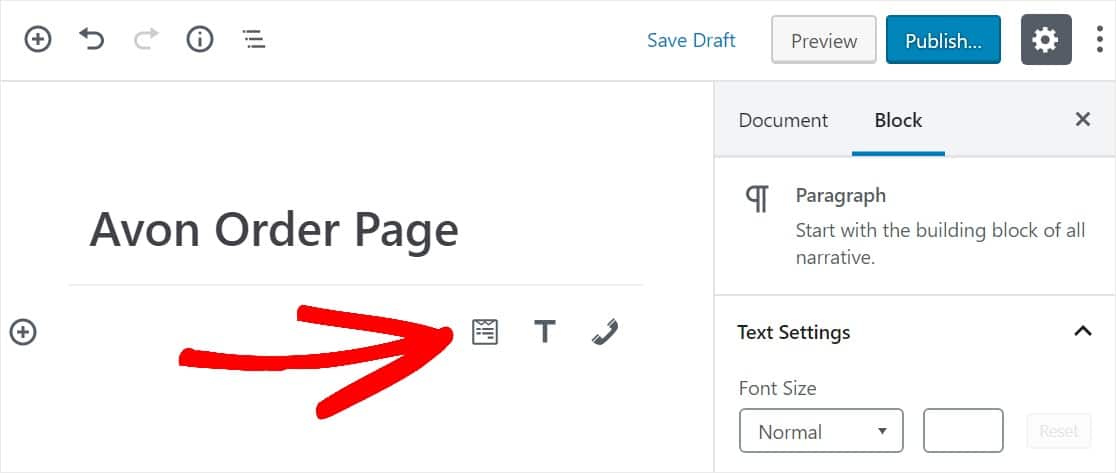 Now, the WPForms widget will appear inside of your block. Click on the WPForms dropdown and pick the form you've already created that you want to insert into your page. Select your Avon Order Form.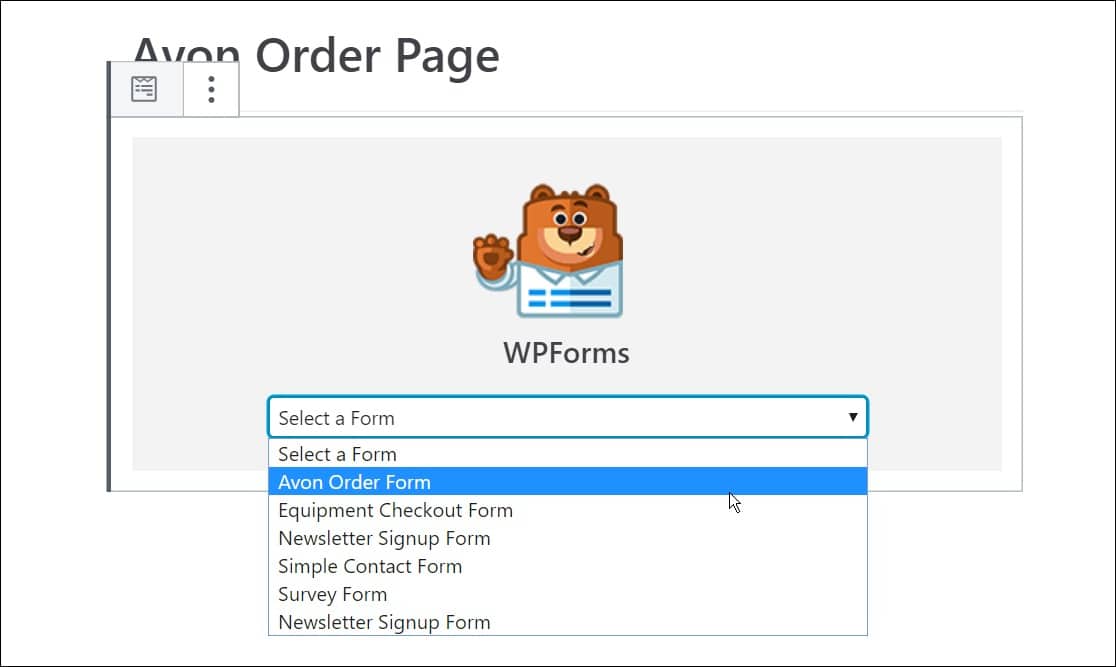 Next, click on the blue button in the top right that says either Publish or Update, so your form will appear on your website.
That's it. Your form is now on your website. You can always add a payment field too if you'd like to accept payments online for your Avon orders.
Click Here to Start Making Your Avon Order Form Now
Final Thoughts
That's it! You now know exactly how to make an Avon order form in WordPress. Hopefully, your new online form will help bring in tons of new customers.
Love the idea of making money from referral marketing? Check out our post with the best WordPress affiliate plugins to increase your online income. You could also create a refer-a-friend form to get more Avon customers.
So, what are you waiting for? Get started with the most powerful WordPress forms plugin today. WPForms Pro includes a free online Avon order form and offers a 14-day money back guarantee.
And if you enjoyed this post, make sure to follow us on Facebook and Twitter for more free WordPress tutorials.