Are you looking for an easy way to find out how people feel about events you host? Whether you run an event planning business, host fundraisers for your nonprofit, or like to throw big birthday bashes for your closest friends, getting feedback about your events can help you make improvements for next time.
In this article, we'll show you step by step how to create an event feedback form in WordPress so you can ask all your attendees what they liked and what they want to see change at the next event.
Why Create an Event Feedback Form?
No matter what type of events you host, it's important to find out how attendees feel when they're over so that you can do better next time. This is especially true if you run an event planning business and want to grow.
Here are some of the benefits a good event feedback form offers:
Determine whether expectations were met
Find out what people thought went well, and what people felt went wrong
Get suggestions that can make your next event more satisfying for attendees
Find out if people would be willing to attend a similar event in the future, and if not, why
You might think after hosting what you feel is a successful event that everyone that attended feels the same way. But the truth is, people aren't always going to love your events.
By placing an event feedback form on your website, you may find that there are simple ways to fix those negative opinions and make your next event better than ever.
You can also write a summary of your survey results to share.
How to Create an Event Feedback Form in WordPress
Let's take a look at how to create an event feedback form in WordPress.
Step 1: Create an Event Feedback Form
The first thing you'll need to do is install and activate the WPForms plugin. For more details, see this step by step guide on how to install a plugin in WordPress.
Now you'll need to create a new form.
To do this, go to WPForms » Add New, and name your form. Then, scroll down to the section labeled Select a Template and type "event feedback" into the search bar.
There are various event planning form templates to choose from here. For our example, we'll use the Event Evaluation Form template. Click on Use Template for the one you want to use, and keep in mind that you can completely customize any template to meet your needs.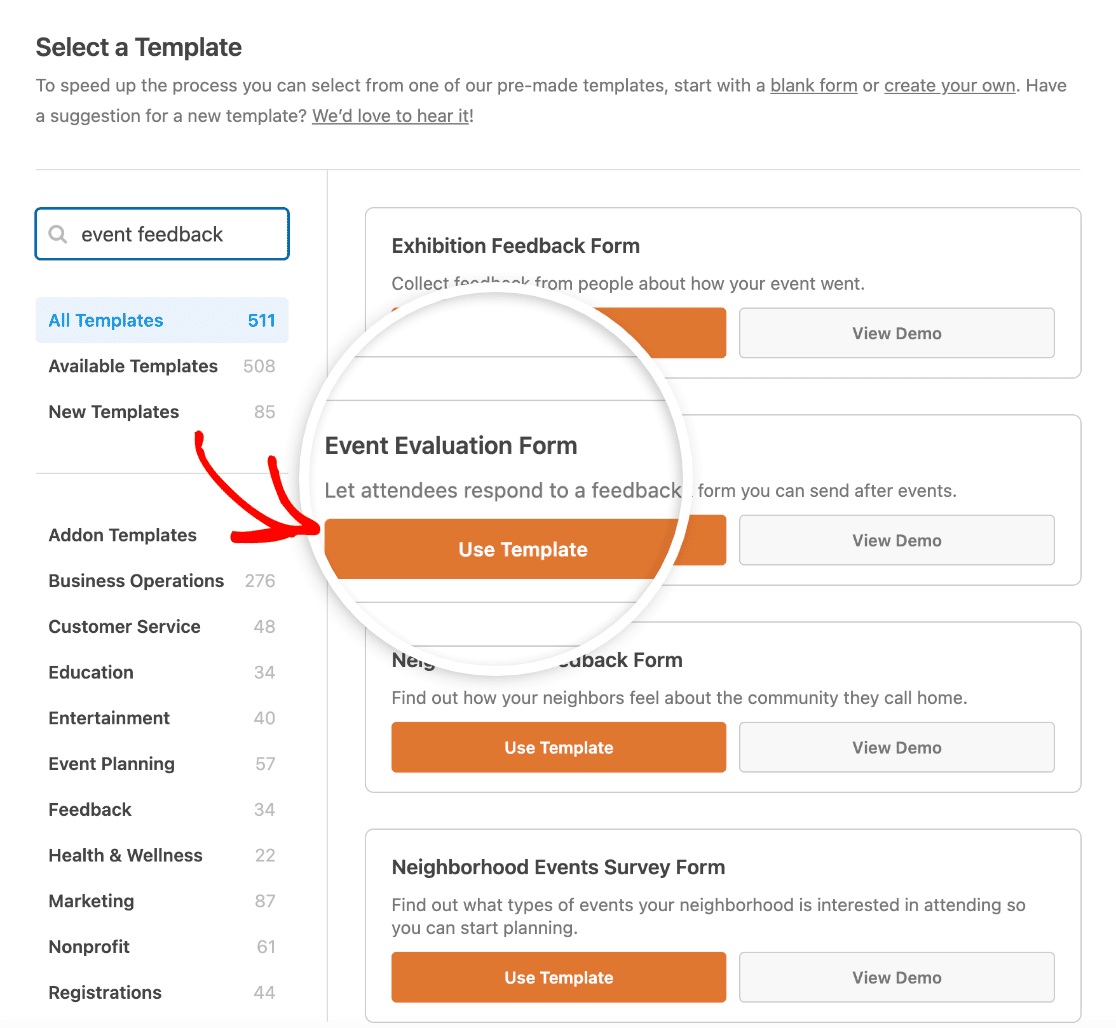 When the pre-built event feedback form template loads, most of the work is already done for you.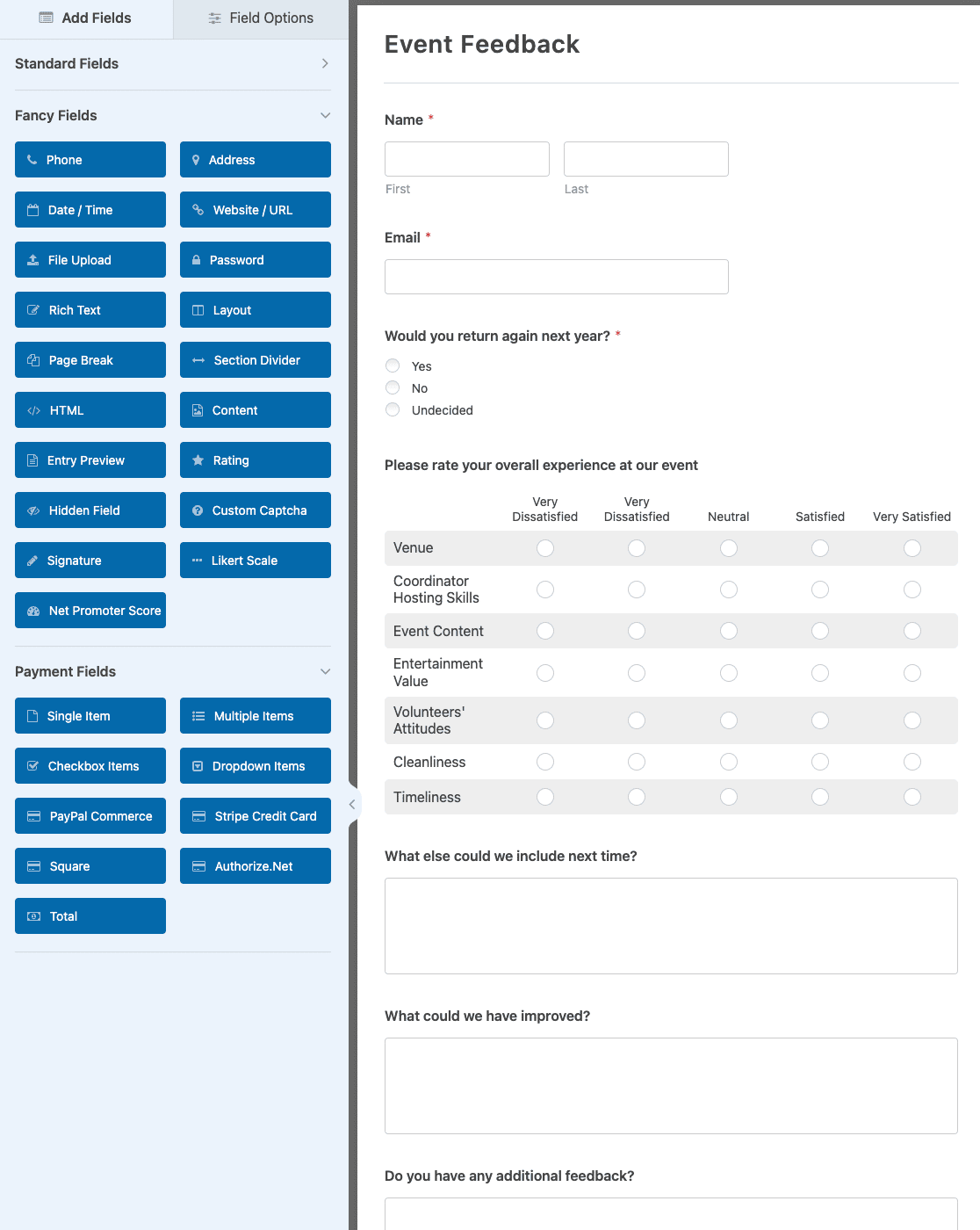 You'll find the fields in the form asking the following questions:
Please rate your overall experience at our event
Would you return again next year?
What could we have improved?
Do you have any additional feedback?
You can add additional fields to your form by dragging them from the left hand panel to the right hand preview area.
For example, you might add some of these form fields to your event feedback form:
Likert Scale: Gauge people's opinions, feelings, or attitudes about the event you hosted or the event planning business you run.
Rating: Give attendees the chance to rate your party planning skills and the event itself by adding a rating form field to your website.
Net Promoter Score: If you run an event planning business or regularly host people's parties, nonprofit fundraisers, or office galas, find out how loyal people are to your business.
Then, click on any field to make changes to it. You can also click on a form field and drag it up or down to rearrange the order of your event feedback form.
You can also use WPForms' smart conditional logic to display additional form fields based on an attendee's answer. For instance, if you receive a rating of 3 or lower, you might display another form field asking your site visitor to explain why.
For help with setting up conditional logic on your WordPress forms, check out this article on creating clutter-free forms here.
When your form looks the way you want it to, click Save.
Step 2: Configure Your Event Feedback Form's Settings
There are several settings to configure when creating an event feedback form in WordPress. We'll start with the general settings first.
To start, go to Settings » General.

Here you can configure the following:
Form Name — Change the name of your form here if you'd like.
Form Description — Give your form a description.
Tags — Use tags to organize your site's WordPress forms.
Submit Button Text — Customize the copy on the submit button.
Submit Button Processing Text — Change the text that shows while your form is submitting.
There are also some options under the Advanced section, including:
CSS Classes — Add custom CSS to your form or submit button.
Enable Prefill by URL — Automatically fill some fields from one for to another using a custom URL.
Enable AJAX form submission — Enable AJAX settings with no page reload.
Disable storing entry information in WordPress — You can disable the storing of entry information and user details, such as IP addresses and user agents, in an effort to comply with GDPR requirements. Check out our step-by-step instructions on how to add a GDPR agreement field to your simple contact form.
Once you're finished with the general settings, go to the Spam Protection and Security settings.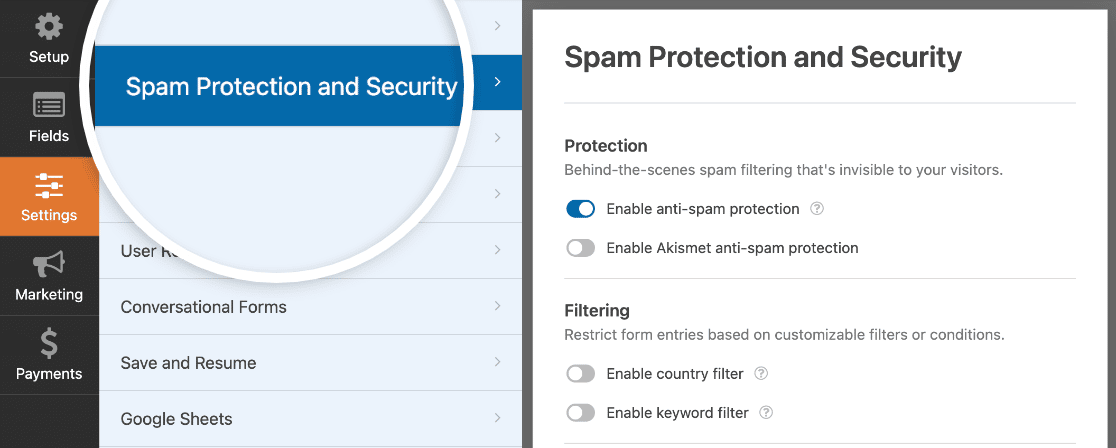 These options include:
Enable anti-spam protection — Stop contact form spam with the WPForms anti-spam token. The anti-spam setting is automatically enabled on all new forms.
Enable Akismet anti-spam protection — If you use the Akismet plugin to prevent spam on your WordPress site, you can connect it to your form.
Enable country filter — Block submissions from specific countries.
Enable keyword filter — Prevent entries that include certain words or phrases.
You can also set up your preferred CAPTCHA. For more details, see our complete anti-spam protection guide.
Click Save when you're done.
Step 3: Configure Your Event Feedback Form's Notifications
Notifications are a great way to send an email whenever a person submits a feedback form on your WordPress website.

In fact, unless you disable this feature, whenever someone leaves feedback on your site, you'll get a notification about it.
If you use Smart Tags, you can also send a notification to your attendee when they submit feedback, letting them know you received their form and will be in contact shortly. This assures site visitors their forms have gone through properly.
For help with this step, check out our documentation on how to set up form notifications in WordPress.
And, if you want to send more than one email, read this article on how to create multiple form notifications in WordPress.
Lastly, if you want to keep branding across your notification emails consistent, you can check out this guide on adding a custom header to your email template.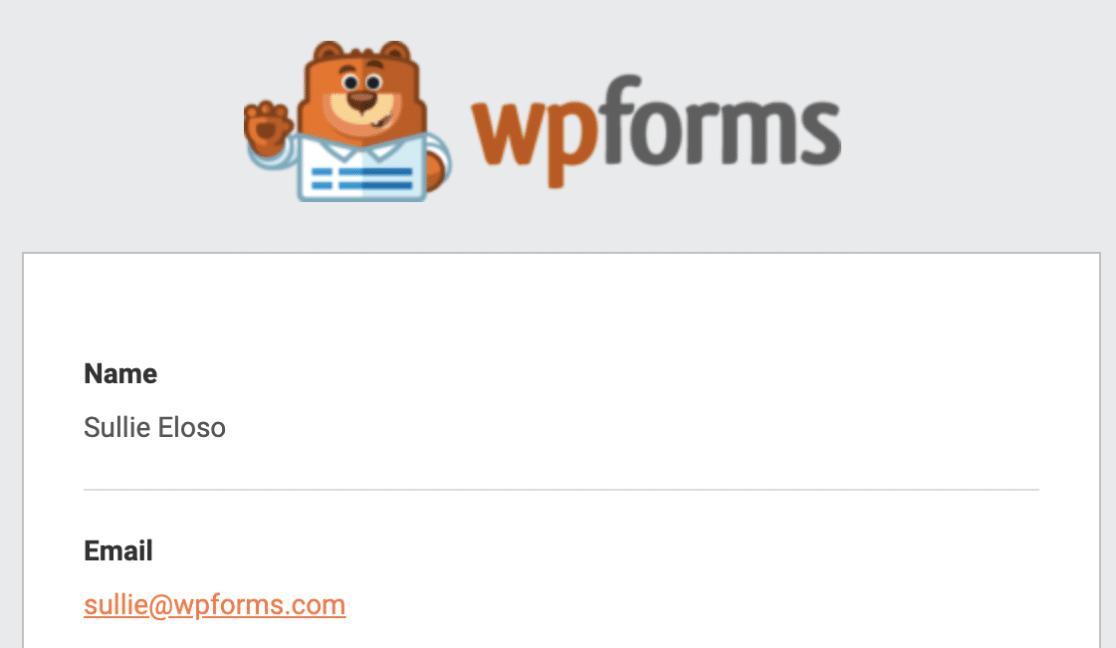 Step 4: Configure Your Event Feedback Form's Confirmations
Form confirmations are messages that display to site visitors once they submit an event feedback form on your website. They let people know that their feedback has been received and offer you the chance to let them know the next steps.
WPForms has three confirmation types to choose from:
Message. This is the default confirmation type in WPForms. When a site visitor leaves feedback, a simple message confirmation will appear letting them know it was received. Look here for some great success messages to help boost customer happiness.
Show Page. This confirmation type will take site visitors to a specific web page on your site thanking them for filling out your feedback form. For help doing this, check out our tutorial on redirecting customers to a Thank You page. In addition, be sure to check out our article on creating effective Thank You pages for boosting customer loyalty.
Go to URL (Redirect). This option is used when you want to send site visitors to a different website.
Let's see how to set up a simple form confirmation in WPForms so you can customize the message site visitors will see when they leave feedback about an event you hosted.
To start, click on the Confirmations tab under Settings.
Next, select the type of confirmation type you'd like to create. For this example, we'll select Message.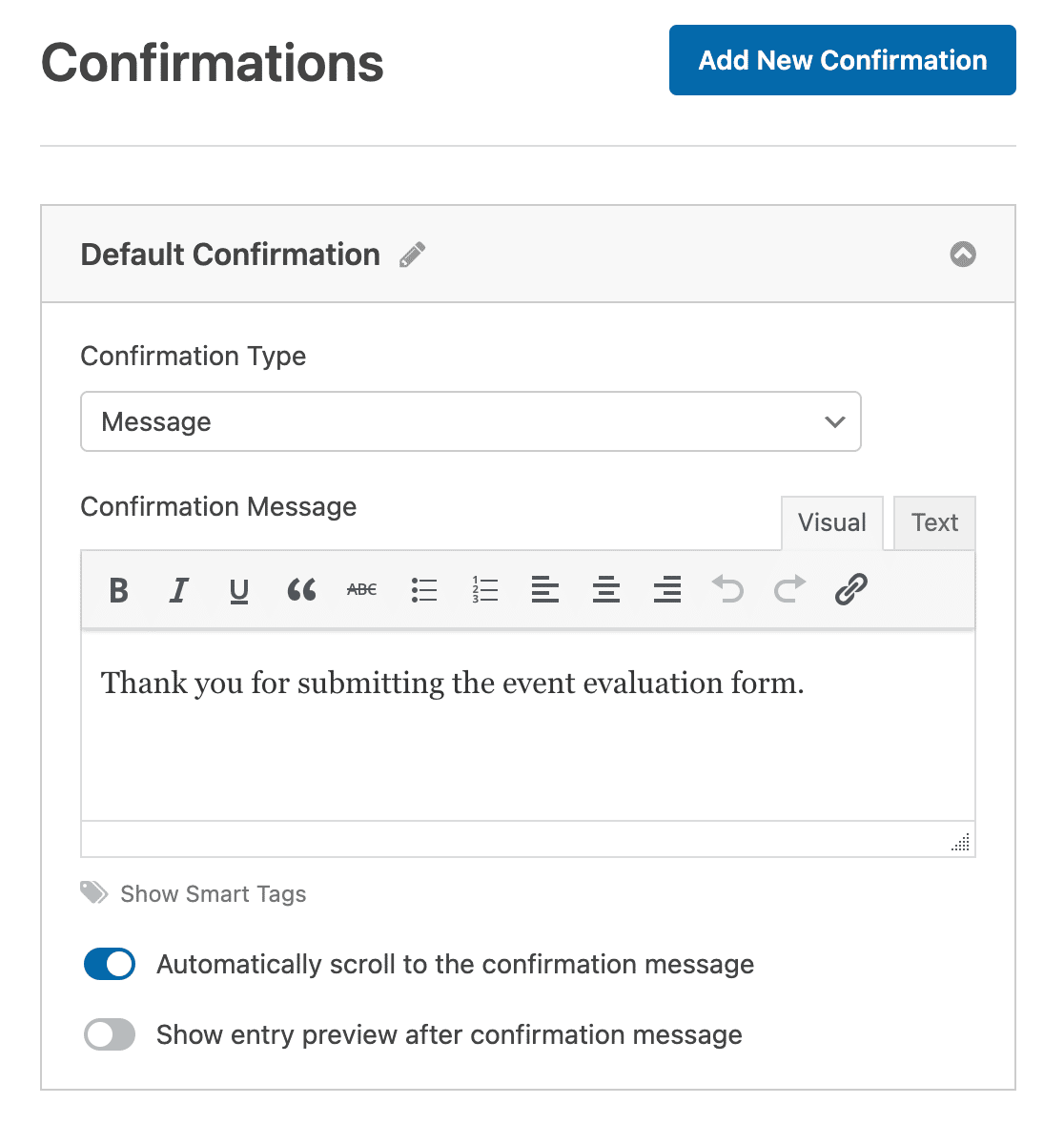 Then, customize the confirmation message to your liking, and click Save when you're done.
For help with other confirmation types, see out documentation on setting up form confirmations.
Step 5: Enable Surveys and Polls Reporting
If you've added survey or poll questions to your event feedback form using form fields like the Likert Scale or Rating field, you'll need to enable survey and/or poll reporting so you can see the results in one convenient location.
You can collect and view survey results on the following form fields:
Single Line Text
Paragraph Text
Dropdown
Checkboxes
Multiple Choice
Rating
Likert Scale
Net promoter Score
Survey results are only seen by you in the backend of your website.
You can collect and view poll results on the following form fields:
Dropdown
Checkboxes
Multiple Choice
Poll results are seen by you on the backend of your website and by site visitors on the frontend of your website.
To enable survey and/or poll reporting, go to Surveys and Polls tab in the form builder under Settings.
Next, toggle on Enable Survey Reporting and/or Enable Poll Results.

Now, anytime someone submits feedback about an event you recently hosted using your event feedback form, you can access the results by clicking on Survey Results in the Forms Overview section.
Here is an example of what your Likert Scale results might look like:
And here's a pie chart created from Multiple Choice responses: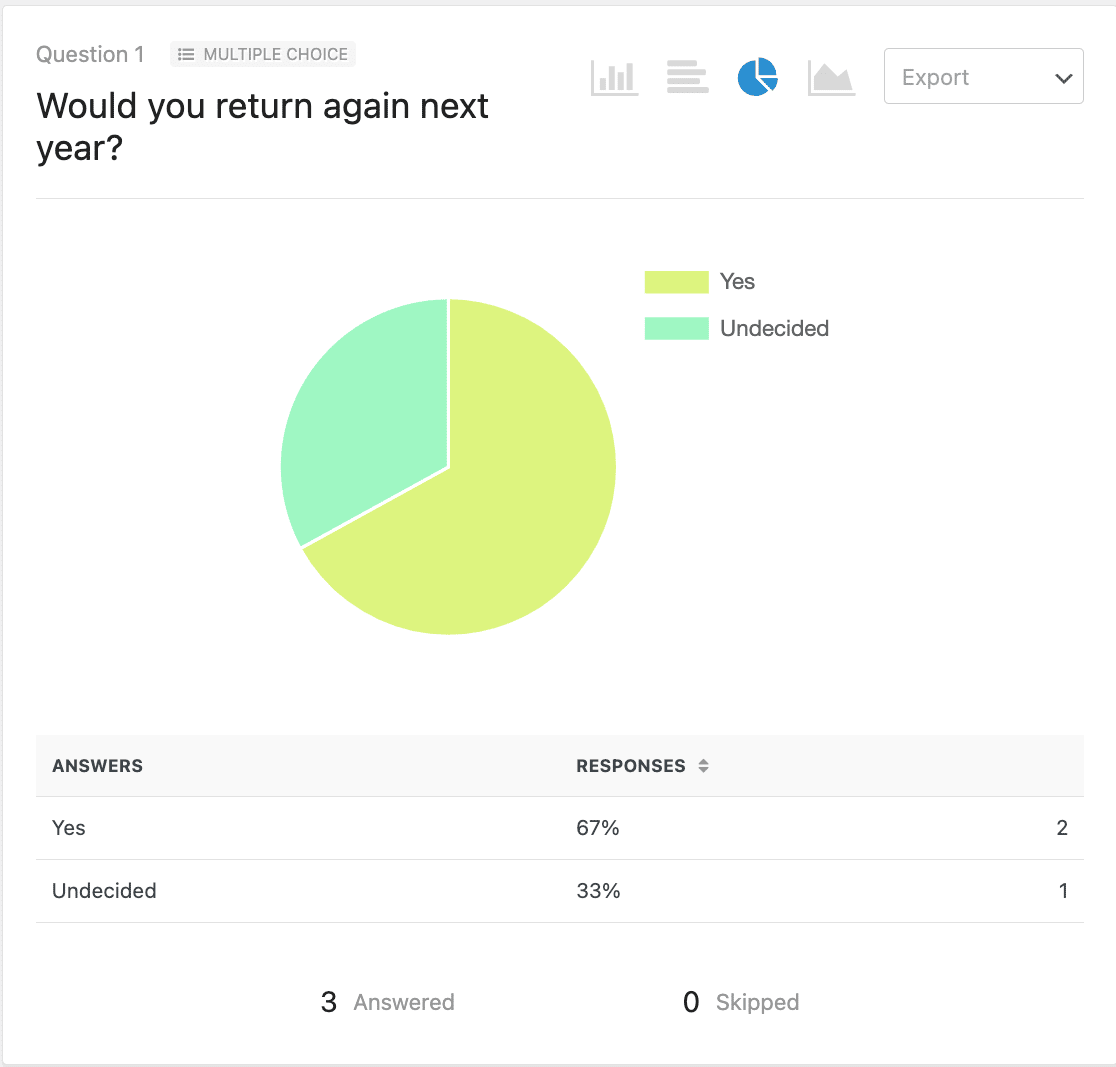 There are many different charts and graphs you can use to visualize your event feedback survey results.
Step 6: Add Your Event Feedback Form to Your Website
After you've created your event feedback form, you need to add it to your WordPress website.
WPForms allows you to add your forms to many locations on your website, including your blog posts, pages, and even sidebar widgets.
Let's take a look at the most common post or page embed option.
To start, create a new post or page in WordPress and add a new block by clicking on the plus (+) button. Then select WPForms. You may have to search for it if it doesn't appear right away.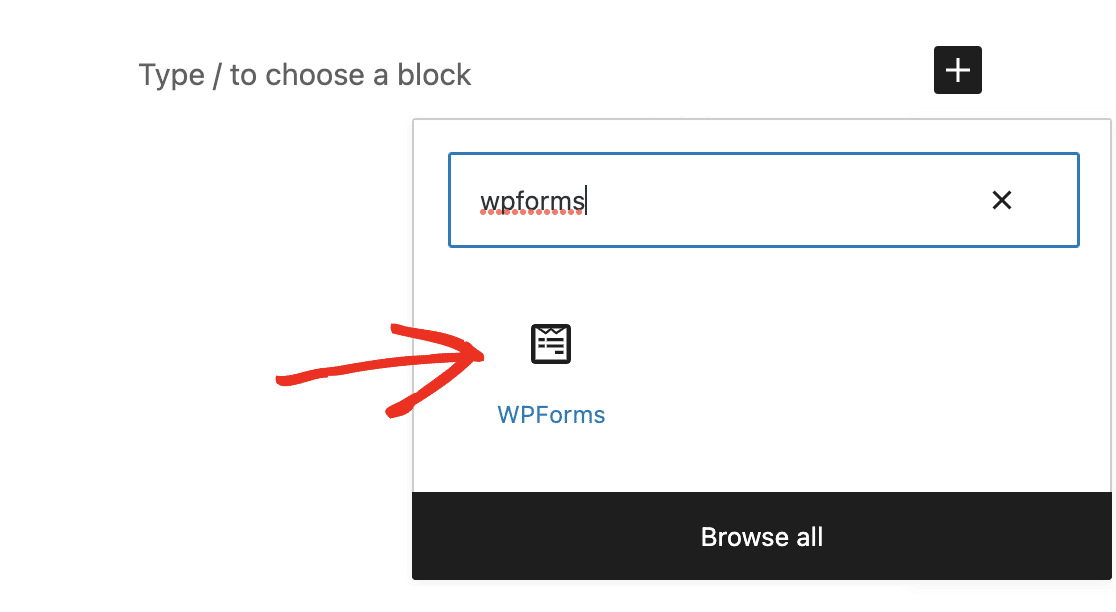 Next, select your event feedback from from the dropdown in the WPForms block.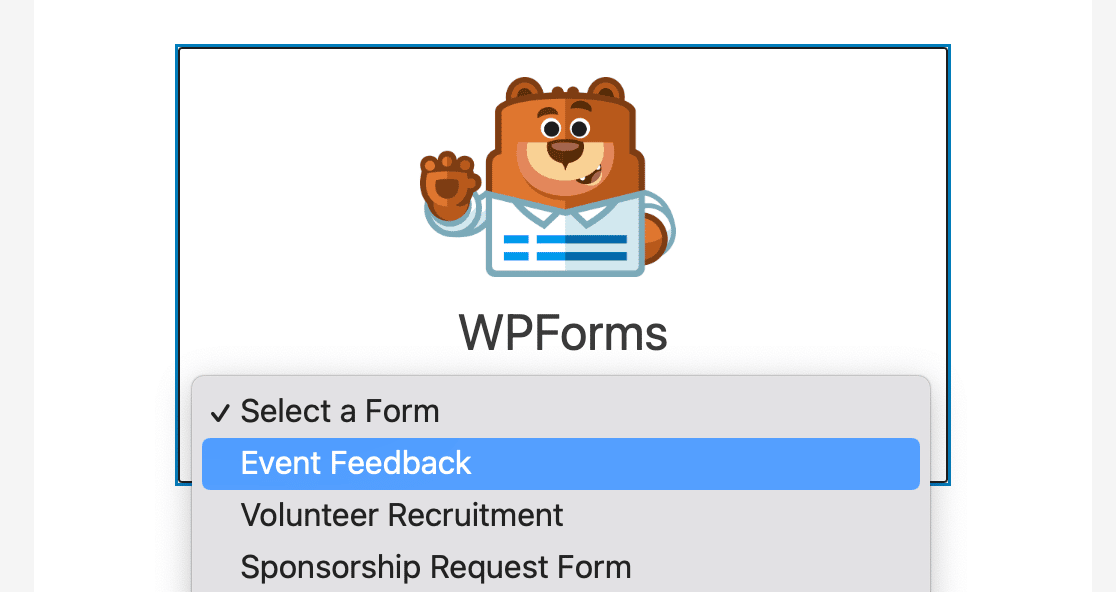 Then, Publish your post or page so your event feedback form will appear on your website.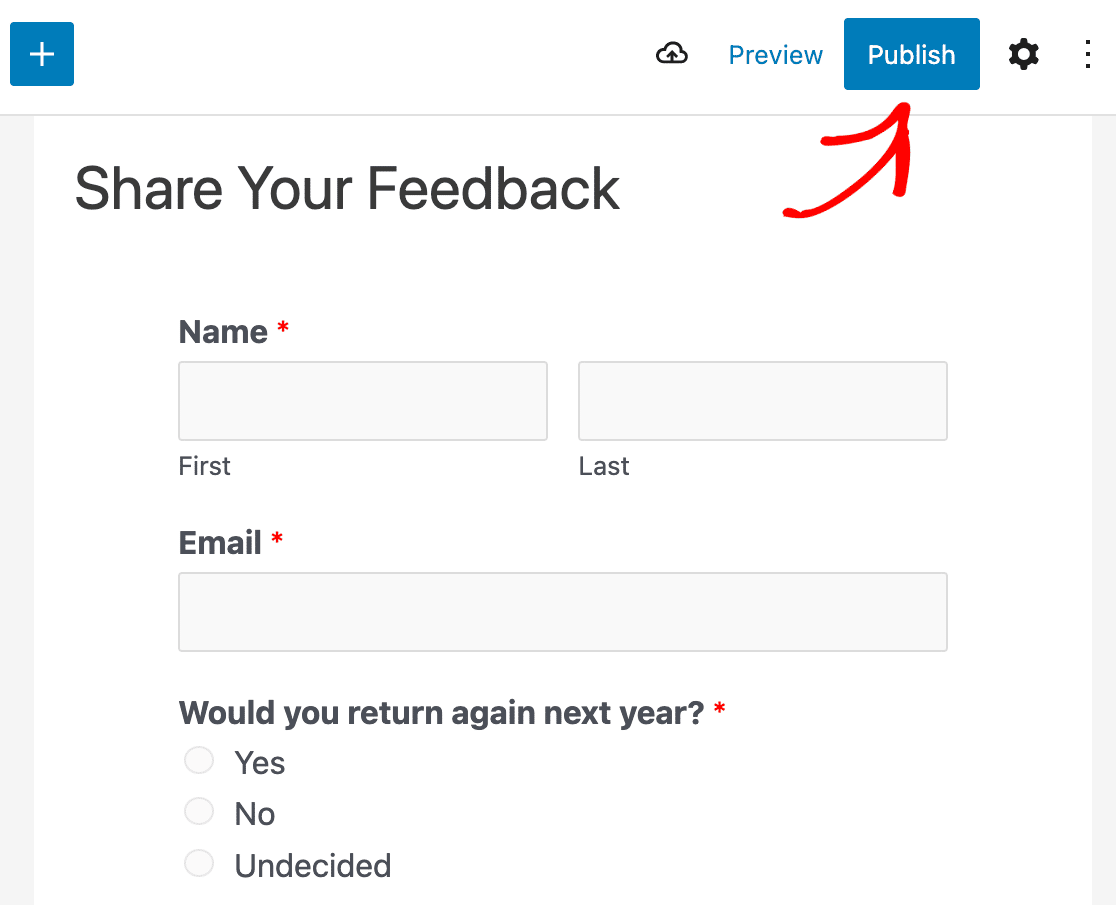 Now your form is live and ready for people to submit their feedback.
Next, Allow User-Submitted Events on Your Website
And there you have it! You now know how to create an event feedback form in WordPress. Next time, why not let people submit their own events to your event calendar?
You might also want to increase the visibility of your event feedback form and encourage more form submissions. Try creating a popup feedback form in WordPress and find out how your attendees' really feel about the events you plan or host.
So, what are you waiting for? Get started with the most powerful WordPress forms plugin today.
And don't forget, if you like this article, then please follow us on Facebook and Twitter.