Want to create an effective patient satisfaction survey to improve your practice?
A patient satisfaction survey can give you better insight into patient experiences so you can find out what is and isn't working with your medical care.
In this guide, we'll show you exactly how to create an effective patient satisfaction survey.
Why Are Patient Satisfaction Surveys Important?
There are tons of reasons why patient satisfaction surveys are super important in healthcare. The most important are:
Increase your practice's revenue. When you find out what needs to be improved in your practice, you can focus your time, money, and resources on those things.
Improve your online presence. Making your patients feel heard and happy is a great way to get better online reviews and bring you more new business.  Going to the doctor can be scary, and health plans can be confusing. The good news is, people love to talk about their experiences.
Make sure your practice is following the law. When you ask about different aspects of patient care, you can uncover details in your surveys that can help you make sure everything is running smoothly and following the U.S. Department of Health and Human Services requirements.
Create loyalty with your patients. Patients are eager to build relationships with their healthcare providers. Asking them questions invites them to be honest and open. It shows them you care and that you're listening, so you can build a 2-way relationship.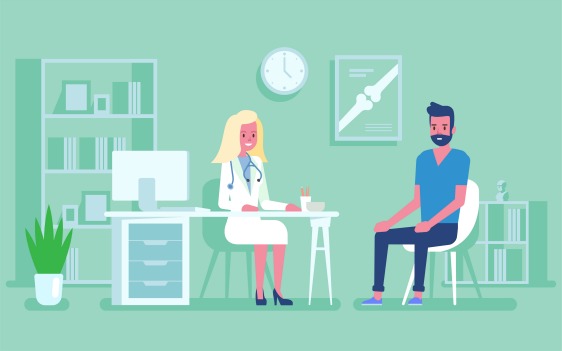 Patient Satisfaction Survey Questions
Before you create your patient satisfaction survey, you need to make sure your survey is going to actually get you helpful patient feedback.
To do this, you need to make your questions concise and easy to understand.
Here are some suggestions of patient satisfaction survey questions to ask to help improve your practice:
How long was your waiting time (past your appointment)?
How satisfied are you with the appearance and cleanliness of this practice?
Did you receive clear information from the staff?
Was the staff courteous?
Was the staff knowledgeable?
Did the payment options meet your needs?
Do you think enough appointment times are available?
Are our appointment times convenient?
Did the physician meet your needs?
Did you feel you were a top priority?
Will you return to this practice?
Would you refer your friends and family to this practice?
Keep in mind, these patient satisfaction survey questions are just suggestions. You can get more ideas of how these might look in this article on questionnaire examples and templates.
Also, if you want more help and ideas for patient satisfaction survey questions, you can check out CAHPS surveys.
In the US, the Agency for Healthcare Research and Quality is a government organization that oversees a series of patient surveys called Consumer Assessment of Healthcare Providers and Systems (CAHPS). These patient surveys rate health care experiences and are written by vendors who are certified by the Centers for Medicaid and Medicare Services (CMS).
How Do You Write a Patient Satisfaction Survey?
Patient satisfaction surveys are great because they are inexpensive, help you find areas to improve your practice, and build better relationships with your patients. Modern practices take advantage of online surveys to save money and time, because the days of sending out mail surveys are long gone.
So, let's take a look at how to create a patient satisfaction survey in WordPress.
Step 1: Create a New Form in WordPress
The first thing you'll need to do is install and activate the WPForms plugin. For more details, follow this step by step guide on how to install a plugin in WordPress.
Next, you'll need to install and activate the Surveys and Polls Addon.
To do this, go to WPForms » Addon and find the one labeled Surveys and Polls Addon.
Click Install Addon and then Activate.

Now you'll need to create a new survey form.
And just so you know, you can use any of the WPForms form templates and add survey questions to them if you want. In fact, you can check out our helpful tutorial on how to add a Likert Scale to any WordPress form if you want to measure your site visitors' experiences or opinions with point scales on something like a simple contact form.
But for this tutorial, we're going to build a survey specific WordPress form.
To get started, go to WPForms » Add New, name your form, and choose the Survey Form template.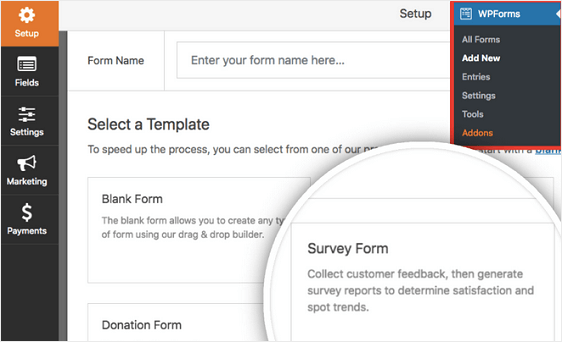 WPForms will then automatically create a survey form for you.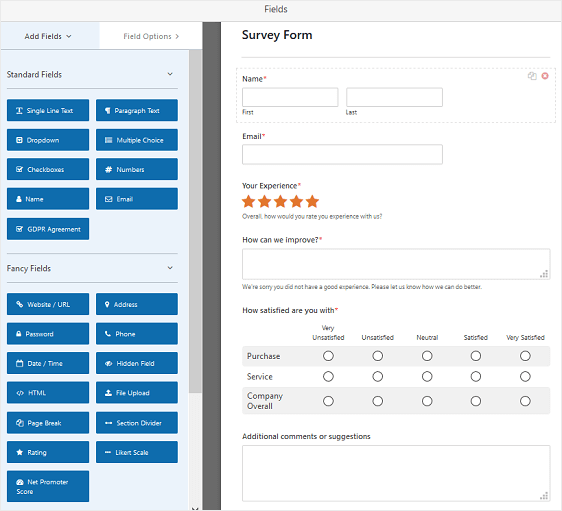 You'll see your survey form already has the following form fields:
Name
Email
Likert Scale
Paragraph Text
This gives you a great starting point. After that, you're ready to customize your survey even more based on which questions you want to ask your patients.
Step 2: Customize Your Patient Satisfaction Survey Fields
To make any changes to a field, click on it in the right-hand panel. You can also drag the fields to rearrange their order on your survey form.
For example, you may want to accept anonymous survey submissions through your form because you're collecting general information and not planning on following up with patients individually.
To do so, simply click on the Name field and deselect the Required checkbox so that entering a name into the form when filling it out is optional.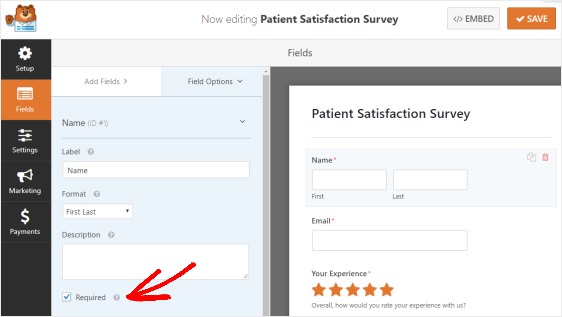 After that, you'll want to add either more Rating fields or edit your Likert Scale to add more questions.
For this example, we're going to edit the Likert Scale that's already on your form.
Likert Scale fields display answer choices in a square grid. That's why we sometimes call them matrix questions.
To get started, scroll down and then click on the first Likert Scale to open its Field Options panel. Here, you can edit the Label and the Rows.

In addition, you can add or remove options by clicking the plus (+) and minus (–) buttons.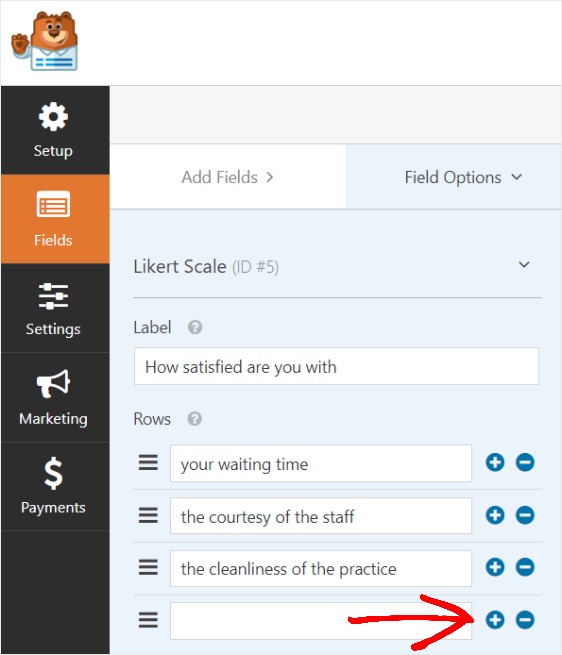 Add as many rows as you'd like to include under the How satisfied are you with label.
Next, scroll down to the other Likert Scale labeled How likely are you to and click on it so its Field Options panel opens. Here you can customize the text in the rows to fit your needs, just like in the last step.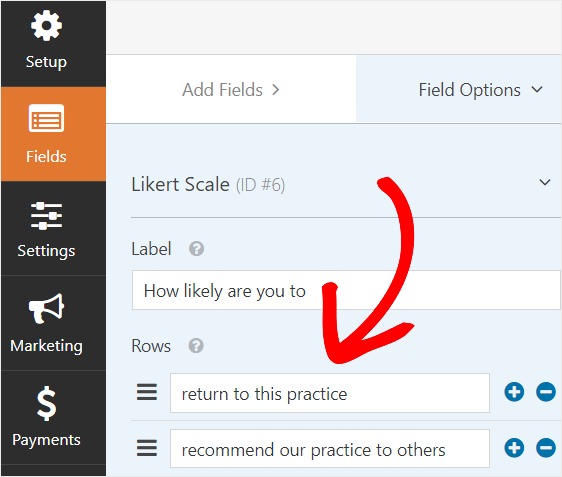 This default Likert Scale will display multiple rows that look like this:

On the other hand, you can also use a single-row rating scale that looks like this:

To do this, simply select the checkbox next to the Make this a single-row rating scale option and edit the Label to include the entire question. You'll need to repeat this step for each question if you're using the single-row rating scale.

You can also change the style of your Likert Scale. For more, check out our complete guide on how to customize the Likert Scale field.
Next, you'll want to edit the Paragraph Text field on your patient satisfaction form.
To do this, simply click on the comment box in the right hand panel to open its Field Options in the left hand panel. Here, you can edit the label and choose if you want to require this be filled out.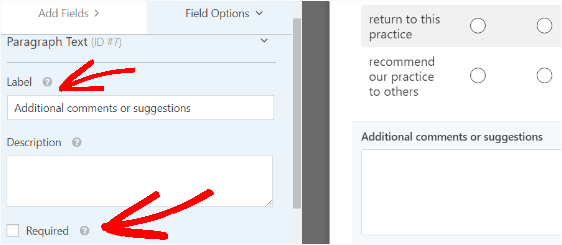 When your patient satisfaction form looks the way you want it to, click Save.
Step 3: Configure Your Patient Satisfaction Survey Settings
To begin, go to Settings » General.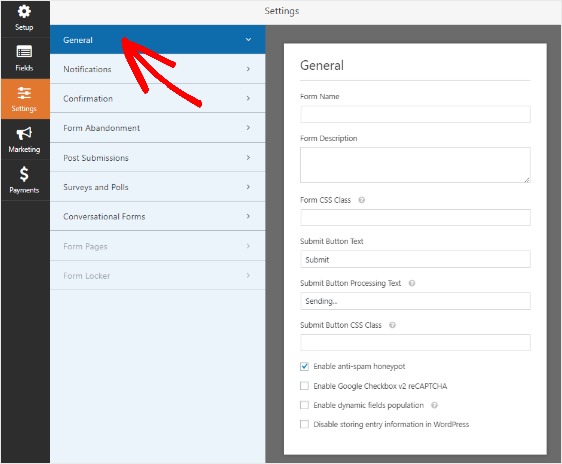 In this area, you can configure the following:
Form Name — Change the name of your form here if you'd like.
Form Description — Give your form a description.
Submit Button Text — Customize the copy on the submit button.
Spam Prevention — Stop contact form spam with the anti-spam feature, hCaptcha, or Google reCAPTCHA. The anti-spam checkbox is automatically checked on all new forms.
AJAX Forms — Enable AJAX settings with no page reload.
GDPR Enhancements — You can disable the storing of entry information and user details, such as IP addresses and user agents, in an effort to comply with GDPR requirements. Check out our step-by-step instructions on how to add a GDPR agreement field to your simple contact form.
Click Save.
In addition, if you're interested in asking different questions to your visitors based on their rating answers, you can add smart conditional logic to your survey form.
Actually, the survey template you started with already has this in the rating field! A comment box automatically appears if someone rates 2 or 1 stars.
For help with this step, check out our tutorial on how to use conditional logic with WPForms.
Step 4: Configure Your Survey Notifications
Notifications are an excellent way to know when someone submits one of your patient satisfaction surveys.
To get an email when someone completes your survey, you'll need to set up form notifications in WordPress. Unless you disable the notification feature, you'll get an email notification whenever someone submits a survey on your site.
You can also send multiple notifications when someone completes your patient satisfaction survey. For example, you can send a notification to yourself and anyone else on your team that might need access to the information submitted in the survey.
Also, if you use smart tags, you can send a personalized notification to your site visitors once they finish your survey to let them know you received it.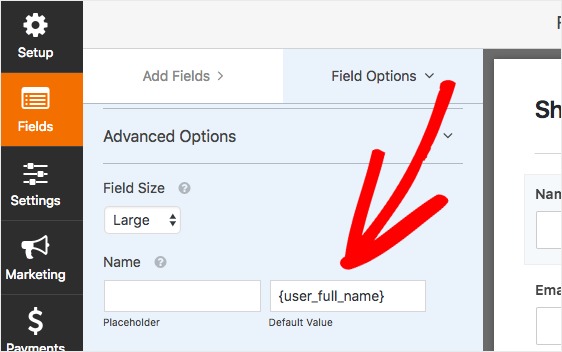 For more on this, check out our step by step guide on how to send multiple form notifications in WordPress.
In addition, you have the option to easily brand your notification emails by adding your practice's logo or any image you choose in the custom header image area. The logo/image you choose will show up at the top of email notifications.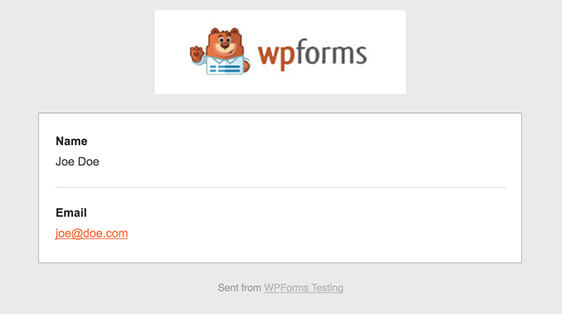 This example has a grey background, but you can change the color to something else if you'd like. These personalized tweaks can make your email notifications look more professional and give them a personal touch. Check out our guide on adding a custom header to your email template.
Step 5: Configure Your Patient Satisfaction Survey Confirmations
Form confirmations are ways to take action immediately after your audience has submitted information to your survey. For extra help with this step, check out our tutorial on how to setup form confirmations.
There are 3 different types of confirmations in WPForms:
Message. This is the default confirmation type that appears after someone hits submit on your survey form, and it's customizable. Check out our tips on ways to customize your confirmation message to boost your site visitors' happiness.
Display Page. Automatically send users to any page on your site.
Redirect. Useful if you want to take the user to a different website or specialized URL for more complex development.
Step 6: Add Your Survey to Your Website
After you've created your patient satisfaction survey form and customized all the settings to your liking, you need to add your survey form to your website.
WPForms lets you add your forms to multiple locations on your site, including your pages, blog posts, and even sidebar widgets.
Let's take a look at the most common placement option: page/post embedding.
To begin, create a new page or post in WordPress.
After that, click inside the first block (the blank area below your page title) and click on the Add WPForms icon.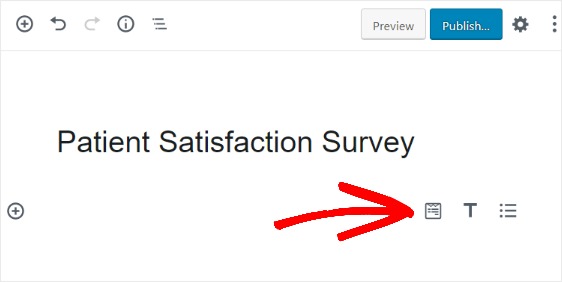 The handy WPForms widget will appear inside of your block. Click on the WPForms dropdown and pick which one of the forms you've already created that you want to insert into your page. Select your survey form.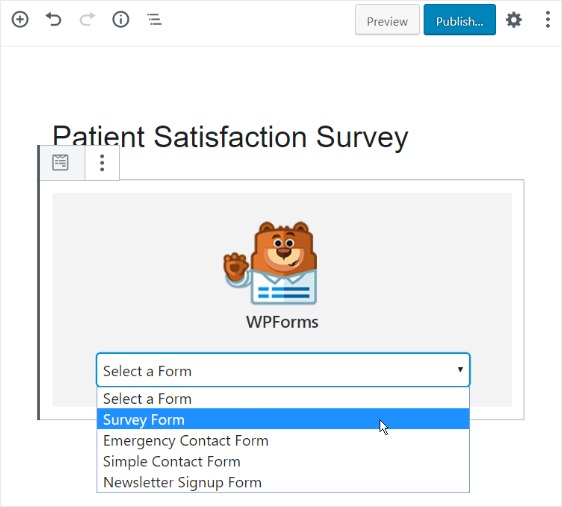 Next, publish your page or post so your form will appear on your website.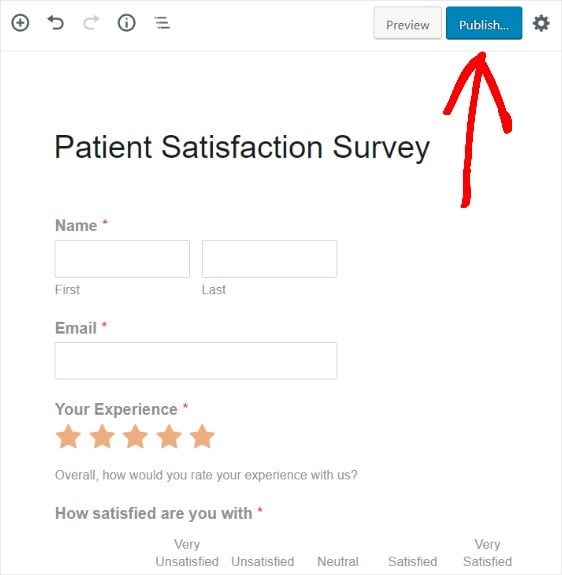 Step 7: Make Your Survey Private
In order to make sure that only your patients fill out your survey, you'll want to consider making it private.
There are a few ways to go about this including:
Just don't forget to provide your patients with the password to access the survey. You want to make the process as seamless as possible so people will actually fill out your patient satisfaction survey!
Step 8: Send Your Survey to Your Patients
As long as you have your patient's email address, you or the administrative staff at your practice can send out the email with a link to your patient satisfaction survey manually.
But to save time, you'll want to automate how your survey gets sent out to patients.
You can have your email marketing software automatically send an email to patients inviting them to participate in the survey.
For example, you can set this up to happen 24-hours after a patient receives medical care from you.
Most email marketing providers offer this feature, known as a drip campaign. Here are some email marketing services for you check out that can help you with this:
Step 9: See Your Survey Results
One of the coolest features of the Survey and Polls Addon is the ability to see your patient satisfaction survey results in a beautiful reporting dashboard. You can even customize your reports and export them to share them with others.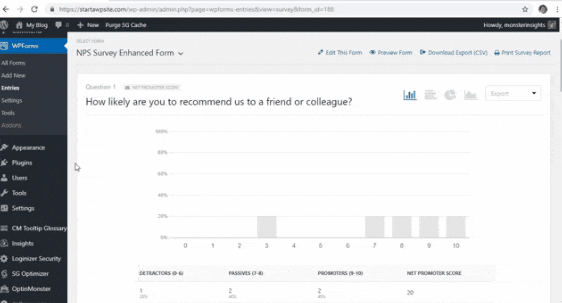 To learn more, head over to our guide on how to generate survey reports. We also have some killer tips on writing a survey summary.
And there you go! You now know how to create an effective patient satisfaction survey so you can boost the success of your practice.
If you're looking for even more ways to improve your practice's website, you'll definitely get some good ideas when you read our post of unbelievable online form statistics and facts.
So, what are you waiting for? Get started with the most powerful WordPress forms plugin today.
And don't forget, if you like this article, then please follow us on Facebook and Twitter.