How to Setup Reliable WordPress Email Notifications with SendGrid
by Shahzad Saeed on Nov 17, 2016
Have you noticed that you're not receiving WordPress emails? Unfortunately, WordPress not sending emails is a common problem, but it's easy to fix. In this tutorial, we'll walk you through how to set up WordPress email notifications with SendGrid.
When Email Notifications Don't Work
This can be a tricky problem, because you may not notice that WordPress isn't sending form notifications until people start filling out your form, and their messages don't reach your email inbox. You might notice form entries in your WordPress dashboard that haven't been sent to your email, or discover there's a problem when frustrated visitors reach out to you using social media or other methods.
Here's what usually causes the problem…
By default, WordPress uses the PHP mail() function to send emails generated by WordPress or any contact plugin like WPForms.
The most common reason for missing these emails is due to your WordPress hosting server. Usually it isn't configured to use the PHP mail() function.
Thankfully, you can work around this issue by using SMTP.
SMTP (Simple Mail Transfer Protocol) is the industry standard for sending emails. Unlike PHP mail function, SMTP uses proper authentication which increases email deliverability. That's why we recommend using SMTP to send emails in WordPress.
Why Use SendGrid?
There are many different SMTP services available, but in this article we will show one that we recommend, SendGrid.
While other methods require you to store sensitive login information in your WordPress dashboard, SendGrid will keep your email passwords secure.
SendGrid offers a free plan for sending up to 3,000 emails a month, or up to 100 per day. For most small businesses and personal websites, that's plenty. If you need to send more, you will likely need a paid service.
Note: Though SendGrid doesn't list a free plan on their pricing page, you can still get a free option limited to 100 emails per day. To get their free plan, you'll first need to sign up for their free 30 day trial. At the end of the trial, you'll be given the choice to continue on a free plan for under 100 emails a day.
If you want to learn other ways to fix the WordPress not sending emails problem, visit How to Send Emails in WordPress using SMTP.
How to Find Your SendGrid API Key
Before we can configure your website to work with SendGrid, we need to find your SendGrid API key. This key is a unique identifier and a secret token for authentication that will allow your website to interact with your account at SendGrid.
First, you'll need to create a SendGrid account. Just click over to their website and click the Get Started button to sign up.
After creating an account, click the Start button next to Integrate using our Web API or SMTP relay.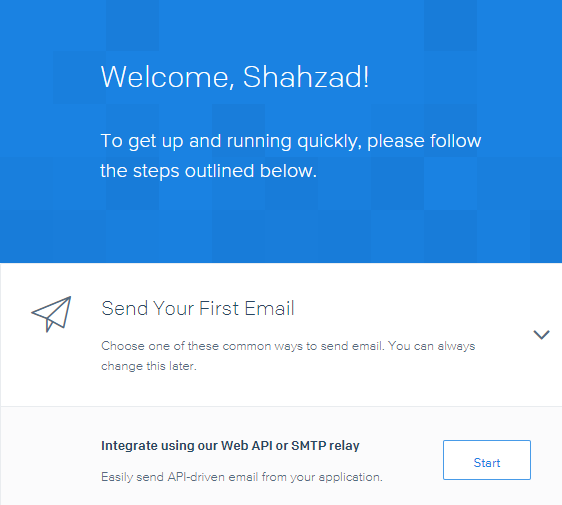 Next, you'll be asked to choose a setup method. You can now choose SMTP Relay.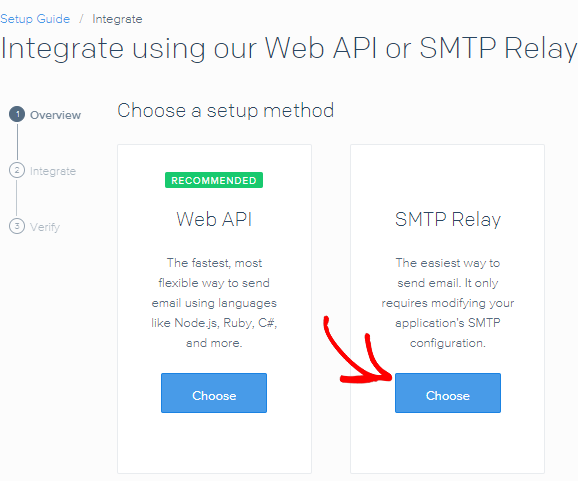 Now enter an API key name and then, click Create Key.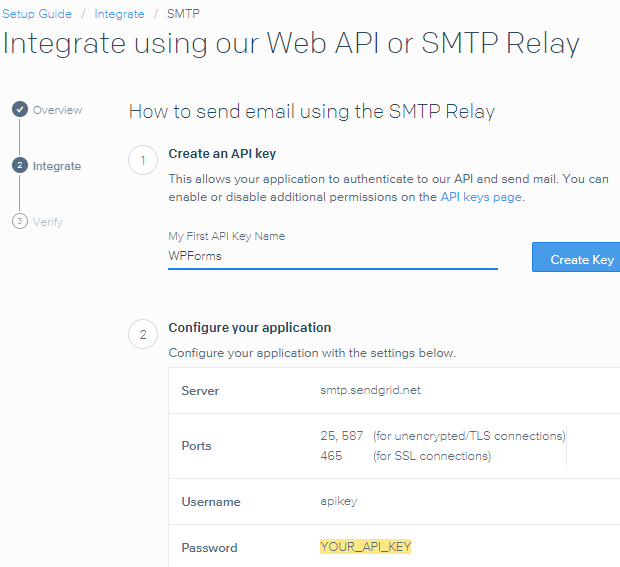 Then, you can copy the API key.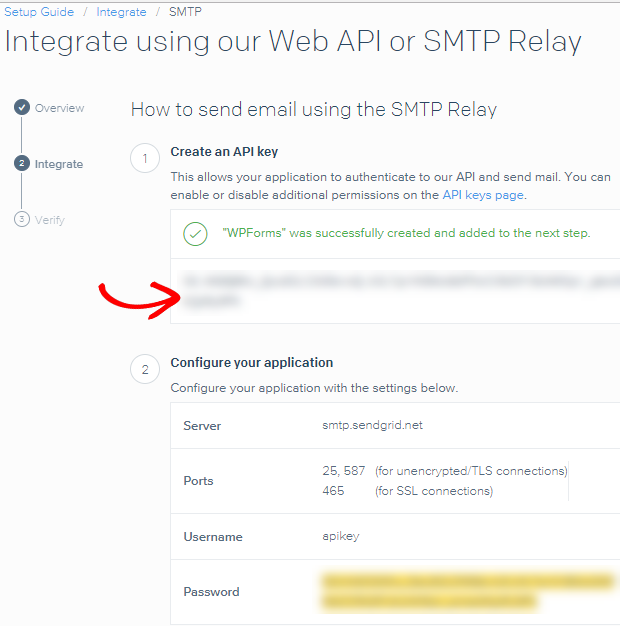 Using SendGrid to Fix WordPress Emails
Now we can get started setting up SendGrid on your WordPress site.
First, install the SendGrid plugin. Here's a step by step guide on how to install a WordPress plugin.
While in your WordPress dashboard, go Settings » SendGrid and paste your API key in.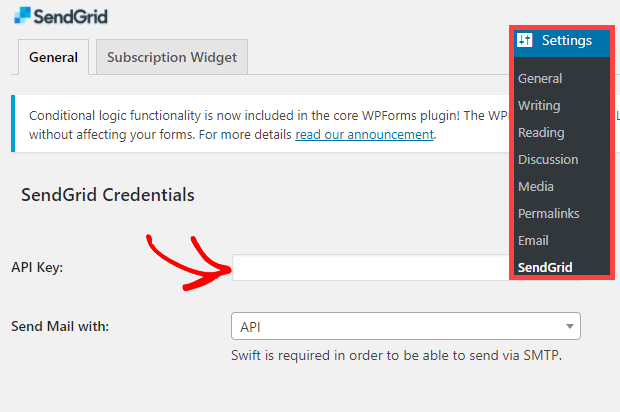 Scroll down just a little. Do not enter your name and email address on this page. This has shown to be a source of problems. Instead, you can edit the email sender name and email address from the WPForms notification settings.
The content-type needs to be text/html to ensure the email is delivered. Other than that, you can leave the fields blank, and save the settings.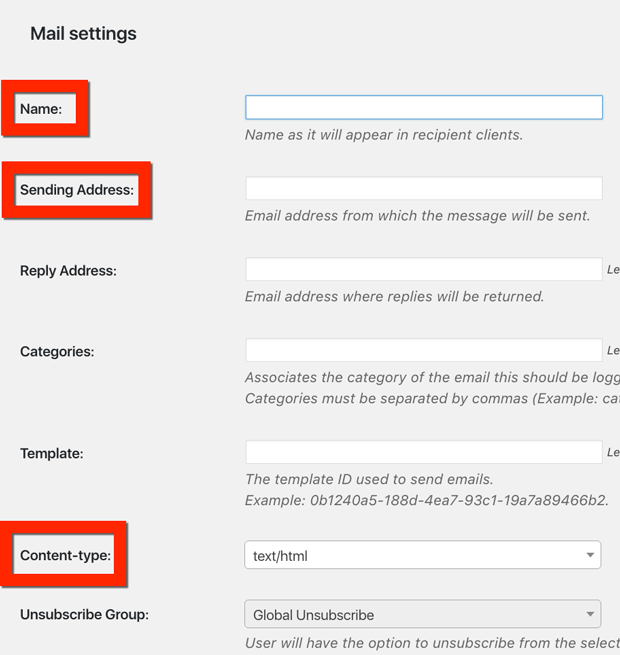 Lastly, you'll want to send a test email to see if your website now sends email notifications with SendGrid.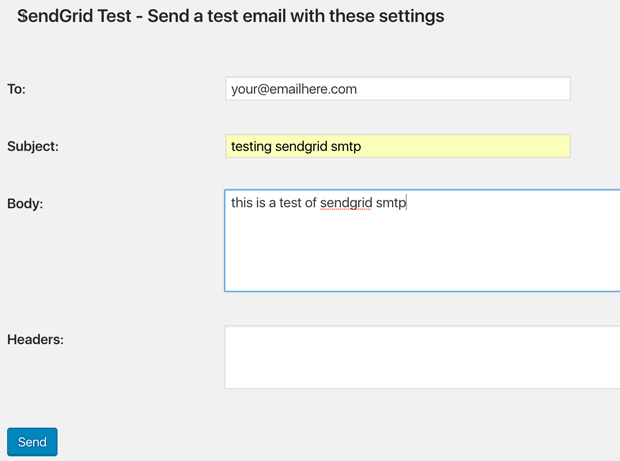 Note:
In WPForms, the same email used to set up SendGrid must be used in the
From Email
setting for your
form notifications
.
That's it! When WordPress can't send emails, you're able to fix the problem. Now you're ready to fix WordPress email notifications with SendGrid.
Looking for more email notification tips? You might also want to check out our guide on How to Send Users Confirmation Emails from WordPress Forms, which will show you how to send a thank you message to anyone who fills out your form.
Don't have WPForms yet? What are you waiting for? Get started with the most powerful WordPress forms plugin today.
If you like this article, then please follow us on Facebook and Twitter for more free WordPress tutorials.