3 Survey Question Mistakes to Avoid if You Want Real Results
by Lindsay Liedke on May 3, 2018
Are you looking for more ways to create effective survey forms in WordPress? Knowing which survey question mistakes to avoid is just as helpful as knowing which best practices to follow if you want people to fill out your survey forms.
In this article, we'll share with you the survey mistakes to avoid so you don't leave your site visitors feeling like you have biased survey questions and make them want to abandon your survey form.
1. Forcing People to Answer All the Questions
One of the biggest survey question mistakes you can make is forcing people to complete all the questions. After all, some people are picky about what they want to answer, while others may run out of time and not finish.
Either way, it'd be a shame to not collect what answers they did submit and add them to your survey reports, which you can easily enable and view if you use WPForms.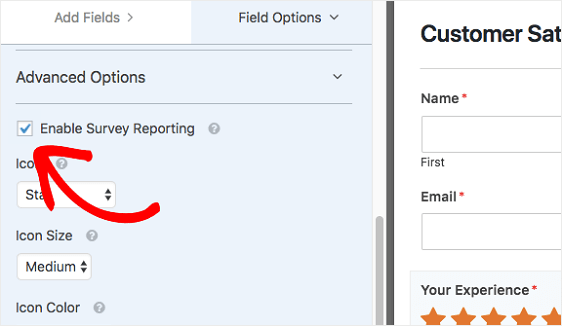 Luckily, if you use the WPForms plugin and the Surveys and Polls addon, you won't have this problem because you don't have to require people to fill out every question you ask.
And, if you do want to require users to answer a specific question, all you have to do is click the Required checkbox in the Form Editor.

Lastly, you can also enable smart conditional logic so that survey questions will show and hide based on a user's answers.
2. Only Using Open-ended Questions
Open-ended questions may seem like a good idea. After all, they give site visitors the chance to express how they really feel.
But there are many reasons why only having open-ended survey questions is a bad idea:
It's okay to have some open-ended survey questions, like in the example below: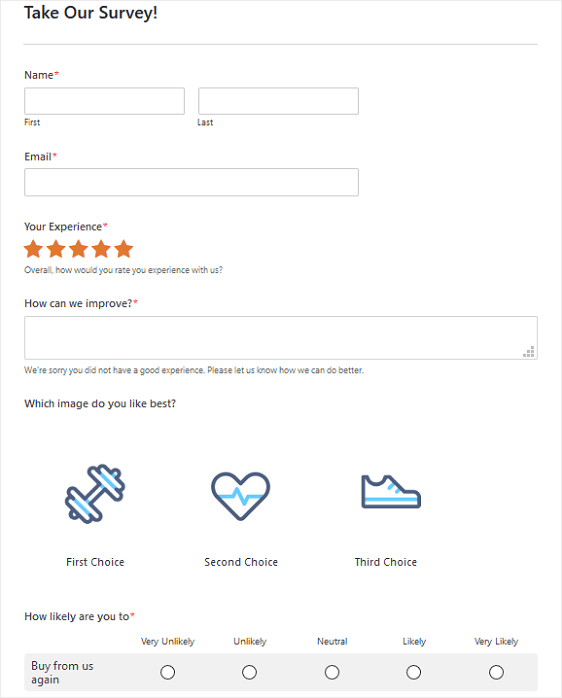 However, adding a Likert scale, a rating field, and some multiple choice questions, complete with image choices, to your WordPress forms will help boost conversions and give people concrete things to answer.
3. Using Biased Survey Questions
It can be tough sometimes to know which survey questions are good, and which ones are considered survey bias.
That's why we are going to share with you the most common types of biased survey questions so you can avoid adding them to your site's survey form.
Loaded Questions. This is a subtle way of forcing people to answer in a certain way. For example, asking someone what their biggest weakness is puts them on the spot. Admitting to weakness is no fun, whereas claiming to have no weaknesses makes a person seem arrogant. Instead ask people what kind of personal improvements they might want to make for themselves.
Leading Questions. A leading question is similar to a loaded question. However, it leads a person to give the "correct" answer. For instance, asking someone if concerned dog owners should always use a leash puts people that don't use leashes on the defensive because they now feel they are not "concerned" dog owners. Instead ask whether people believe leashes should be required.
Double-Barrel Questions. These are survey questions that have two questions in one. For example, don't ask people whether they feel that eating right and exercising is the key to good health. That's because some people will feel both are the key to good health. Others may feel one or the other is the key. As a result, their answers may not be truthful or they may skip them altogether. Try splitting these questions into two separate ones instead.
Absolute Questions. Forcing people to choose between two answers such as "true or false" or "yes and no" leaves a lot of gray area out that can help you grow your business. Use a Likert scale to give people more choice.
Try to keep things as neutral as possible and let site visitors decide how they want to answer. This way you get honest answers that'll help you make real changes that'll have a positive effect on your business.
And there you have it! Three solid survey question mistakes to avoid when it comes to creating your survey forms if you want real results. If you want more ways to build your business, check out our helpful guide on how to increase survey response rates.
And if you want to make an even bigger impact on your business' bottom line, be sure to check out how to improve your email marketing strategies so you can build relationships and turn more people into customers.
So, what are you waiting for? Get started with the most powerful WordPress forms plugin today.
And don't forget, if you like this article, then please follow us on Facebook and Twitter.