3 Inspiring Uses of Conditional Logic to Boost Form Conversions
by Lindsay Liedke on Mar 26, 2018
Want to learn how to use conditional logic to boost form conversions? Making your forms shorter, easier to understand, and customized to fit your site visitors' needs are great ways to get people to submit your forms.
In this article, we'll show you different ways you can use conditional logic on your WordPress forms to not only increase your conversion rate, but reduce form abandonment too.
Why Use Conditional Logic?
There are many reasons why you might need a contact form on your website. Maybe you want to give site visitors a clear way to get in touch with you. Maybe you want to direct customer questions to the right team member.
Or maybe you just want another way to improve your email marketing efforts by giving people a way to subscribe to your newsletter.
No matter the reason, most contact forms can benefit from adding conditional logic to them.
After all, using conditional logic helps keep users focused, tailors forms to meet the user's needs, gets users interacting with your forms, and of course, hides or shows fields based on a user's answers.
Create a WordPress Form
The first thing you'll need to do is install and activate the WPForms plugin. Here's a step by step guide on how to install a plugin in WordPress.
To create a form, pick from the pre-designed templates or create one using a blank template. If you need help, check out our tutorial on how to create a simple contact form as an example to get started.
After you have your WordPress form created, it's time to customize it using conditional logic. For step by step instructions on how to enable basic conditional logic on your WordPress forms, check out this helpful tutorial.
Now let's look at 3 unique ways you can use conditional logic on your WordPress forms.
1. Survey Comments
If you haven't done so already, you should definitely check out how to use the WPForms Surveys and Polls addon.
Using the drag & drop WordPress form builder, you can turn any WordPress form into a survey or poll form and ask site visitors for their feedback.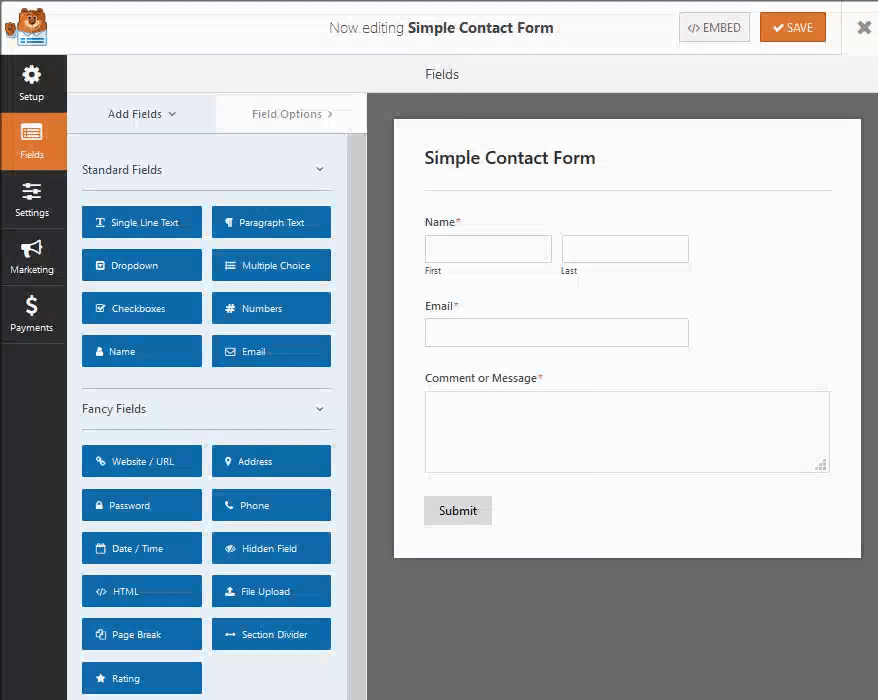 You can add dropdown fields, checkboxes, rating icons, and even a Likert Scale. And of course, you can enable conditional logic to collect more information from site visitors.
One of the best reasons to collect additional comments from users filling out your survey form is to find out why they left a poor rating.
This shows site visitors that you care about their feedback enough to ask them what you might do differently to make their next experience better.
It also creates a more personal experience that gives the users that aren't satisfied with your service a way to express their concerns, which is something even dissatisfied customers appreciate.
To do this, create a form asking users to rate their experience and enable conditional rules that will show an additional text field for comments only if a user leaves a 1 or 2 star rating.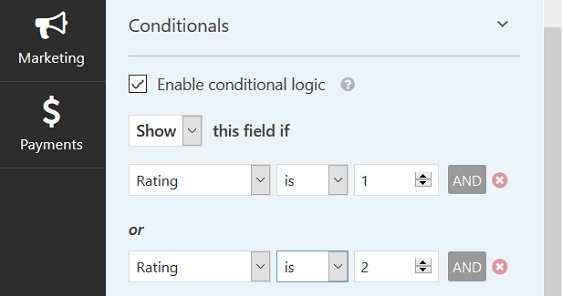 On the frontend of your site, your form will look like this when a user leaves a low rating: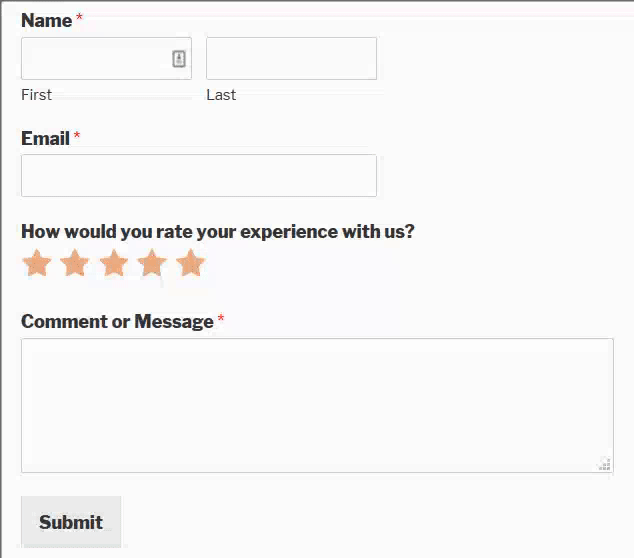 2. MailChimp Newsletter Options
Sometimes people want to receive multiple emails from you a week. Others might only want one newsletter a month. By letting people decide how often they want to hear from you, you increase the chances people will subscribe.
To give people options, you can enable conditional logic in a very different way than the example above.
Instead of showing or hiding fields based on a user's selection, this conditional logic enables your form to direct users' email addresses to a specific MailChimp list based on their selection.
Start by creating a newsletter signup form. From there, set up your conditional logic rules to give site visitors a chance to decide for themselves how many emails they want to receive from you.
For step by step instructions on how to do this, check out this guide on allowing users to select MailChimp groups.
When your form and rules have been set up, this is what it might look like on the frontend of your site: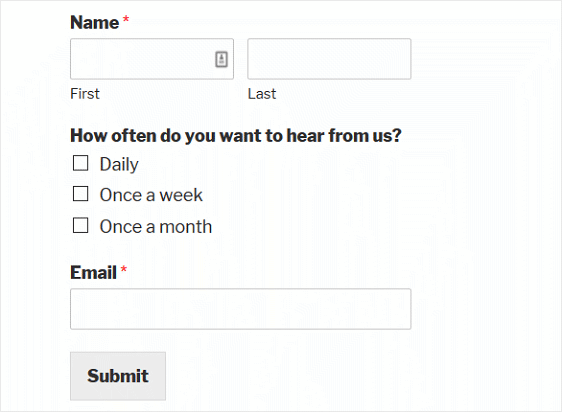 The great thing about this type of conditional logic is it can also be used on forms that have a newsletter checkbox that people can click to subscribe to your email list as they submit their contact form.
To find out how to do this check out these articles:
Product Upsells
Product upsells are one of the best ways to boost order form conversions. And, it just so happens that using conditional logic to encourage people to buy more is a great strategy for generating more revenue.
For example, you might create a conditional logic rule that makes an exclusive discount appear if a customer chooses the most expensive item on your order form.
To start, follow this step by step tutorial on how to create a T-shirt order from in WordPress and add the products or services you have for sale on your form.
If you prefer not to collect payments through your WordPress forms, you can always create an order form without payment and contact customers directly to collect.
To set your conditional logic rules, simply add an HTML form field to your form, complete with a personal message.
Then, enable conditional logic and set the rule to display the HTML block when one of the choices (for instance, the most expensive item) is chosen.
An example of this on the frontend of your website might look like this: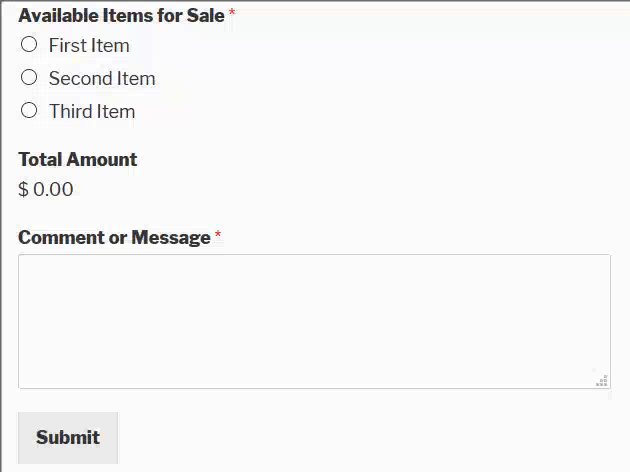 And there you have it! Three very different, yet inspiring ways you can use conditional logic to interact with site visitors, streamline forms to display only the information that applies to each user, and encourage site visitors to follow through with their form submissions.
If you are looking for other ways to boost form conversions, be sure to check out these 5 ways to fix low converting contact forms.
So, what are you waiting for? Get started with the most powerful WordPress forms plugin today.
And don't forget, if you like this article, then please follow us on Facebook and Twitter.