How to Generate FreshBooks Invoices From Your WordPress Forms
Last updated on May 3, 2017 by Courtney Robertson
Do you need a way to automatically send an invoice when a client submits a form?  Let's save you time and make sure you get paid before you even begin working. In this tutorial, we'll show you how to generate FreshBooks invoices from your WordPress forms.
WordPress Form to FreshBooks Invoice
The first thing you need to do is install and activate the WPForms plugin. Here's a step by step guide on how to install a WordPress plugin.
Also, you'll need to have a form created. See our tutorial on How to Create a Simple Order Form as an example to get started. Here's our form: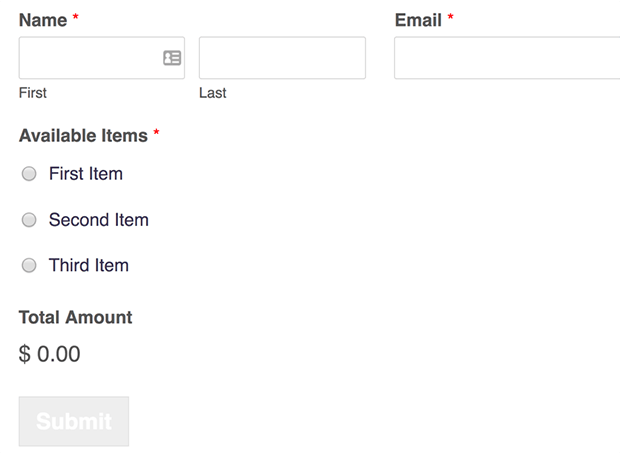 Next we'll need to connect this form to your FreshBooks account.
Connecting WordPress Forms to Invoices
There isn't a direct FreshBooks WordPress form integration available, but we've got a solution with WPForms.
Your form can talk to many online invoicing tools, such a FreshBooks, Xero, Zoho Invoice, and more, using our Zapier addon.
Before you can automatically send invoices when visitors submit a form, you'll need to connect WPForms with Zapier. To access this addon, you must have the Pro license plan. To activate the addon, you'll need to go to WPForms » Addons.
Now let's connect your form to FreshBooks.
First you'll need to login to your Zapier account. Then select Make a Zap in the top navigation. Next you can begin to create your zap by selecting WPForms as your Trigger App. For screenshots of each step, you can check out our tutorial on how to get started with Zapier.
When you get to the Edit Options screen, select the order form you just created.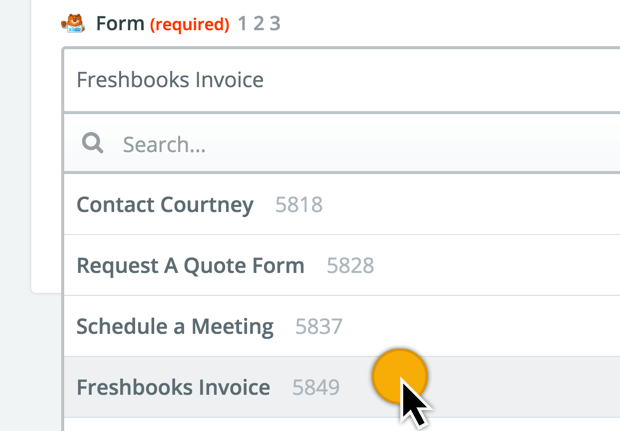 After this, Select Continue.
You'll then be prompted to test your form's connection to Zapier. Be sure you have at least one test entry on your form before fetching existing entries.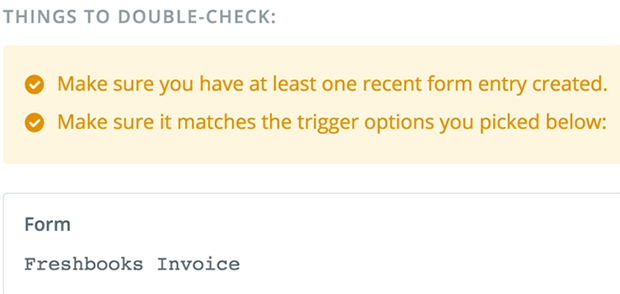 You should then see a successful confirmation message.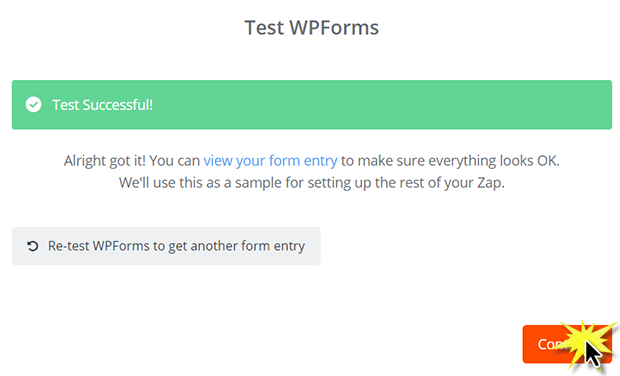 Setting Up Your FreshBooks Integration
You're halfway through. Now it's time to connect your invoicing system to Zapier. In our example, we will connect with FreshBooks.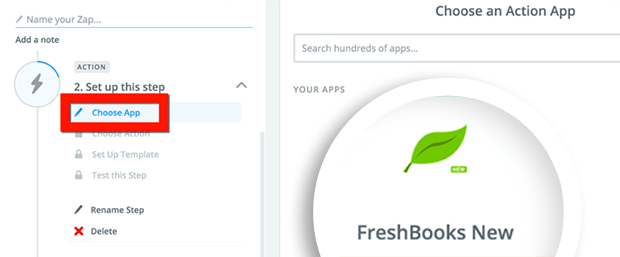 Next, you'll select Create Invoice and then Save & Continue.

Then you'll connect Freshbooks to Zapier.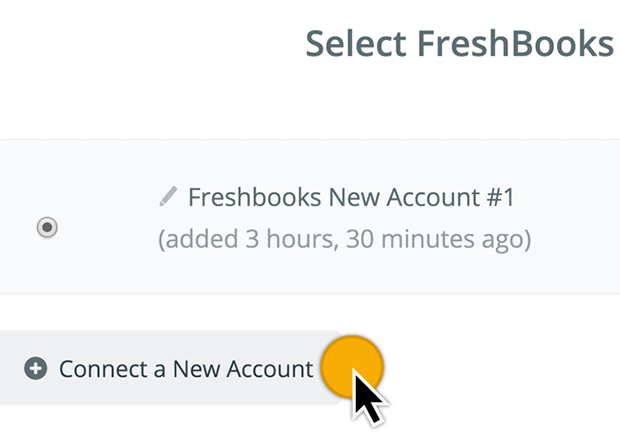 On the Set Up Template step, you'll need to specify your company.
You can also indicate if invoices that are created should be issued as paid, how long until payments are due, and more.

Match User with Clients
At this point Zapier will ask you to connect your form fields with FreshBooks. However, it doesn't know how to process matching the person who submitted the form with the clients you have in FreshBooks.
To connect the form submission to the client, click on Add a Search Step.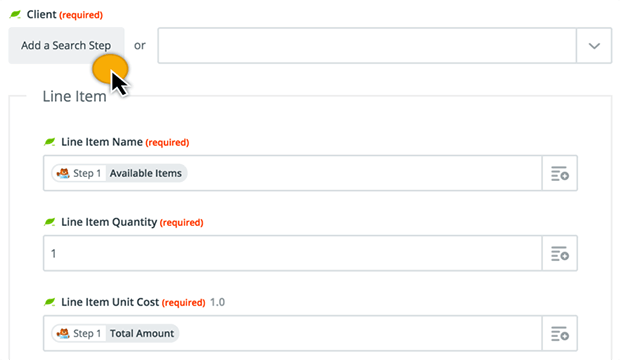 A popup modal will appear prompting you to add a step to search. Click OK, Add It! to continue.
Select your FreshBooks account that you'd like to use. For Search Field, select "Email." Under Search Value, you can select the email address field from your WPForms order form.
At the bottom, you'll be asked to create a new client if one doesn't exist yet. Select that option.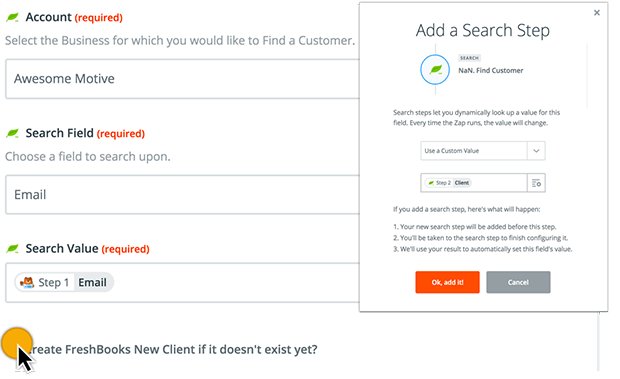 Following this, you'll be asked to test the connection. Search & continue through the confirmation message.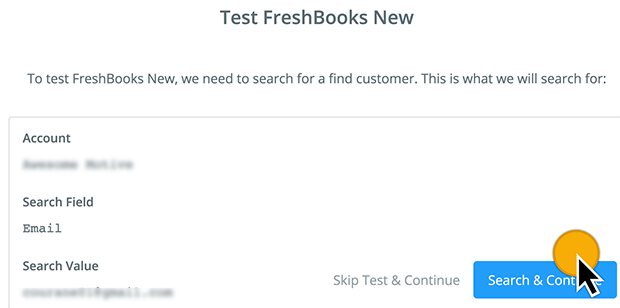 FreshBooks Invoice from WordPress Form
Since we added a step to match the email addresses, we now need to go back to where we were in creating our invoice.
On the left, in Create Invoice » FreshBooks New Account, select continue.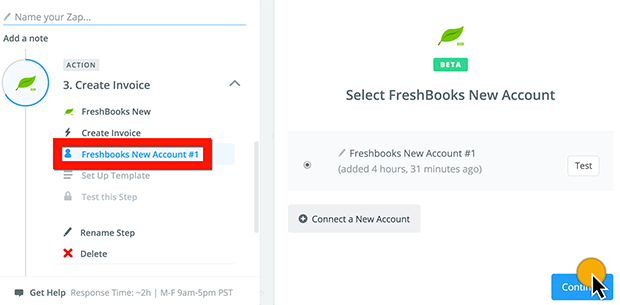 Next, you'll needs to specify additional fields in your form that need to be connected with FreshBooks.
We selected the item visitors are purchasing, set a quantity of 1, and matched the total cost with the line item unit cost. Then save and continue.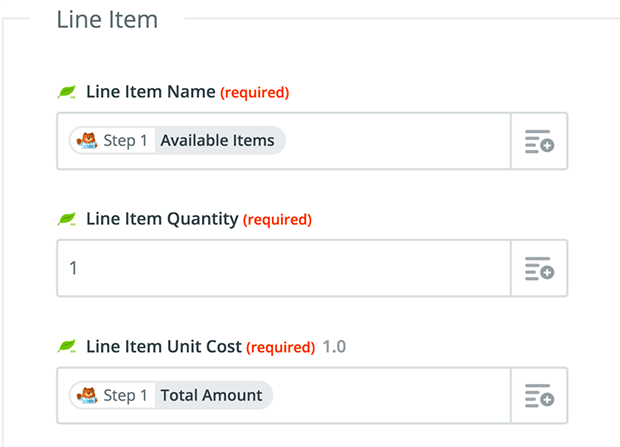 Finally, you'll be prompted again to test your configuration. After getting a successful confirmation, you'll need to name your Zap and turn it on.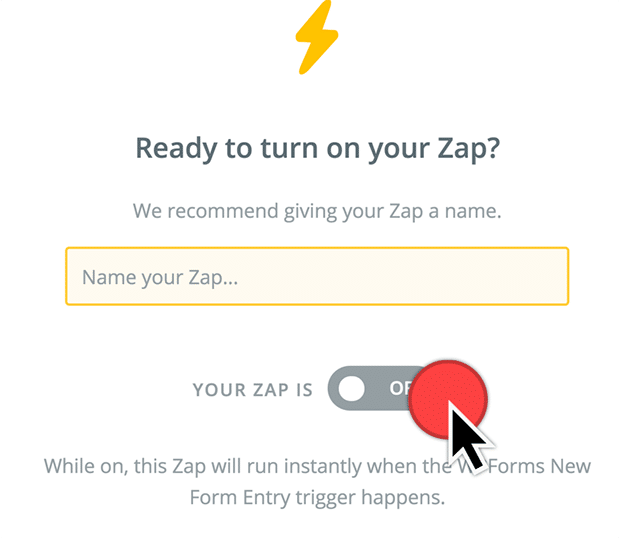 Automating Invoices
Now that your Zap is set up, a FreshBooks invoice will be created as soon as your order form is filled out, but the invoice won't be sent out to the client until you send it manually.
If you want to have an invoice be sent automatically as soon as a user submits a form, you'll need to create one more Zapier Zap.
There are 3 steps to this Zap.
New Invoice
Find Invoice
Send Invoice
In our guide, we'll show you an overview of the process. You'll see a few more fields asking you to match up details like which accounts these should be connected with, similar to the process of connecting your form to create an invoice shown above.
First, select FreshBooks as the app and New Invoice as the trigger.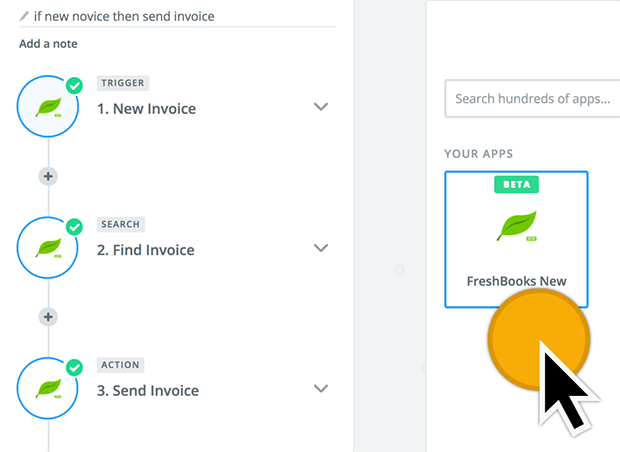 Second, you need to define what action you want Zapier to take. Look under the show less common options list.

From here, select Find Invoice and continue.
Third, you'll need to add one more action to Send Invoice.  Hover your mouse over the + sign in the left column.

Now you can finish walking through the Zapier steps for it to test your settings.
Publish and Test Your Form to Invoice
Now that you've created your form, connected it to FreshBooks, and automated the ability to sends the invoice, it's time to test it out.
Embed the form on a page.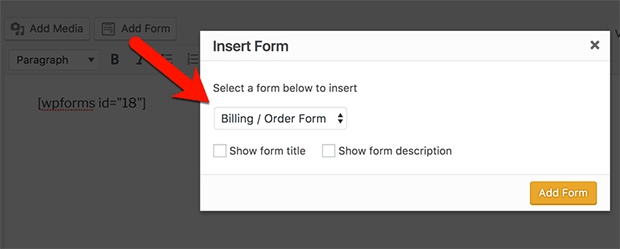 Then publish your page and fill the form out.  Check your email to see if you've received an invoice.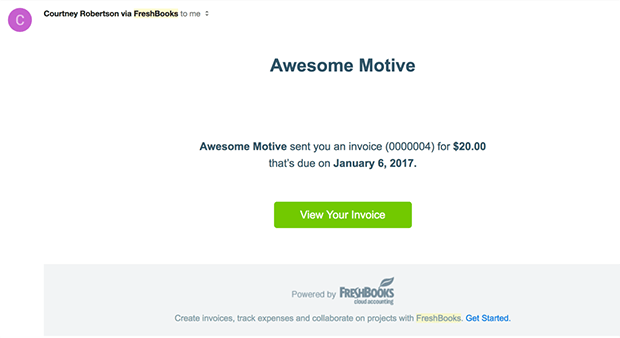 That's it! You've just generated a FreshBooks invoice from your WordPress form. Now your new form will help you to save time and make more money online.
Want to allow clients to schedule appointments with you? You might also want to check out our guide on how to create a client booking form.
What are you waiting for? Get started with the most powerful WordPress forms plugin today.
If you like this article, then please follow us on Facebook and Twitter for more free WordPress tutorials.