How to Create a User Registration Form in WordPress
by Courtney Robertson on Jun 16, 2016
Do you want to allow user registration on your WordPress site? You can expedite the process by creating a user registration form in WordPress that allows users to fill in the necessary information themselves. In this article, we will show you how to create a user registration form as well as how to stop the spam registration problem.
There are a lot of benefits to creating a user registration form, but below are the four that stands out:
Organization: When you allow users to request access to your site, you have a recorded entry of all the important details needed to create their account.
Customization: You can control what information you need before creating an account for new users, like including their website address as a requirement.
Security: By requiring new users to submit a form with activation requirements, you will keep your WordPress site secure and stop user registration spam.
Permissions: You can specify what level of access users that complete the form will have on your website.
Video Tutorial
If you prefer written instructions, continue reading below.
User Registration Form in WordPress
First thing you need to do is install and activate the WPForms plugin. For more details, see this step by step guide on how to install a plugin in WordPress.
Once you have installed WPForms, go to WPForms » Addons and find the User Registration Addon.
To access this addon, you must have the Pro or higher license plan.
Install and activate the User Registration Addon.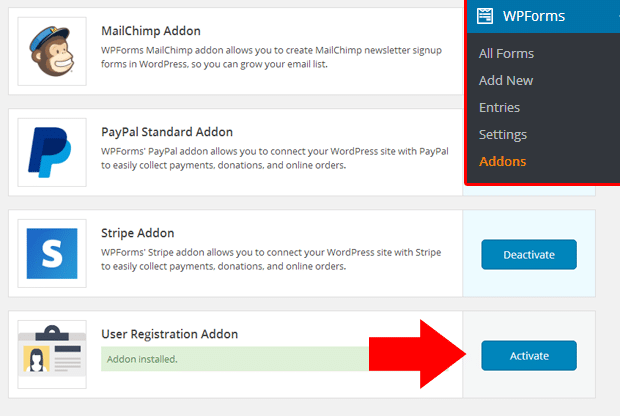 Once your WPForms user registration addon is active, you need go to WPForms » Add New to create a new form.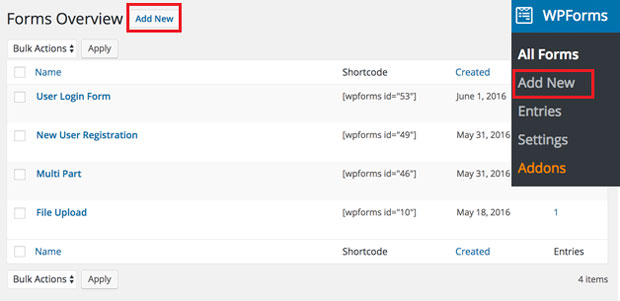 On the setup screen, you need to name your form and select the User Registration form template.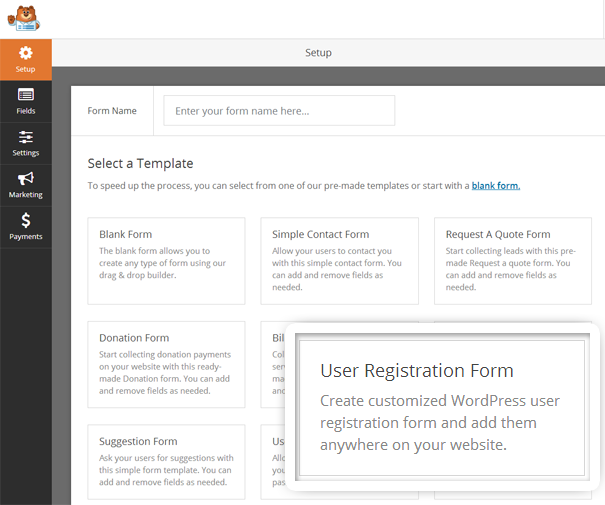 WPForms will create a simple user registration form.
You can add additional fields by dragging them from the left column to the form. You can select the fields on the preview side of the screen to customize them or to rearrange their order.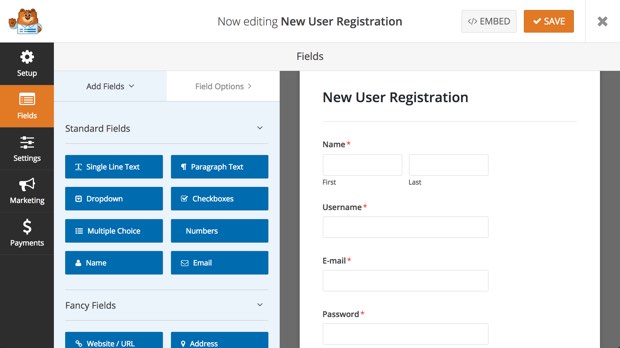 Once you're done, make sure to save your changes.
The next step is to configure the user activation settings, so you can prevent spam registration and fine-tune other options to your needs.
WPForms User Registration Settings
Simply click on the Settings tab in the builder and then click on User Registration.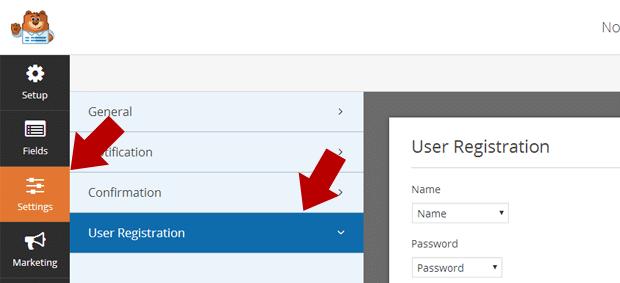 On this page, you can map each field, select user role, enable notifications, select the confirmation page, and enable user activation.
We built a smart user activation option which that you prevent spam user registrations. Since spam registration is a huge problem in WordPress, we highly recommend enabling this option.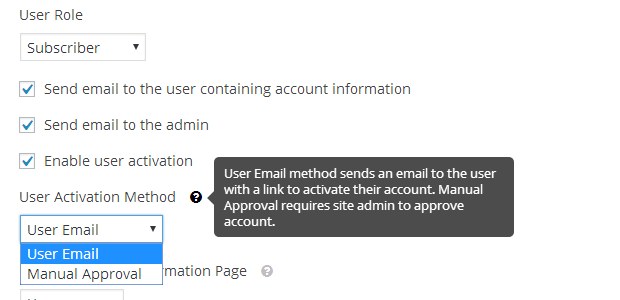 The Manual Approval method requires site admins to approve each user before they can log in. This can be time consuming, but some folks prefer it.
Alternatively, you can use the User Email method which requires users to click on a confirmation link from the email they used to signup. This is extremely useful in stopping spam bot registrations.
Once you are done configuring the registration settings, click Save to store your changes.
Styling the User Registration Form Notification
Whenever a new user registers on your site using the User Registration addon, you and the user both get a notification about the new account creation.
You can keep your branding consistent across all your emails, giving a more professional impression to your new users. To find out more, you can check out this guide on adding a custom header to your email template.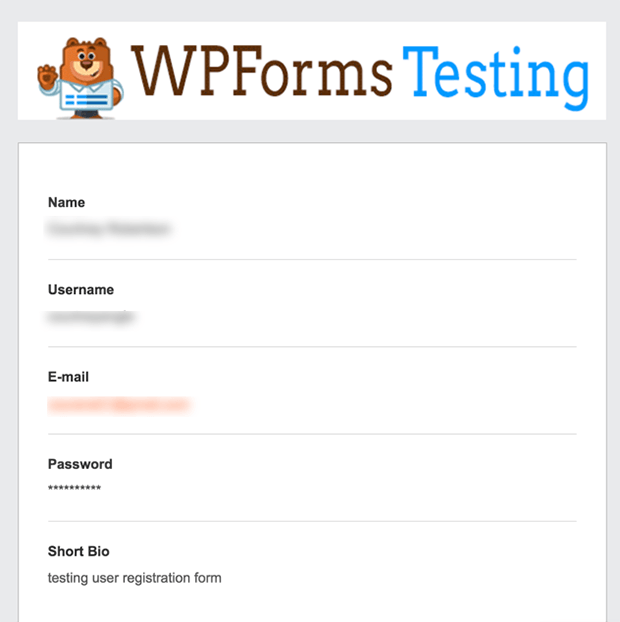 Now you're ready to add this user registration form on your site.
Adding the User Registration Form
WPForms allow you to add your forms in various locations from your blog posts, pages, and your sidebar (widget-ready areas).
First let's take a look at the most common post / page embed option. Start by creating a new post or page in WordPress and then click on the Add Form button there.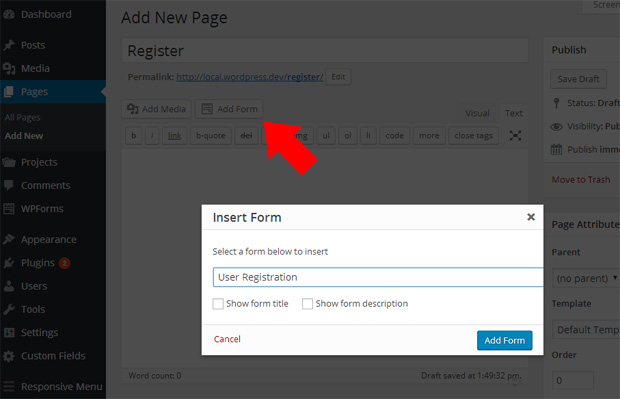 Next, you need to select your user registration form in the modal popup and click Add Form.
After that simply publish your page and view it.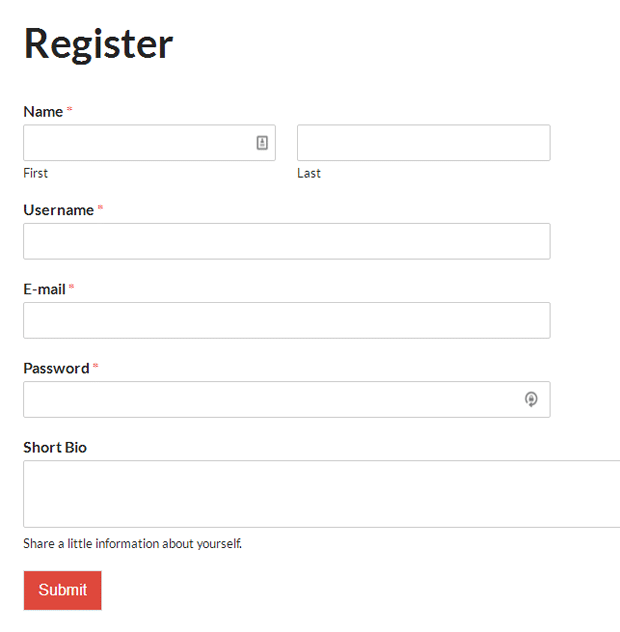 You can also add your registration form into a sidebar widget on your site by going to Appearance » Widgets and dragging the WPForms widget to your desired location. In the form widget, simply select your user registration form and save the widget.
User Registration + Marketing + Payments
You can combine the user registration forms with our email marketing addons like MailChimp, AWeber and GetResponse.
This allows you to automatically add all registered users to your email marketing list. You can even add them into various marketing automation sequences from there.
Want to charge for membership on your WordPress site? No problem.
You can combine the user registration addon with our payment addons like Stripe.
This allows you to add the credit card field on your user registration and collect payments for each user registration.
That's all. We hope this article helped you create a user registration form in WordPress.
What are you waiting for? Get started with the most powerful WordPress forms plugin today.