Is your site not getting the kind of traffic and income you wish it could?
The website KnottieHooks.com used WPForms to grow email subscribers and boost their site traffic. In this post, we'll show you how you can use the same strategies to find new leads and subscribers to skyrocket your website traffic and sales.
Meet Knottie Hooks
When stay-at-home mom Faydra Kenning's friends kept asking her to crochet for them, she knew she was onto something.
So she launched Knottie Hooks and began to create fresh crocheting designs, evolving the website into a small business that lets her work from home and make a living doing what she loves.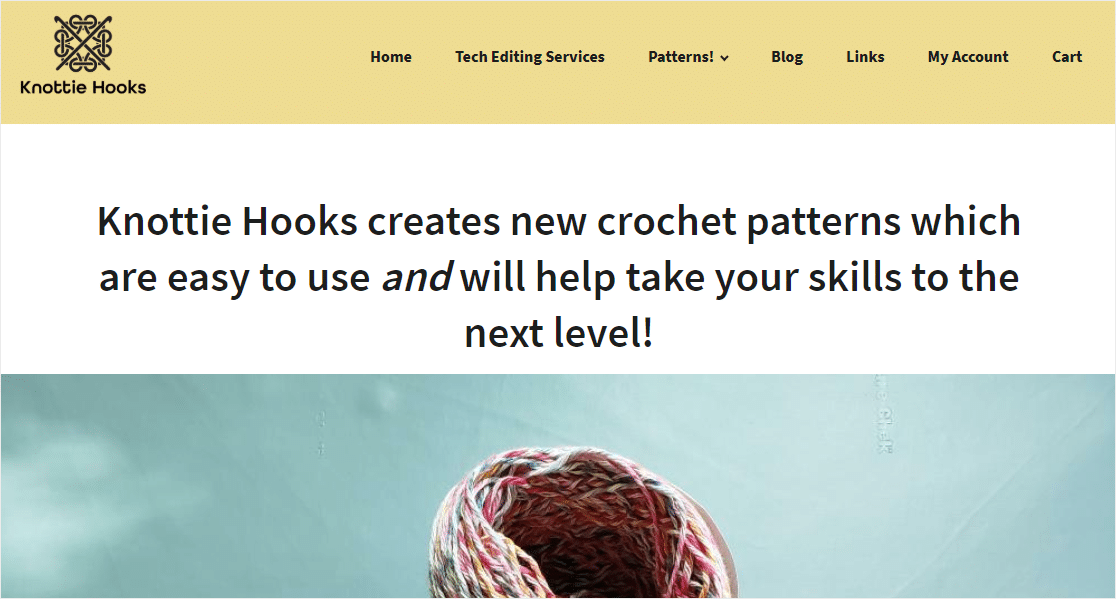 But Faydra hit a snag after she moved WordPress hosts. The site migration caused all her Google Forms to break, and she had spent over a week trying to get them to work again to no avail.
Faydra knew the broken forms on her site were a huge problem, and fixing them quickly wasn't working. So one of the things she wanted to do was find a form builder plugin that would make form building easy, as well as let her integrate a newsletter subscription form.
How Knottie Hooks Uses WPForms
After seeing raving reviews on WordPress.org about WPForms, she decided to download the free version of the plugin. It wasn't long before she upgraded to the Pro version.
As Faydra put it:
"After replacing the forms I already had on my site, I started building more. I have started to expand the services I offer on my site now that I don't have to keep searching for plugin after plugin to match my needs."
Besides growing her email marketing list, Faydra's also been able to find and screen more pattern testers for her designs, helping grow her business quickly. The process has been seamless, and she's been able to use the drag and drop builder to add great options to her forms including:
File upload fields for customers to submit patterns for editing services
Multi-step forms to create longer forms with less form abandonment
User registration for potential pattern testers
Multiple choice options to gather targeted data about users
A newsletter subscription form to grow her email list
With all the new options available to her site using WPForms, Faydra's been able to expand her services, now offering pattern editing services to boot.
Results
Since installing and setting up WPForms, the traffic on Knottie Hook's website has increased. That's because WPForms made it so easy to build different kinds of high-converting new forms with newsletter subscription options. So the site's now capturing interested leads through subscriber forms and registration forms, and highly interested visitors are coming back to Faydra's site time and time again.

And all this new traffic from returning visitors via your email list has been a great thing for her sales. Why? Email list subscribers are much likely to convert into customers who help increase your site's revenue.
Summary
Using WPForms to build your small business website's contact forms is not only easy, it's incredibly smart. You can quickly and simply integrate your email marketing list into your forms, making any form an email subscription form. This will help you grow your email marketing efforts, traffic, and revenue.
Faydra at Knottie Hooks is a fantastic example of how the power of a simple contact form can transform your website and bring you even more success online.
"It was so seamless! So easy to use! I am hooked and decided to upgrade my account…There is nothing more frustrating than a site that doesn't do what you want it to, and this plugin has rectified most of those issues for me."
Faydra Kenning, Owner — Knottie Hooks
Want to see all the powerful features that are available at WPForms? Click here to see all WPForms features.
You can read through our tips on how to get more leads.
Not using WPForms on your site yet? Get started with WPForms Pro today!